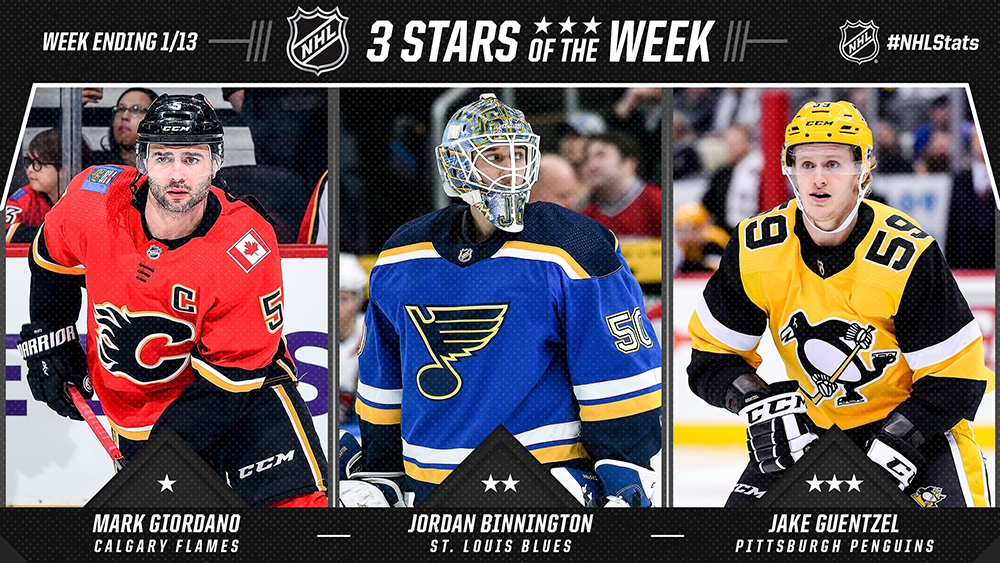 Calgary Flames defenseman Mark Giordano, St. Louis Blues goaltender Jordan Binnington and Pittsburgh Penguins left wing Jake Guentzel have been named the NHL's "Three Stars" for the week ending Jan. 13.
FIRST STAR – MARK GIORDANO, D, CALGARY FLAMES
Giordano paced the NHL with 3-5—8 in four games to power the Western Conference-leading Flames (30-13-4, 64 points) to a perfect week and their fifth straight win overall. He collected one helper in a 4-3 triumph over the Chicago Blackhawks Jan. 7. Giordano then registered his fifth career three-assist outing (and third of the season) in a 5-3 victory against the Colorado Avalanche Jan. 9. He followed that up with one goal in a 4-3 win over the Florida Panthers Jan. 11. Giordano capped the week by playing in his 800th NHL game, celebrating with 2-1—3 (his sixth career multi-goal performance) in a 7-1 victory over the Arizona Coyotes Jan. 13. The 35-year-old Toronto native ranks second among NHL defensemen with 9-38—47 through 45 contests this season. Giordano, who was +7 for the week, also tops all players with a +36 rating in 2018-19.
SECOND STAR – JORDAN BINNINGTON, G, ST. LOUIS BLUES
Binnington stopped 74 of the 76 shots he faced, compiling a 3-0-0 record with a 0.67 goals-against average, .974 save percentage and one shutout to guide the Blues (19-20-4, 42 points) to wins in three of their four games. Binnington made his first NHL start Jan. 7, earning a shutout with 25 saves in a 3-0 triumph over the Philadelphia Flyers. He became the 35th goaltender in League history to post a shutout in his first NHL start and the second to achieve the feat with St. Louis (also Rich Parent: Jan. 26, 1999 at SJS). Binnington then yielded only one goal in each of his next two outings, recording 28 stops in a 4-1 victory against the Montreal Canadiens Jan. 10 and 21 saves in a 3-1 win over the Dallas Stars Jan. 12. The 25-year-old Richmond Hill, Ont., native – who made his League debut Jan. 14, 2016 – has appeared in six total NHL games, totaling a 3-0-0 record, 1.61 goals-against average and .933 save percentage.
THIRD STAR – JAKE GUENTZEL, LW, PITTSBURGH PENGUINS
Guentzel shared the League lead with five goals in three games (5-1—6) to lift the Penguins (25-14-6, 56 points) to a pair of wins as well as their 10th victory in their past 12 contests dating to Dec. 19 (10-2-0). He picked up one assist in a 5-1 triumph over the Florida Panthers Jan. 8. Guentzel then posted his second career hat trick (and second of the season) in a 7-4 victory against the Anaheim Ducks Jan. 11. He finished the week with both of Pittsburgh's goals in a 5-2 loss to the Los Angeles Kings Jan. 12. The 24-year-old Omaha, Neb., native tops the Penguins with 23 goals in 45 outings this season (23-21—44), aided by 7-3—10 during an active six-game point streak.