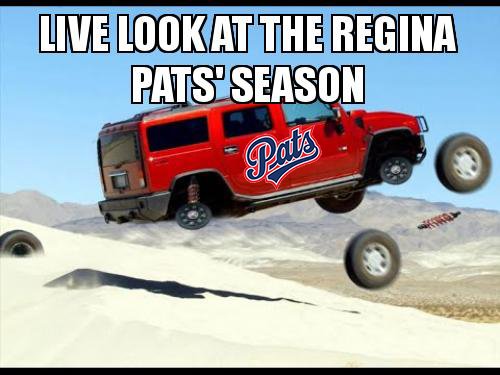 MESSAGE SENT! - This is what the fine folks at Murray GM in Moose Jaw put up on their Twitter account late Friday afternoon as they wished the Moose Jaw Warriors luck Friday before their game at the Brandt Centre. This just in! A) the Pats are fine B) stick to offering oil changes boys because that was lame---or should I say "certified lame!". Make no doubt about it, these two teams probably haven't seen the last of one another this year, but Regina took Moose Jaw's nine game win streak and in the words of "The Rock" shoved it straight up their candy a$$!
This just in. While the Pats did go through a rough stretch this month---as all teams will do. They are ready for the playoffs. By the way, can we stop with the Tyler Brown bashing too. Yes, I know many of you had to have something to pick on in what has been the best junior hockey season we have seen in the history of the Brandt Centre, but move on already! Brown is the best goalie in the Eastern Conference and is the 4th best netminder in the WHL when it comes to goals against average and is tied for 2nd in shutouts. What more do you want?

This just in, the Pats are back!
Let's get these final games over with and let's start to play games that mean something. The board will soon be reset to zero for what should be an exciting few weeks of hockey around here. Are you ready? I think I know the answer to that.



SID VS CONNOR - I wanted to be at the Brandt Centre Friday night, but when it is playoff time for your daughter's basketball season, there are priorities. Upon getting home from her game, I turned on the TV to see Sid and the Penguins battling McDavid and the Oilers with the game just a couple of minutes into the secondnews period. It didn't take long to see the NHL's two marquee players were relishing their first head-to-head battle in Edmonton. They were dominant. The 3rd period and the overtime was a fantastic display of hockey with McDavid just about ending it on a breakaway in OT. Had he done that, the cheers might still be resonating through downtown Edmonton. It's too bad these guys only get to play each other twice a year. Why wasn't this game on Hockey Night in Canada though? Who is doing the scheduling? Having Pittsburgh in Edmonton on a Saturday night for all eyes to see just makes sense doesn't it? The numbers obviously weren't there for a regional audience as it was on Sportsnet West. I don't know, I'd rather see Crosby vs McDavid on a Saturday night then Crosby vs the Sedins.


THANKS VINCE! -
Is the CFL sending Vince Young a thank-you card. The guy has given more exposure to the league in the 48 hours he has officially been in it than the league has been giving since Ottawa won the Grey Cup. As I mentioned in Friday's column, the news of the 3rd pick overall in the 2006 NFL draft signing with the Riders was making headlines all over the US. On Saturday morning, Young was speaking with ESPN on Sportscentre. This guy appears serious about his comeback. If he is, it is going to be crazy at the Riders mini-camp in Florida because many American outlets will be there to see if this is a stunt or not. Move that to Saskatoon and training camp and expect the four letter (ESPN) and many of those outlets to be at new Mosaic Stadium for the first pre-season game. Who is kidding who, if Vince Young is the starter, Rider highlights will be the norm on ESPN, Fox Sports 1 and whoever. We might even see Peter King come back to Regina!
With Robert Griffin III being released by Cleveland this week, I have to wonder if a CFL GM would take a flyer on him and add him to a neg list. Yes Jim Popp, I am looking at you! Who knows? Could you imagine RG3 in the CFL playing against Vince Young. That would be surreal and bizarre.
ENDING ON A HIGH - The USports Canada national women's basketball championship didn't go the way it wanted for either the Huskies or the Cougars. The defending national champs went down to Laval on Thursday followed by a Regina defeat at the hands of the eventual national champs from McGill. Instead of a championship battle between the two provincial universities on Sunday, the Canada West final rematch was held Saturday night. It might have been the best game of the tournament.
The Huskies blew the doors off Regina taking an early 15-0 lead. They led it 23-3 at one point. I texted Cougars SIO Braden Konschuh who was in Victoria asking him WTF. The girls looked like they didn't want to be there. Braden was as stunned as I was. I don't know if I have seen a worse quarter from that team stretching back to their days with Christine Stapleton as head coach. Dave Taylor wasn't moving from the end of his bench, but from my laptop I could see the smoke coming out from between his ears. It was ugly!
Something then changed. The Cougars made a run and in the 4th quarter, Katie Polischuk in her last game as a U of R player was the Katie Polischuk we had seen and known for the last 5 years. She took the game over and led Regina to a victory to secure 5th. The emotions on the court when it was over was more than you would find for a 5th place finish. Polischuk goes out on a high and the Cougars win the consolation final. I just wish the word consolation wasn't in there. Congrats to the team on another great season that came up short. They have nothing to be ashamed of. Once again, they have done Regina proud.
IS HE OURS? - Adam Hadwin became the 14th Canadian to win a PGA event on Sunday. Every story I am seeing and have seen on Hadwin is that he is from Abbotsford, BC. Those in Moose Jaw say he was born there when his father was the pro at Lynbrook. How long was he there for? Did he learn to play the game at the Lynbrook and the Hillcrest? Are we calling him a Saskie? If we are, we might be the only ones. No offense, but the only Saskie on the PGA Tour as far as this blogger is concerned is Graham DeLaet. That's nothing against Hadwin, but I am guessing if he wanted people to know he is from Moose Jaw, he would be saying that and not that he is from Abbotsford. Just sayin! By the way, it is great to see a Canadian win on the PGA Tour no matter where he is from!
THE BIGGEST NIGHT IN NEWFIE SPORTS HISTORY - When Curling Canada awarded the 2017 Tim Hortons Brier to St. John\'s Newfoundland, I think it is safe to say they were hoping to see what happened Sunday night. If the 2013 Grey Cup was the biggest night in Saskatchewan sports history with the Riders winning it all on home turf, than the 2017 Brier has to be the biggest night in Newfoundland sports history. Brad Gushue's final shot in the 10th end will go down in history as he won the Canadian mens curling championship on home soil much to the delight of those at Mile One Centre. TSN once again did a tremendous job in beaming the drama back into our living room, What a moment for Gushue! St. John's might be closed tomorrow. Could you blame them? I am guessing they might still be partying on the Rock. Has the Patch closed?
Some debated the issue this week about fandom at the Brier and cheering when you shouldn't. PFFTTTTT!!! You cheer for the hometown rink and you cheer when the other team does something bad just like you do at a football game, a hockey game, a basketball game, a lacrosse game or anything else. The fans didn't do anything to try and throw players off their game. They cheered Gushue and they jeered whoever he was playing. Many made too big a deal of it as far as I'm concerned. Hey, if we can do that at next year's Brier at the Brandt Centre and give Team Saskatchewan some home-ice advantage, I am all for it. Why wouldn't you?
That's all I got. Have a great week!