THURSDAY'S RESULTS
Pittsburgh 3 Washington 2
Vegas 7 San Jose 0
MORE HISTORY FOR GOLDEN KNIGHTS WITH FIFTH STRAIGHT WIN
Vegas erupted for seven goals, including four in a span of 7:12 during the first period, and Marc-Andre Fleury made 33 saves as the Golden Knights won Game 1 against the Sharks on the heels of a First Round sweep.
* The Golden Knights became the first NHL team ever to win its first five postseason games. Elias notes that only one team from each of the MLB (Boston Braves: 5-0 from 1914-1948), NBA (Minneapolis Lakers: 7-0 in 1949) and NFL (Baltimore Ravens: 5-0 from 2000-2002) earned wins in each of its first five playoff contests. The Lakers were the only other franchise to accomplish the feat in their inaugural season.
* Elias adds that the Golden Knights became the fourth franchise from either the NHL, MLB or NBA to win at least five consecutive games at any point in their first-ever postseason appearance. Vegas joined the Lakers squad mentioned above and two other NBA clubs – the Philadelphia Warriors (6-0 in 1947) and Portland Trail Blazers (5-0 in 1977). All three of those clubs won the championship, with the Warriors doing so in the first-ever NBA season and the Lakers achieving the feat in their first campaign after joining from the National Basketball League.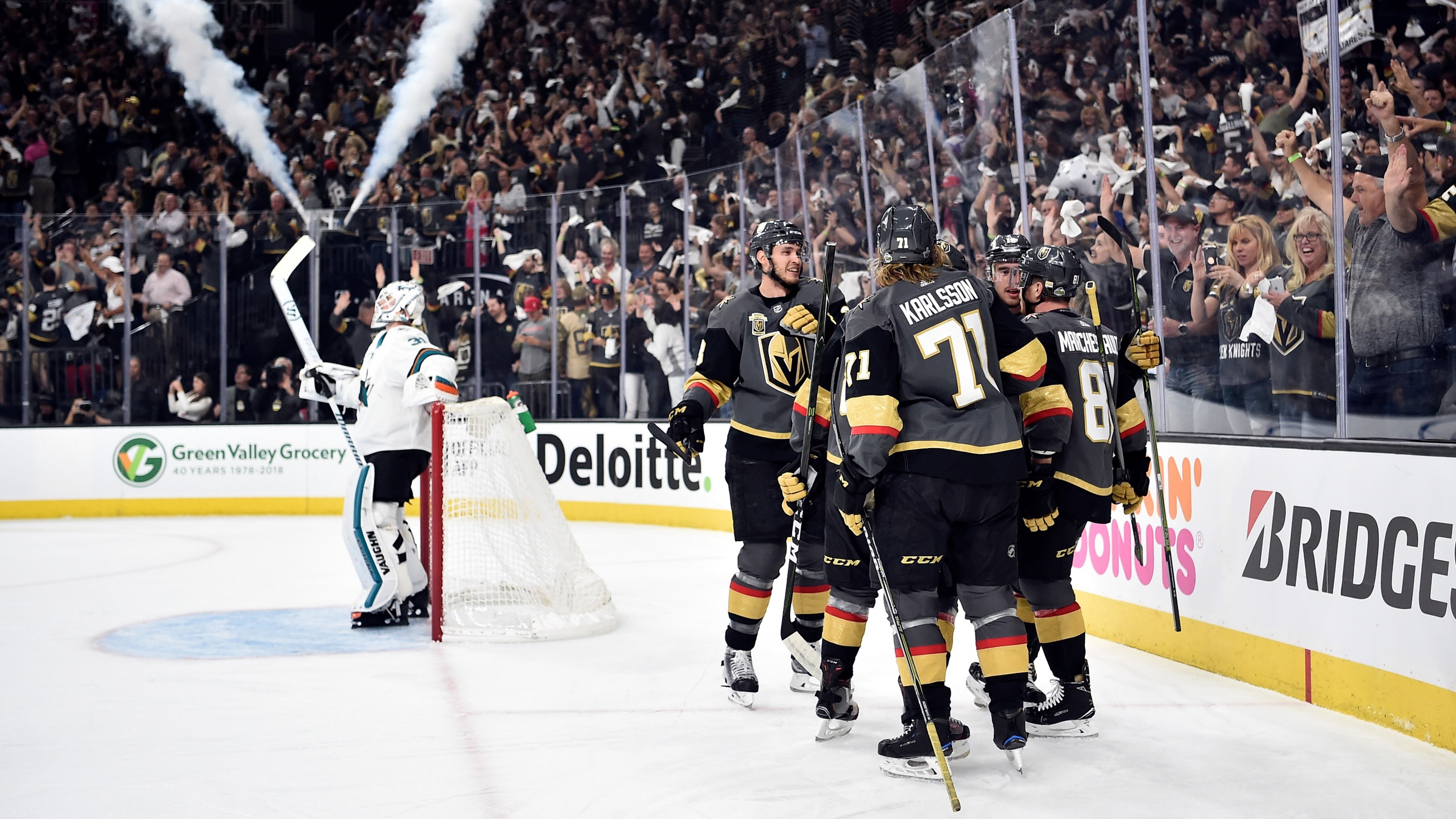 * Highlighted by three-point efforts from Jonathan Marchessault (1-2—3), William Karlsson (0-3—3) and Reilly Smith (0-3—3), the Golden Knights' seven goals matched the total from their entire First Round series against the Kings, while nearly doubling the total allowed by the Sharks in their series against the Ducks (4 GA).
* The Golden Knights became the third NHL franchise to score at least seven goals in a playoff game during its inaugural season. The Toronto Arenas did so during the first postseason in League history (Game 1 of 1918 NHL Final vs. MTL: 7-3 W) while the North Stars had two such outings against the Kings, another expansion club (Games 3 and 7 of 1968 Quarterfinals vs. LAK: 7-5 W and 9-4 W).
FLEURY RECORDS THIRD SHUTOUT OF 2018 PLAYOFFS
Golden Knights goaltender Marc-Andre Fleury recorded his 13th career postseason shutout and third of the 2018 Stanley Cup Playoffs. He moved into a tie with Turk Broda for ninth place on the NHL's all-time postseason shutouts list among goaltenders.
* Fleury became the 14th goaltender in NHL history to record three shutouts through his team's first five games of a playoff year and first since 2004, when Tampa Bay's Nikolai Khabibulin and Toronto's Ed Belfour did so.
* Fleury owns a 5-0 record with a 0.54 goals-against average and .982 save percentage this postseason, marking his third win streak of at least five games within a playoff year. The others came with the Penguins en route to appearances in the Stanley Cup Final: 7-0 in 2008 and 5-0 in 2009.
GUENTZEL, CROSBY LEAD PENGUINS TO ANOTHER COMEBACK WIN
The Penguins scored three goals in a span of 4:49 to erase a 2-0 deficit in the third period – with the trio of Jake Guentzel (1-2—3), Sidney Crosby (1-1—2) and Patric Hornqvist (1-1—2) combining for seven points – to win Game 1 in Washington.
* Pittsburgh advanced to the Second Round with an 8-5 victory in their series-clinching game against the Flyers on Sunday, a game in which they trailed 4-2. This marks the first time in franchise history that the club has overcome a multi-goal deficit to win consecutive playoff games.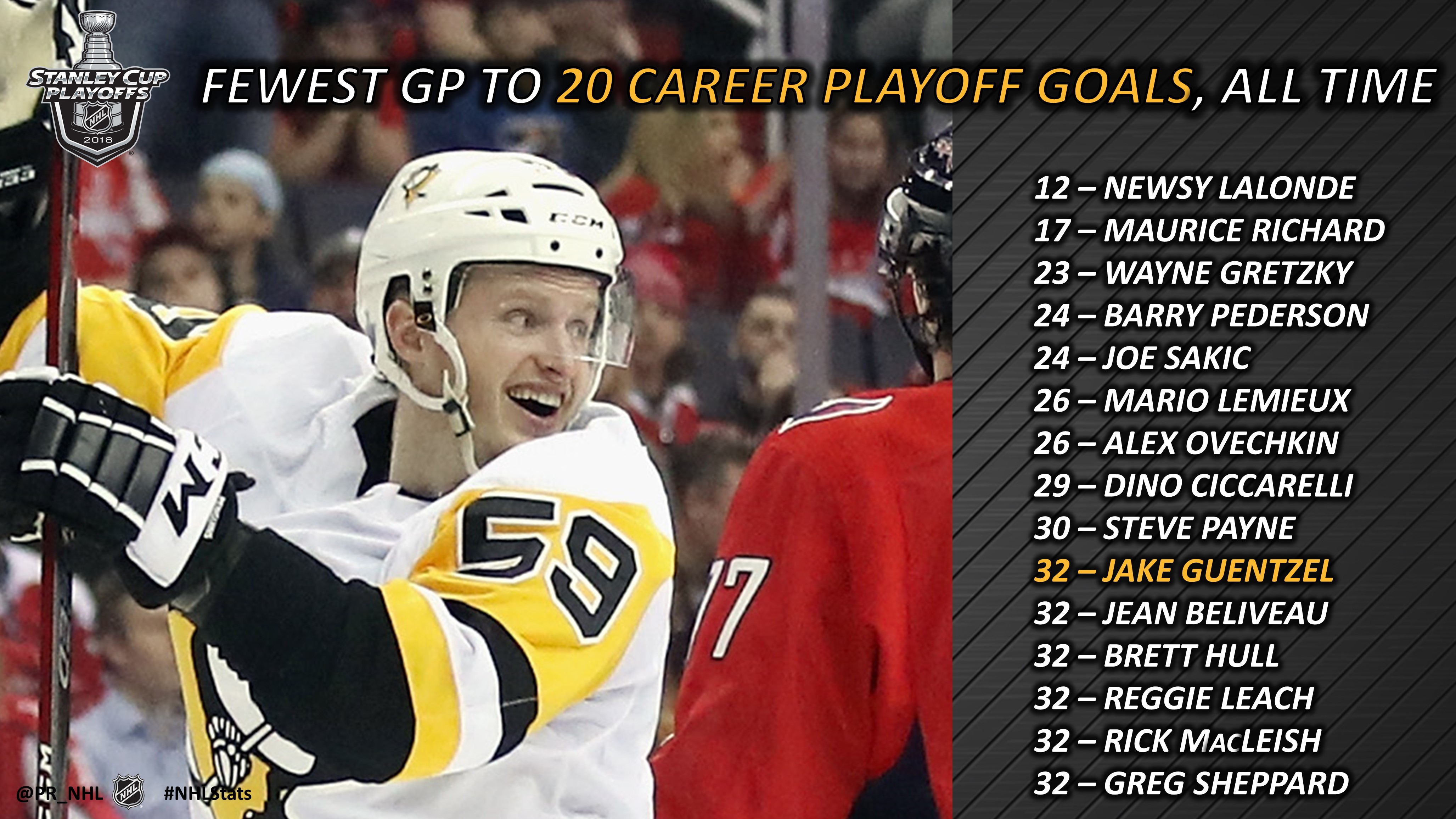 Jake Guentzel posted three points on the heels of his 4-1—5 outing in the decisive Game 6 against Philadelphia, extending his point streak to five contests (6-6—12) and boosting his totals to 7-9—16 in the 2018 Stanley Cup Playoffs to lead all players.
* This marks the 13th time in NHL history that a player has recorded 16+ points through his team's first seven playoff games. Two Penguins players also achieved the feat – Mario Lemieux in 1992 (17 points) and Sidney Crosby in 2010 (16 points) – while Wayne Gretzky (4x), Darryl Sittler, Newsy Lalonde, Joe Mullen, Mike Bossy, Bryan Trottier and Bernie Federko account for the other instances.
* Guentzel has recorded 20-17—37 in 32 career playoff games. Only nine players in NHL history required fewer postseason games to record 20 career playoff goals.

JETS, PREDATORS MEET ON THE HEELS OF SERIES-CLINCHING SHUTOUTS

Backed by two of the most passionate fanbases in the NHL, the Jets and Predators will meet in the Second Round after both posting series-clinching shutouts to conclude the First Round.

* After finishing first and second overall, respectively, in the regular season, Nashville and Winnipeg both continue their quest for their first Stanley Cup.

* Though they are each backed in net by a Vezina Trophy finalist – Pekka Rinne for the Predators and Connor Hellebuyck for the Jets – the teams combined for 42 goals in their five meetings in 2017-18 (8.4 goals per game), with Nashville (3-1-1) earning the edge over Winnipeg (2-3-0).

(NHL Media)