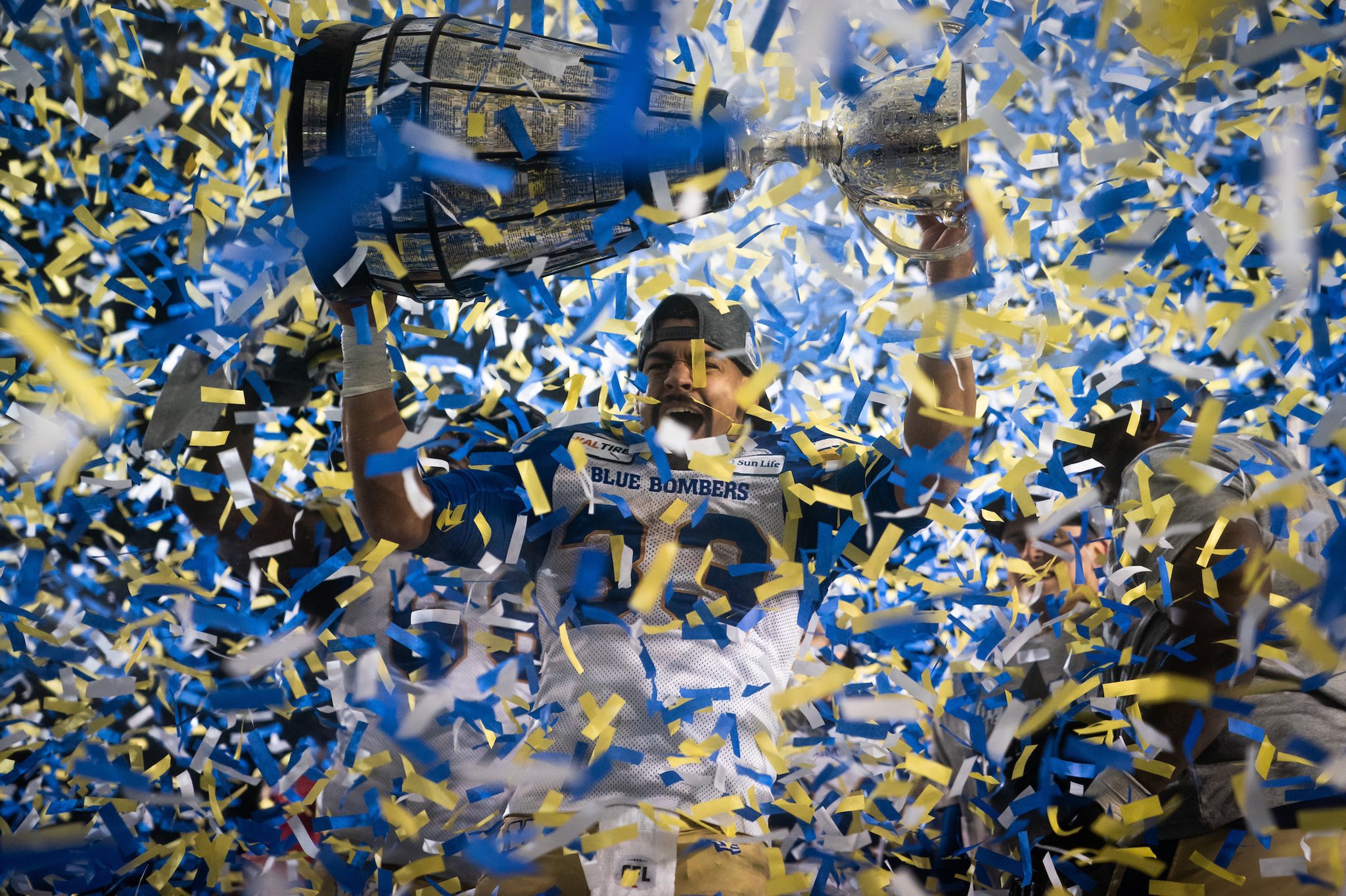 Picture: Winnipeg Blue Bombers
Rider fans, you can throw that 1990 chirp away. You knew at some point you would have to get rid of it and the time is now.
The Bombers drought is over and they have the Grey Cup. What a performance by Winnipeg---not just on Grey Cup Sunday but throughout the month of November. As Chris Cuthbert correctly noted, they walked into Calgary and allowed the Stamps to score just 14 points, they came into Mosaic Stadium and allowed just 13 points and they only allowed Hamilton to score 12 in the Grey Cup as they take the trophy back to Manitoba.
Say what you will about Andrew Harris, but he deserved the MVP and Top Canadian awards. I know there was an argument this week about Harris not being allowed to play in the game because of his suspension earlier this year, but there is nothing the CFL has in its constitution unlike MLB so he was good. Yes, you can say in this case cheaters prosper, but why bother as the season is now over.
Just some thoughts on Grey Cup 107
Hamilton was stopped twice on 3rd and short. Are Ti-Cat fans calling for Tommy Condell's head like they were Stephen McAdoo's last week. This just in, that Bomber defence doesn't give you much
Willie Jefferson may have been invisible down the stretch, but he was the Willie Jefferson you would expect on Grey Cup Sunday
Congrats to Paul Lapolice and Richie Hall. The image of Lapolice slamming his headphone down after the 13th man debacle in Calgary 10 years ago still resonates within Rider Nation and those who know what type of rough year it was one for one of football's good guys in Hall. They are champions
Dane Evans looked lost, Did the magnitude of the moment catch up with him or did he not have a chance because of that ferocious Winnipeg D. I think its a little of both.
Chris Cuthbert showed again that no matter the sport he is not only Canada's best at what he does, but one of North America's best. I am guessing if he were ever given the chance he could nail a Super Bowl much like Nantz, Michaels and Buck does.
Don't tell me Winnipeg pants guy hasn't put on a pair of pants in those cold Winnipeg winters. Sorry dude!
Keith Urban didn't put on the greatest Grey Cup halftime show I've seen, but he certainly wasn't the worst either. It was solid! One wonders who the Grey Cup 2020 halftime act will be as the CFL will have to go a long ways to top Urban because of his star-power. With it being a country act this year, I am thinking we have a little "rock" at Mosaic.
The Riders wouldn't have gotten as far as they did had Zach Collaros been with them, but the Bombers don't win it all without Zach Collaros
--Damon Allen came out this week and said he would love to be an offensive co-ordinator. I think he gets his wish somewhere. BC? Yes, the McAdoo haters here will say Damon would be a much better option than what we have. Do you want an inexperienced O-C in a Grey Cup year though?
--TSN's Brian Williams did a great job of grilling CFL commissioner Randy Ambrosie during the Grey Cup pre-game show. Brian asked what many CFL fans want to know and that is how do you get people in the three biggest markets interested in the game again. I don't know about you, but I want to see nine and maybe 10 healthy teams in this league instead of this worldwide agenda that Ambrosie has. Put your priorities in order this off-season Randy!
--Are the Toronto Maple Leafs now the Toronto Maple Keefes? Are Toronto fans starting to re-plan the parade route as the team has won two straight since the Mike Babcock firing.
Why do I think Babcock ends up in Seattle?
--There are many reasons for the Oilers improved play this year. One of those is the play of Ethan Bear. After a bad year last season, he has certainly fixed whatever was wrong. He is getting 20 plus minutes a night with the Oilers and not looking out of place at all. There is talk he could be used as trade bait to improve this team moving forward. I think if he keeps playing the way he is that Darnell Nurse and his salary could be expendable.
--I can't help but think the CFL wasn't impressed with the Babcock firing happening during Grey Cup week. This is the week the CFL wants the Canadian spotlight to themselves. Not this time. When all is said and done, I think the CFL got its fair share of headlines this week, but they could have had more.
--The ads for the World Juniors have started on TSN. Let us hope they have traded that for those oh so annoying "Shop Like A Mother" ads. What does that even mean?
--The NBA is looking at play-in tournaments, re-seeding and other things. Should the NHL investigate that idea? I like the playoff format the way it is (sorry Leafs fans), but if you can make it better and get some more interest I'd be OK with it.
--Two wins in a row for the Pats. Have they finally turned the corner? I think many knew this was a team that wouldn't be in the upper echelon of the league, but I also think some thought this was a team when the season started that would try to compete for a wild-card spot. The victories have been few and far between and one would think a playoff spot won't happen now, but its good to see that perhaps this squad has finally found some traction.
--That's all I got. Have a great week!