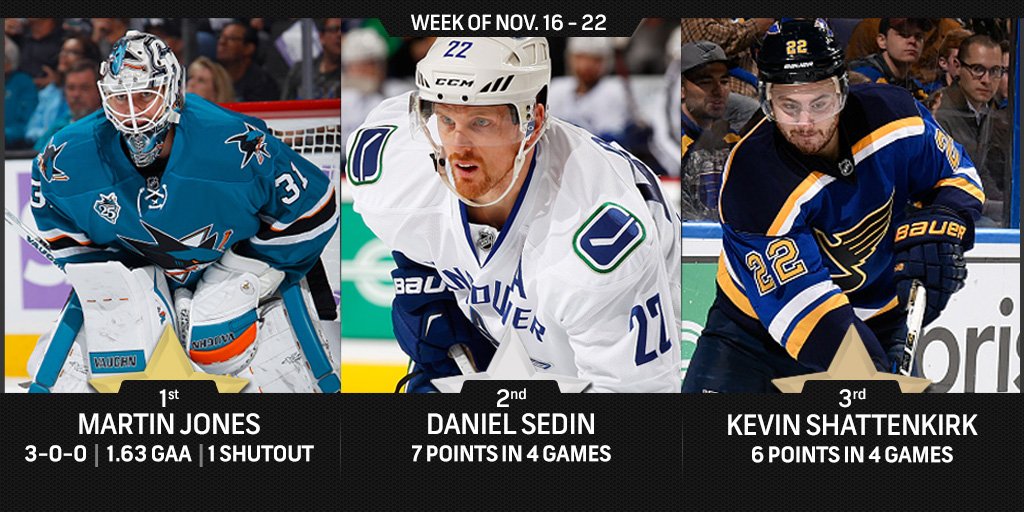 San Jose Sharks goaltender Martin Jones, Vancouver Canucks left wing Daniel Sedin and St. Louis Blues defenseman Kevin Shattenkirk have been named the NHL's "Three Stars" for the week ending Nov. 22.
FIRST STAR – MARTIN JONES, G, SAN JOSE SHARKS
Jones went 3-0-0 with a 1.63 goals-against average, .951 save percentage and one shutout during a week in which the Sharks (13-8-0, 26 points) picked up four victories to complete their season-high, six-game road trip with a perfect 6-0-0 record. In doing so, the Sharks became the sixth team in NHL history to win every game of a road trip of six or more contests – and the first to accomplish that feat since the 2010-11 Boston Bruins, who Jones made 25 saves against in a 5-4 win on Nov. 17. He followed that effort with a flawless performance (34 SV) for his 10th career shutout in a 1-0 overtime victory against the Philadelphia Flyers Nov. 19. Jones then capped the week with a season-high 38 saves in a 3-1 triumph over the Pittsburgh Penguins Nov. 21. The 25-year-old North Vancouver, B.C., native has compiled an 11-5-0 record with a 2.02 goals-against average, .929 save percentage and three shutouts in 17 appearances this season, his first campaign as an NHL starter.
SECOND STAR – DANIEL SEDIN, LW, VANCOUVER CANUCKS
Sedin led the NHL with five goals and ranked second with seven points as the Canucks (8-8-6, 22 points) went 1-2-1 in four outings. He scored in each of the team's first two games – a 4-3 overtime loss to the Montreal Canadiens Nov. 16 and a 4-1 defeat against the Winnipeg Jets Nov. 18. Sedin then registered 3-1—4, including his 900th NHL point, sixth career hat trick and the game-winning goal, in a 6-3 victory over the Chicago Blackhawks Nov. 21. In doing so, Sedin (337-567—904) became the second player in Canucks history to reach the 900-point milestone, following his brother Henrik (218-718—936). He finished the week with one assist in a 3-2 loss to the New Jersey Devils Nov. 22. The 35-year-old Ornskoldsvik, Sweden, native leads the Canucks with 10 goals and 23 points in 22 contests this season.
THIRD STAR – KEVIN SHATTENKIRK, D, ST. LOUIS BLUES
Shattenkirk paced all defensemen and shared third in the League with 2-4—6 in four outings as the Blues (13-6-2, 28 points) earned five out of a possible eight standings points. He began the week with a pair of assists in a 3-2 triumph over the Winnipeg Jets Nov. 16. Shattenkirk then scored in each of the next two games – a 3-1 loss to the Columbus Blue Jackets Nov. 17 and a 3-2 shootout win over the Buffalo Sabres Nov. 19. He rounded out the week with two assists in a 4-3 overtime loss to the Detroit Red Wings Nov. 21. The 26-year-old New Rochelle, N.Y., native has 2-6—8 in 11 appearances this season, including 2-5—7 in eight games since returning from injury Nov. 7.