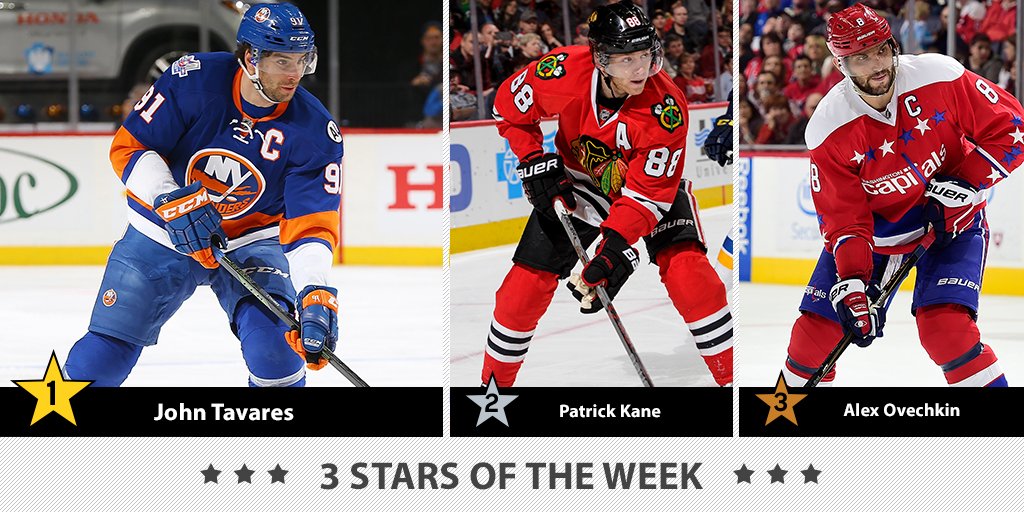 New York Islanders center John Tavares, Chicago Blackhawks right wing Patrick Kane and Washington Capitals left wing Alex Ovechkin have been named the NHL's "Three Stars" for the week ending April 10.
FIRST STAR - JOHN TAVARES, C, NEW YORK ISLANDERS
Tavares led the NHL with 4-5-9 in four games to power the Islanders (45-27-10, 100 points) to seven out of a possible 10 standings points and the first Wild Card spot in the Eastern Conference. He opened the week with consecutive three-point outings, registering 1-2-3 in both a 5-2 victory against the Tampa Bay Lightning April 4 and a 4-3 overtime win against the Washington Capitals April 5. Tavares then posted 1-1-2, his third consecutive multi-point performance, in a 4-1 triumph over the New York Rangers April 7 before scoring his 33rd and final goal of the season in a 4-3 overtime loss to the Buffalo Sabres April 9. The 25-year-old Mississauga, Ont., native paced the Islanders with 33-37-70 in 78 games in 2015-16, his third career and second straight 70-point campaign.
SECOND STAR - PATRICK KANE, RW, CHICAGO BLACKHAWKS
Kane shared second in the League with 3-3-6 in three games to guide the Blackhawks (47-26-9, 103 points) to four out of a possible six standings points and the No. 3 seed in the Central Division. He collected 1-1-2, including the winning goal, in a 6-2 victory over the Arizona Coyotes April 5. Kane then recorded one assist in a 2-1 overtime loss to the St. Louis Blues April 7 before closing the campaign with 2-1-3, his 11th three-point performance of 2015-16, in a 5-4 overtime loss to the Columbus Blue Jackets April 9. The 27-year-old Buffalo, N.Y., native set career highs with 46 goals, 60 assists and 106 points while playing in all 82 games this season to become the first U.S.-born player in NHL history to win the Art Ross Trophy.
THIRD STAR - ALEX OVECHKIN, LW, WASHINGTON CAPITALS
Ovechkin led the NHL with five goals in three games, including his 50th of the season, to help the Capitals (56-18-8, 120 points) close their Presidents' Trophy-winning campaign with a 1-1-2 record in the final week. He scored twice in a 4-3 overtime loss to the New York Islanders April 5. After being held off the scoresheet in a 4-3 overtime loss to the Pittsburgh Penguins April 7, Ovechkin capped the season with his 15th career hat trick as well as his 50th goal in a 5-1 victory over the St. Louis Blues April 9. The 30-year-old Moscow, Russia, native, who captured his fourth consecutive and sixth career Maurice "Rocket" Richard Trophy, became the third player in NHL history to total seven or more 50-goal campaigns (50-21-71 in 79 GP).