What a weekend! Where does one start? How about at Augusta where the golf world saw the sport's future collapse in mighty fashion.
Before Sunday's coverage of the Masters started, CBS ran a feature centred on while there has been many great Sunday stories at perhaps the world's most famous golf course, there have also been some epic final round undoings. I don't think anyone thought you would be adding to that list on Sunday. Jordan Spieth had one arm through his 2nd green jacket. That is until he hit the 12th hole and took a quadruple bogey 7 to basically end any chance he had of repeating right there. He went from green jacket to strait jacket. He melted under the spotlight. It isn't the first time he has experienced some Sunday afternoon yips, but he was fortunate enough to get away with one at the US Open because of what happened to Dustin Johnson.
In the end, Danny Willett---a guy no one knows in North America, but they do in Europe, received the much coveted green jacket, and as tradition would have it, it was given to him by Spieth. That had to hurt more than anything. Give Spieth credit though as he didn't pull off a Cam Newton when it was done. Unlike Newton at the Super Bowl, Spieth handled himself with dignity and class as he answered question after question as to why he had failed on the game's grandest stage when it was right there for the taking. I had my B-minus game tee to green, and I made up for it with my putter," Spieth said. "Ultimately you have to have your 'A' game in every single part." You really can't disagree with that.
---
The NHL season is over, and the quest for the Stanley Cup will begin later this week. I don't know how you can't make Patrick Kane the league MVP, but Braden Holtby will certainly give him a good run. Carey Price proved last year goalies can be the MVP. Did Holtby have a better season this year than what Price had last year. The numbers say yes!
Now that the season is over, a lot of people are wondering just what Oilers GM Peter Chiarelli has in store. I don't know what Chiarelli has up his sleeve, but I know there are a lot of current Oilers who can't be back. That includes Nikita Nikitin, Mark Fayne, Nail Yakupov and Benoit Pouliot. If Edmonton wins the lottery, they will take Auston Matthews, but if they should pick 2-5, I say you trade that pick and get one of the two defencemen you so desperately need. I also think Ryan Nugent-Hopkins will be the player to get traded as RNH can't go into 2016-17 as Edmonton's 3rd line center.
The rumour mill suggests the Calgary Flames will not look for a goalie in free agency, but try to get one in a trade. There are some rumblings the Flames are looking at Ben Bishop. If Steven Stamkos goes elsewhere, and it appears as if he will, does it mean GM Steve Yzerman will blow it up and start over. I would think if Bishop is to come to southern Alberta, it would cost the Flames one of their talented young forwards or perhaps a TJ Brodie. I don't think Calgary goes for that.
Oh yeah, I will say the last game of the regular season was a precursor to the Cup final with the Capitals taking on Anaheim in the final dance. Who is kidding who, you could pick any matchup and have a solid chance of it happening. In the Stanley Cup playoffs, the wild and the wacky occur. Who cares if Canada's teams aren't involved, it will be a great ride so strap yourself in starting Wednesday.
---
Russian hockey has taken a huge hit with the country's world under 18 team basically being scrapped because of most of their players tested positive for the same drug Maria Sharapova did. I have to ask if some of the young Russians in the NHL have been taking this stuff. Is Meldonium on the NHL's list of substances. I would think it is.
--
The Regina Pats come home knowing they can play with the Red Deer Rebels, but knowing full well they are down 2-0 to the Memorial Cup hosts after a pair of one goal losses. Give Red Deer credit as they came back in Game 1 after falling behind early 2-0 to a Regina team that is sending messages as to how good they are and will be. This series isn't over, but it will be if the home team doesn't win Tuesday night at the Brandt Centre. Here's hoping the rink is full and here's hoping the rink is loud.
----
Many players are showing their stuff to Chris Jones and company at the Riders mini-camp in Florida. The one player that everyone has their eye on is Darian Durant for good reason, and it would appear as if Doubles is passing the test. Hell, he gave himself an "A" on day 1. More on what the Riders are doing at Dodgertown will come tomorrow and Tuesday on the Sportscage as Rod and Luc have taken Saskatchewan's #1 sports show south of the border again.
----
Can someone please tell me how it is TSN can show us a high school prospects basketball game that means literally nothing, but we can't see CIS sports with the exception of playoffs? Oh wait, Toronto players were involved. TSN or Sportsnet could do the CIS and the CFL a huge favour by showing the East-West game next month, but I'm guessing that just won't happen. It truly is baffling!
---
Barry Bonds was asked his opinion of Bryce Harper on the weekend. The answer "Bryce is a beast, but he doesn't compare to me yet. He has a long ways to go. Thanks for that Barry! By the way----wrong answer, but nice try!
---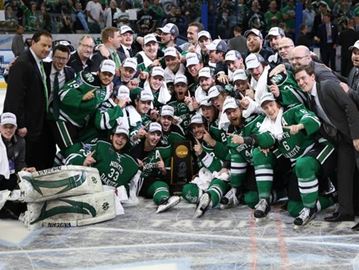 Congratulations to the University of North Dakota for winning the NCAA title. I have been a fan of UND since we used to get our cable from North Dakota. Does anyone remember Sioux Hockey and Ed Schultz!! UND beat Quinnipiac in Tampa on Saturday night to win the title in what was a fantastic hockey game and a game played the way it is supposed to. The NCAA brand is a fantastic brand of hockey. I just love watching it when I get the chance. There were several good players on UND, but Drake Caliggula might be the best of them and he's a free agent. I would think many NHL teams have this guy on their list.
---
Congratulations also goes out to Regina's Ben Hebert as he captured world curling gold on the weekend as he and the rest of the Kevin Koe rink won the Worlds beating Denmark.
---
That's all I got. Have a great week!