NOT MUCH LONGER
-- Another week is upon us, and at this time next week the Rider Nation will have savoured the first game action of 2016 as the first exhibition game (and last at Mosaic) will have come and gone. I haven't been in Saskatoon for camp, but with the exception of the Green and White game which Chris Jones was apparently disgusted with, I have heard nothing but positives coming out of the University of Saskatchewan.
People I have spoken with who have checked out camp say the first thing you will notice about the team is the size and the speed. This shouldn't be a surprise as this is what Jones likes to align himself with, but you do need to see it for yourself.
Those same people say the one player who has really stood out for them is 2nd year receiver Naaman Roosevelt. He had an outstanding second half of the season once he got in there, and he should be able to build on that with a better quarterback getting him the ball. Others who have looked good include Greg Jones (no surprise), Jonathan Newsome, Qudarius Ford, Aaron Picton and Ryan Langford.
Those of us who haven't been in Saskatoon will get our first look on Saturday, and I can't wait.
GOODBYE TO THE GREATEST
- There isn't much you can say about Muhammad Ali that hasn't been said already. There simply never was and perhaps never will be an athlete who has meant as much to the world as Ali both during and after his legendary career. Over the weekend, this picture kept coming up in my Facebook feed from those eulogizing Ali with several saying this is perhaps the greatest sports picture ever taken.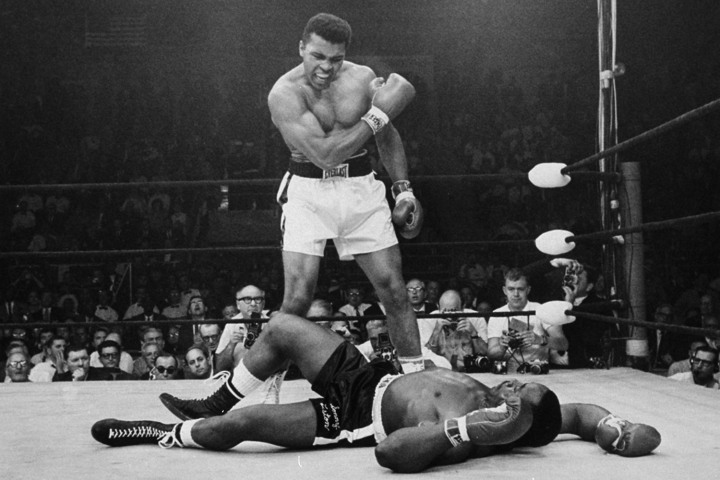 There have been many great sports pictures taken with the ones that sit front and center in my mind being the celebration after Paul Henderson's goal in 1972 and Bobby Orr's flight through the air after his Stanley Cup winner in 1970. Of course, there is this one for those of us who call Saskatchewan home that has become rather iconic as well.
There have been so many good ones begging the question, what one is your favourite?
WHAT A RUSH!! - Is it safe to say Jeff Cornwall of the Saskatchewan Rush has quickly entrenched himself into the history of Saskatoon and Saskatchewan sports with one flick of the wrist. It looked like Game 2 of the NLL final was going to go into overtime until Cornwall got the ball on a breakaway and scored with just 12 seconds left to give the Rush the NLL title and I think Saskatoon's first league title of any kind. It is safe to say the decision by the Rush to move from Edmonton to Saskatoon was a huge success both on and off the rink. Saskatoon (and Saskatchewan) really took to a league and a sport that not many knew about at this time a year ago. It's a partnership that looks to have taken roots, and it is good to see. Congrats to all involved with the Rush for doing a tremendous job in 2016. Threepeat??
SORRY MATT -- As Game 3 of the Stanley Cup Final started to wind down with the Pittsburgh Penguins holding a one goal lead, I asked on Twitter if Matt Murray should be in the conversation when it comes to who is the Conn Smythe Trophy winner. Yeah, forget about that.
(San Jose Sharks/Instagram)
Moments after I hit send, Joel Ward scored a softie to send the game into OT and then he let in another one that maybe he should have had as San Jose crawled back into the series. If Murray doesn't let Ward's shot from just inside the blue-line get through him, you have to wonder if it would have been over in four straight. That could be a huge turning point. Time will tell. As for who wins the Conn Smythe, who gets your vote right now. Is Sid in the equation? I'm thinking Joe Pavelski gets it if the Sharks win. If they win Game 4, they could very well take it all.
ROCKHOLD GETS ROCKED -
Luke Rockhold admitted he took Michael Bisping lightly. Did he ever! Bisping shocked the UFC universe by knocking out Rockhold to win the middleweight belt at UFC 199. The big events coming out of the PPV were outside of the cage instead of inside it as we found our Conor McGregor will meet Nate Diaz at UFC 202 and Brock Lesnar, with permission from the WWE, will step back into the octagon at UFC 200. Lesnar is slated to perform at WWE's big summer evcnt--Summerslam---so you know Vince McMahon will be hoping "the beast" comes out of the octagon unscathed. You also wonder if this could result in a UFC superstar stepping into a WWE ring for a match. One never knows when Dana Whie and Vince McMahon are involved.
HOW GOOD WAS STEVE NASH?
- The Canadian never got the credit he was due when he was in the NBA winning back-to-back MVP's. A lot of that is due to the fact he never took his team to the championship. As you see in this graphic, which ESPN's Adam Schefter put up Sunday night after Golden State's blow-out win over Cleveland in Game 2 of the Finals, it would seem Steph Curry still has some work to do to get to Nash's numbers
I will admit, these numbers even surprise me. It shows you what a supporting cast can do and Nash didn't have in Phoenix what Curry has had in Golden State.
JAYS TAKING FLIGHT? -
As we hit early June, are the Toronto Blue Jays ready to get back to acting like a playoff team. Taking two out of three from Boston on the weekend have left the Jays two and a half games out of the AL East lead and they seem to have their you know what together. There are still some question marks, but that can be said about every contending team including baseball's best team---the Chicago Cubs. The acquisition of Jason Grilli helps the bullpen, but Jose Bautista can't be the long-term answer at leadoff. The Jays need a lead-off man and if that lead-off man can play left--all the better for Toronto as they try to repeat as division champs.
That's all I got. Have a great week!