Well, well, well, maybe Chris Jones can build a football team from scratch. I haven't heard a lot of Jones hate the last few weeks with the exception of that Could that be because people are starting to see the potential of this football team??
The green-and-white gave their head coach an early 50th birthday Saturday night by gutting out a 20-18 win over Hamilton.on what was a soggy Saturday night in one of the final football games of meaning at Mosaic. It was one where the football team showed a lot of moxie, and it was one where they showed that despite being 3-10, they can't be considered a pushover any more. Here are my thoughts on what happened:
I didn't think I would be able to ask Darian Durant the question seeing he got knocked out of the game with a concussion, but Durant was well enough to speak to reporters after the game, I asked him if that was the best performance he had had in a Riders uniform since that magical Sunday night in November of 2013 against those same Ti-Cats, and he admitted it was. He says there is something about those cool, fall nights in Saskatchewan that suits him well. Darian was well on his way to a 400 yard game, and was looking like the Durant of old on Saturday night. As was uttered in the pressbox, he looked like a quarterback who was showing to his organization that he wants to get paid when it comes time to having some serious discussions about a new contract.
The defense is just getting better and better, Since that meltdown in Hamilton, the "D" has gotten better and better. They didn't get wins against Winnipeg, but they were right there. They have given up 86 points in their last 4 games which is just a shade over 21 a game. In the CFL, if you are giving up on average 20-25 points a game, that's not bad.
How would that game had changed had Adrian Tracy's 100 plus yard fumble return counted. Yes, Mitchell Gale was down, but that play was a huge turning point. It was a 14 point swing. The Ti-Cats should have been up 17-10, but instead they were down 17-10 after Durant ran it in on the next play, It's breaks like that that good teams start to get.
How about Tyler Crapigna! The kicker has won two of the three Rider games this year with some last second heroics. A lot of people needlessly got on his case after the Labour Day loss. The kid can kick. As I said after the Winnipeg game, everyone has a bad day at the office.
When Naaman Roosevelt comes back, the Riders will have a triple threat at receiver. Roosevelt, Caleb Holley and Armanti Edwards are a nice trio, and let's not forget about Rob Bagg either,
Bottom line is this team is starting to show you what you can expect in 17 and beyond. The building blocks are in place. There are still things which have to be done (getting rid of backup QB plays running short yardage), but this team is showing signs they are a team to be wary of both down the stretch this year and next.
JOEY SAVES THE DAY -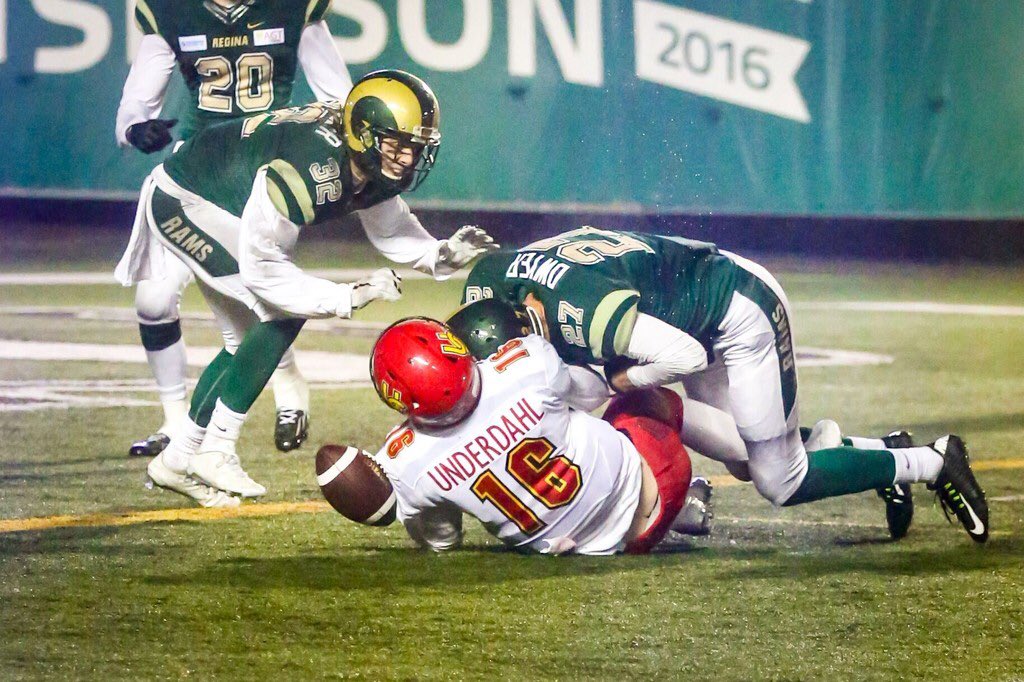 Standing on the sidelines Friday night at Mosaic working the Access/SHAW broadcast of the Rams/Calgary game, I was furiously trying to call an audible, Rams receiver Mitch Picton was going to be the star of the game, but the Calgary Dinos were driving in the game's final moments. I was trying to find out stats of the Calgary players as I stood at the Rams 2. Calgary QB Jimmy Underdahl took off for the endzone, and it looked like he might score until linebacker Joey Dwyer literally destroyed him in a picture above captured by PSP photography.
It sounded like someone had fired a shot right beside me, and you could hear Underdahl give a pained yell as he fumbled the football giving Regina a 32-27 win and first place in Canada West. In a game that the Dinos looked to own in the first 28 minutes, Noah Picton finally found a way late in the 2nd quarter and when he did, there was no stopping the Horns. The job Steve Bryce is doing with this football club that lost its identity in a horrid 2015 campaign is simply amazing. Picton continues to put up Madden-like numbers to receivers who CFL scouts must be drooling over, Sheldon Gray has the defence playing well and confidence is at a place I haven't seen it at in a long time, Did anyone think midway through the Canada West season the Rams would be in first place? That's where they are setting up what will be a fantastic tilt at new Mosaic on Saturday. 16-thousand fans watching the first place Rams and the Huskies. LOVE IT!! Can they sell another 5 grand this week? OK, I know that isn't going to happen, but the atmosphere inside the new stadium for the debut event should be off the charts. If Regina could win that game and then go into Alberta and beat the winless Bears, I think they would host a playoff game. It would mean one more game at Mosaic as the Canada West semis would go one week after theMylan Riders last home game of the year,
As great as it is to see this turnaround, I feel great for guys that were on that team which went 0-8 last year, You could see the anger and the frustration mounting with that team last year, and they let some wins get away from them for whatever reason. To go from that spot to this is a feeling they should cherish. They deserve to be feeling that way after last year. Yes they do!!
A DARK SUNDAY - Sunday was absolutely a terrible day in the world of sports. It all started when news filtered down early in the morning that Miami Marlins pitcher Jose Fernandez had been killed in a boating accident. He was one of the game's marquee pitchers. He had Cy Young Award winner written all over him, and the best was yet to come. From all accounts, he was a better person than he was a pitcher. I watched Fernandez twirl a 3 hitter in what eventually was his last start. What a terrible loss!
Just hours after the Fernandez news, word started to trickle down from Calgary about a Stampeders player being killed. Was it a regular? Was it a star player? As it turned out, it was a guy I don't think anyone knew of as it was practice roster player Mylan Hicks. That doesn't take away from the senselessness of what occurred outside a nightclub in the city as he was shot to death. Was he targetted because he was a Stampeder? We know that has happened here in the past. He was not the only Stampeder at that bar. One has to wonder. He was in the CFL doing what he loved and trying to make a name for himself so that maybe one day he could be an NFL'er. We don't know what went down, but I am guessing he just went to that place to be with his teammates celebrating a win, and wasn't looking for trouble, but sadly trouble found him, Again, a terrible loss.
It was all capped off with news just after the supper hour of the death of Arnold Palmer. He was a living legend. Those who know anything about golf know all about Arnie. He was an icon of the sport and he will be missed in not just golf circles, but sports circles.
THANK YOU VIN -
The bright light on what was a dark Sunday was that of Vin Scully, Talk about living legends. The long-time Dodgers broadcaster called his final home game and the baseball gods made sure it was memorable. A 9th inning homer to tie it followed by a 10th inning homer to win it and clinch the division, The baseball gods would have it no other way. If you saw the beginning of the game, and the end of the game, it was moments that stand still as he thanked the fans for allowing him to be the man he is today. The relationships he forged with those fans whether it be through TV, a transistor radio or being at the ballpark was the reason he is adored as much as he is. Scully said without the fans, he is nothing and so are the Dodgers. You really can't argue that.
When it was over, he had the mike one last time to say goodbye with his wife at his side while a tape of him singing "Wind Beneath My Wings" was played. It was a moment only Vin Scully could paint. Dodger baseball without him will never sound the same, He truly is the greatest of all time.
WEEK 3 NFL THOUGHTS ---
The 2nd half performance of Seahawks receiver Doug Baldwin last year was no fluke
With Dak Prescott and Ezekiel Elliott, the Dallas Cowboys are in good shape
With Carson Wentz, the Eagles are in great shape
I still don't know how the Rams picked Jared Goff ahead of Wentz. It is far too early to say we have another Leaf-Manning story on our hands, but Goff needs to start playing
I could see Miami struggling against Seattle and New England, but Cleveland?
No Bridgewater, no Peterson, no losses. The Vikings are sending a message
Let's stop with all this talk about Arizona being a Super Bowl contender. They got schooled by Buffalo for god's sake
John Elway knew what he was doing when he let Brock Osweiler walk in free agency. Trevor Siemian is a keeper.
THE UNDERRATED JOHN TAVARES - As the World Cup of Hockey winds down, it would seem a given that Canada will win. While Sidney Crosby, Brad Marchand and Jonathan Toews have been getting a lot of the ink, and deservedly so, it seems as if John Tavares has once again been reduced to an after-thought. I haven't seen all of Canada's games, but the games I have seen have once again seen the Islander forward playing at a very high level. I think he's one of the top 10 players in the game today, but he never gets the recognition. His play at this tournament has been unreal and the goal he got against Russia the other night was one of the best at the event. I don't know if its the team he plays on or if its something else, If he was on a Canadian team, that spotlight would start shining on him. That being said, I don't see him going anywhere anytime soon.
That's all I got. Have a great week!