St. Louis Blues defenseman Alex Pietrangelo, Colorado Avalanche center Nathan MacKinnon and Toronto Maple Leafs goaltender Curtis McElhinney have been named the NHL's "Three Stars" for the week ending March 18.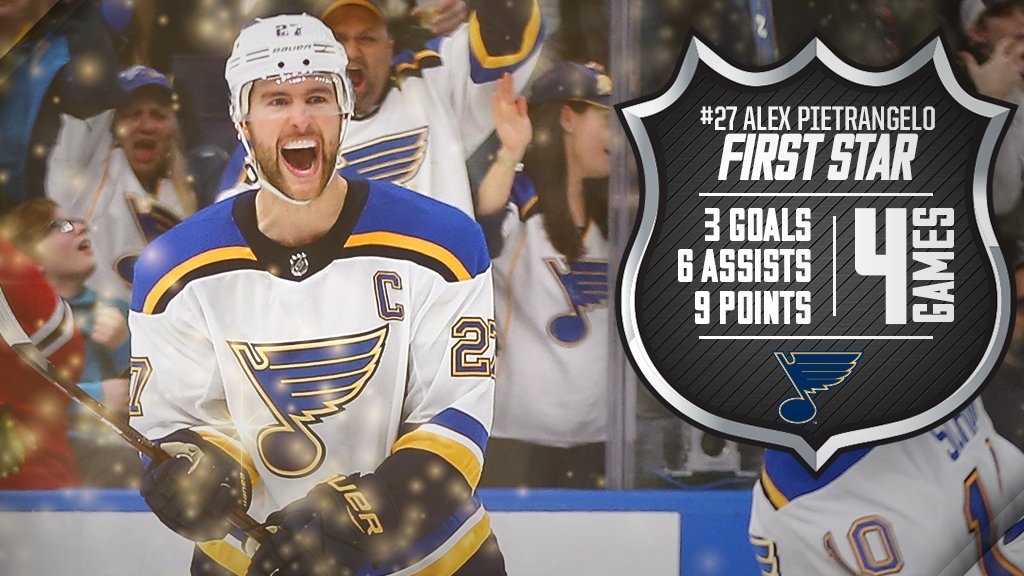 FIRST STAR – ALEX PIETRANGELO, D, ST. LOUIS BLUES
Pietrangelo led the NHL with 3-6—9 in four games to power the Blues (39-28-5, 83 points) to a 3-1-0 week and within one point of the final playoff spot in the Western Conference. He collected two assists in a 4-2 victory over the Anaheim Ducks March 12 before being held off the scoresheet in a 4-1 loss to the Colorado Avalanche March 15. Pietrangelo bounced back with 2-1—3, his fifth career three-point performance, in a 4-3 overtime win against the New York Rangers March 17. He then set a career high with 1‑3—4, highlighted by the tying goal with 1:22 remaining in regulation and an assist on the overtime winner, in a 5-4 triumph versus the Chicago Blackhawks March 18. In doing so, Pietrangelo became the second defenseman in Blues history to record consecutive three-point games (also Rob Ramage: Dec. 26-27, 1987). The 28-year-old King City, Ont., native shares first place among NHL blueliners with 15 goals and ranks 10th among League defensemen with 50 points in 68 outings this season (15-35—50).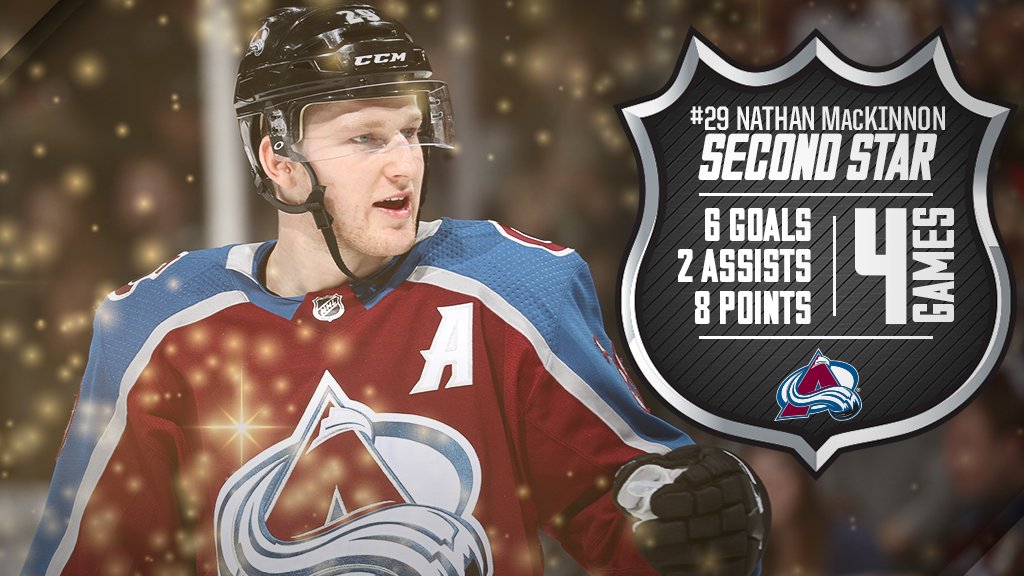 SECOND STAR – NATHAN MacKINNON, C, COLORADO AVALANCHE
MacKinnon paced the NHL with six goals and ranked second with eight points (6‑2—8) in four games as the Avalanche (39-25-8, 86 points) went 3-1-0 to climb into the first Wild Card spot in the Western Conference. He scored one goal in a 5-1 victory against the Minnesota Wild March 13. MacKinnon then registered 2-1—3, including his League-leading 11th game-winning goal of the season (tied with Calgary's Sean Monahan), in a 4-1 triumph over the St. Louis Blues March 15. He added one goal in a 4-2 loss to the Nashville Predators March 16 before capping the week with 2-1—3, his League-best 13th three-point effort of the campaign, in a 5-1 victory against the Detroit Red Wings March 18. The 22-year-old Halifax, N.S., native paces the NHL with 1.39 points per game and ranks third overall with 38-51—89 in 64 contests this season, highlighted by 13-11—24 during an active 12-game point streak.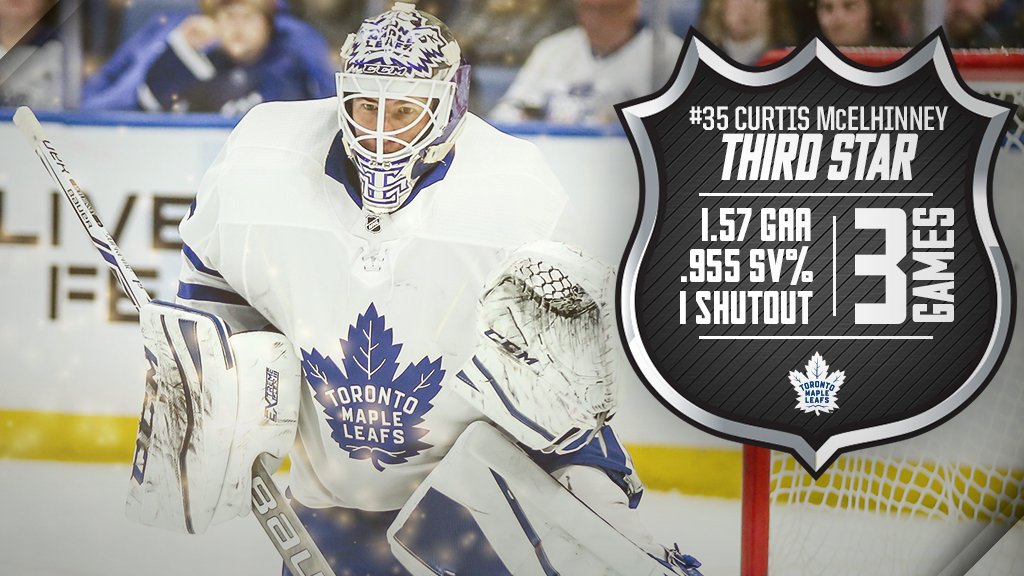 THIRD STAR – CURTIS McELHINNEY, G, TORONTO MAPLE LEAFS
McElhinney went 3-0-0 with a 1.57 goals-against average, .955 save percentage and one shutout as the Maple Leafs (43-22-7, 93 points) posted a perfect week to move within two wins of matching the single-season franchise record (reached in 1998-99, 1999-00 and 2003-04). He made 13 saves in relief and added two shootout stops in a 6‑5 victory over the Dallas Stars March 14. McElhinney then turned aside 38 shots in a 5-2 win against the Buffalo Sabres March 15. He closed the week with 33 saves for his eighth career shutout in a 4-0 triumph over the Montreal Canadiens March 17. The 34-year-old London, Ont., native owns a 10-4-1 record with a 2.09 goals-against average, .935 save percentage and three shutouts in 16 appearances this season.