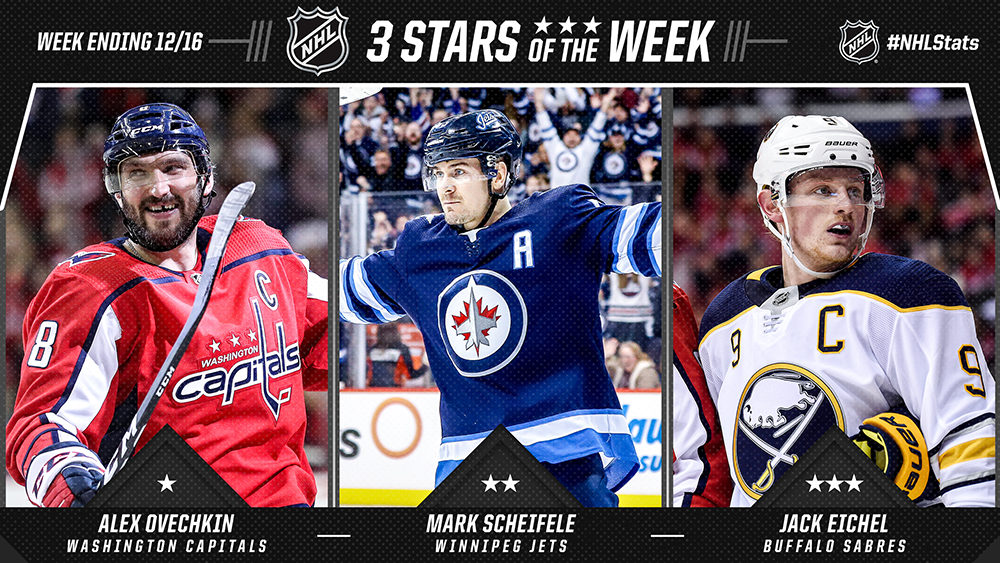 Washington Capitals left wing Alex Ovechkin, Winnipeg Jets center Mark Scheifele and Buffalo Sabres center Jack Eichel have been named the NHL's "Three Stars" for the week ending Dec. 16.
FIRST STAR – ALEX OVECHKIN, LW, WASHINGTON CAPITALS
Ovechkin paced the NHL with seven goals in three games (7-0—7), highlighted by back-to-back hat tricks, to propel the Metropolitan Division-leading Capitals (20-9-3, 43 points) to a perfect week and their fifth straight win overall. Ovechkin scored three times in each of his first two outings, a 6-2 victory (including the game-winning goal) against the Detroit Red Wings Dec. 11 and a 6-5 shootout triumph over the Carolina Hurricanes Dec. 14. Those served as the 21st and 22nd hat tricks of Ovechkin's career, moving him into a share of 11th place in NHL history (w/ Teemu Selanne). It also marked the second time Ovechkin has registered hat tricks in consecutive team games, a feat he achieved in the first two contests of the 2017-18 season. Ovechkin closed the week with one goal in regulation as well as the shootout winner in a 4-3 victory against the Buffalo Sabres Dec. 15. That extended his point streak to a career-high 14 games (17-6—23) and his goal streak to six contests (10-1—11), one off Ovechkin's personal best set during his rookie season (Feb. 10 – March 8, 2006: 8-5—13 in 7 GP). The 33-year-old Moscow, Russia, native and seven-time Maurice "Rocket" Richard Trophy winner tops the NHL with 29 goals in 32 total outings this season (29-14—43), five more than the next-closest player.
SECOND STAR – MARK SCHEIFELE, C, WINNIPEG JETS
Scheifele led the NHL with 5-6—11 in four games, including back-to-back overtime goals, to lift the Jets (22-9-2, 46 points) to their fifth consecutive win overall and into first place in the Central Division. He posted 1-1—2 in 6-3 triumph over the Chicago Blackhawks Dec. 11. Scheifele then recorded three straight three-point performances, started by 1-2—3 (including the primary assist on the overtime winner) in a 5-4 victory against the Edmonton Oilers Dec. 13. He scored the overtime winner in the following two contests, a 4-3 triumph over the Blackhawks Dec. 14 (2-1—3) and a 5-4 victory against the Tampa Bay Lightning Dec. 16 (1-2—3). In doing so, Scheifele became the second player in Jets/Thrashers history to register an overtime goal in consecutive team games as well as the second player in franchise history to post three straight three-point outings. The 25-year-old Kitchener, Ont., native ranks fifth in the NHL with 21-25—46 in 33 contests this season, highlighted by multiple points in each of his last five games (5-9—14).
THIRD STAR – JACK EICHEL, C, BUFFALO SABRES
Eichel ranked second in the NHL with 5-4—9 in four games to power the Sabres (20-9-5, 45 points) to a 3-0-1 week and into second place in the Atlantic Division. He collected 1-1—2 (including an assist on the overtime winner) in a 4-3 triumph over the Los Angeles Kings Dec. 11. Eichel then picked up one helper in a 3-1 victory against the Arizona Coyotes Dec. 13, followed by two goals in a 4-3 shootout loss to the Washington Capitals Dec. 15. Eichel capped the week with 2-2—4, his fifth career four-point performance, in a 4-2 win over the Boston Bruins Dec. 16. The 22-year-old North Chelmsford, Mass., native sits seventh in the NHL with 14-31—45 in 34 appearances this season, including 9-4—13 during an active six-game point streak.
(NHL Media)