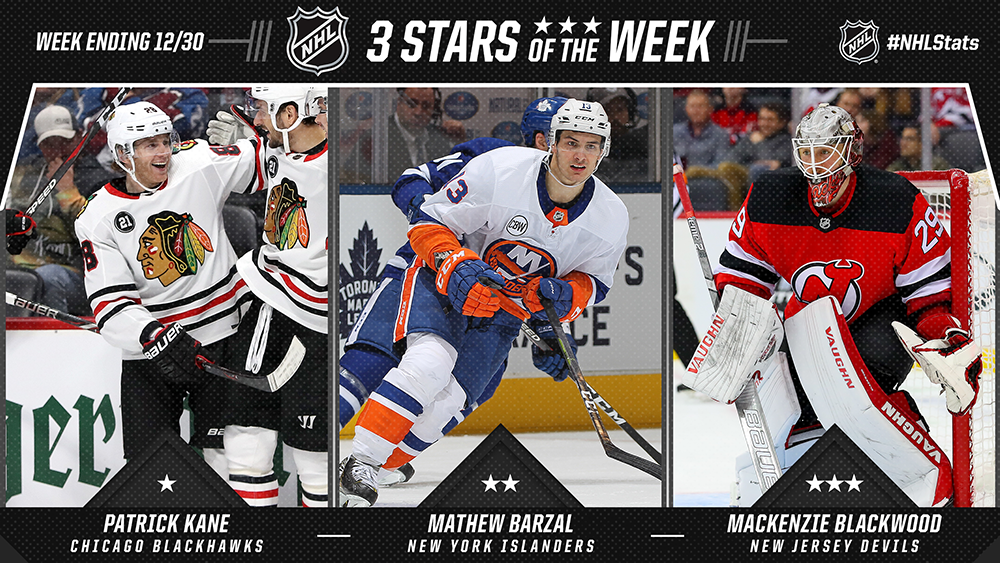 Chicago Blackhawks right wing Patrick Kane, New York Islanders center Mathew Barzal and New Jersey Devils goaltender Mackenzie Blackwood have been named the NHL's "Three Stars" for the week ending Dec. 30.
FIRST STAR – PATRICK KANE, RW, CHICAGO BLACKHAWKS
Kane shared the League lead in goals (5) and points (6) in two outings, scoring a pair of game-winners to power the Blackhawks (15-20-6, 36 points) to consecutive victories in advance of the 2019 Bridgestone NHL Winter Classic. Kane registered his fifth career hat trick – and 20th goal of the season – in a 5-2 triumph over the Minnesota Wild Dec. 27. In doing so, he became the 14th player in NHL history to record 20-plus goals in each of his first 12 seasons as well as the third player in Blackhawks history to reach the milestone in 12 straight campaigns at any point in his career. Kane then posted 2-1—3, including his seventh career overtime goal, in a 3-2 victory against the Colorado Avalanche Dec. 29. That extended his point streak to seven games (7-6—13), highlighted by a trio of three-point performances (also Dec. 20 at DAL: 2-1—3). The 30-year-old Buffalo native has collected 22-28—50 in 40 contests this season, ranking in the top 10 in the NHL in shots on goal (3rd; 159), game-winning goals (t-5th; 5), points (7th; 50) and goals (t-10th; 22).
SECOND STAR – MATHEW BARZAL, C, NEW YORK ISLANDERS
Barzal also notched an NHL-best five goals and six points in two games (5-1—6) to lift the Islanders (20-13-4, 44 points) to their third straight win overall and sixth victory in their past seven contests. He tallied 2-1—3, including the tiebreaking and insurance goals, in a 6-3 comeback win over the Ottawa Senators Dec. 28. Barzal then registered his second career hat trick (also Dec. 23, 2017 vs. WPG) in a 4-0 triumph against the Toronto Maple Leafs Dec. 29. At 21 years, 217 days, he became the third-youngest player in Islanders history to record a natural hat trick as well as the eighth different player in franchise history to achieve the feat in less than eight minutes. The Coquitlam, B.C., native and reigning Calder Memorial Trophy winner paces New York with 10‑25—35 in 37 outings this season and 32-88—120 in 119 games since the start of 2017-18.
T
HIRD STAR – MACKENZIE BLACKWOOD, G, NEW JERSEY DEVILS
Blackwood stopped 77 of the 79 shots he faced (1.00 GAA, .975 SV%) to earn his first two NHL wins and first career shutout in guiding the Devils (14-16-7, 35 points) to a perfect week. Blackwood, who made his League debut Dec. 18, picked up his first NHL victory with 40 saves in a 5-2 triumph over the Boston Bruins Dec. 27. He then turned aside all 37 attempts against in a 2‑0 win against the Carolina Hurricanes Dec. 29. At 22 years, 20 days, Blackwood became the third-youngest goaltender in Devils franchise history to post his first NHL shutout. The Thunder Bay, Ont., native and 2015-16 OHL Goaltender of the Year has appeared in five total NHL games, compiling a 2-1-0 record with a 1.59 goals-against average, .956 save percentage and one shutout.