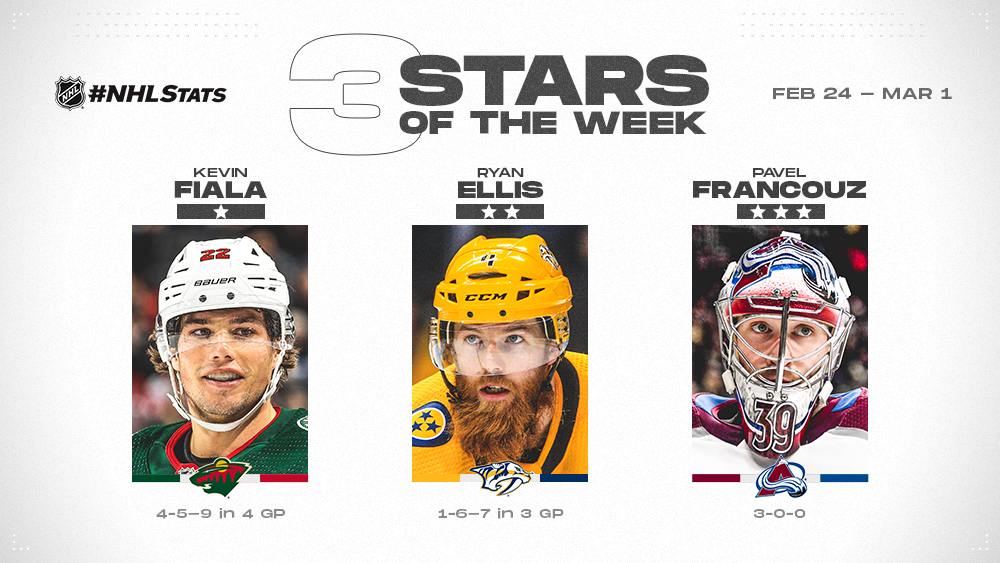 NEW YORK (March 2, 2020) – Minnesota Wild left wing Kevin Fiala, Nashville Predators defenseman Ryan Ellis and Colorado Avalanche goaltender Pavel Francouz have been named the NHL's "Three Stars" for the week ending March 1.
FIRST STAR – KEVIN FIALA, LW, MINNESOTA WILD
Fiala had four multi-point games to lead the NHL in goals (4; tied) and points (4-5—9), pacing the Wild (32-26-7, 71 points) to a 3-1-0 record and within one point of a playoff spot. He had 1-1—2, including the winning goal, Feb. 25 in a 5-4 victory over the Columbus Blue Jackets. He then posted 1-2—3 in a 7-1 win over the Detroit Red Wings on Feb. 27 followed by another 1-1—2 outing versus Columbus, in a 5-0 triumph Feb. 28. He closed the week with 1-1—2 in a 4-3 loss to the Washington Capitals on March 1 to become the third player in club history with multiple points in four straight games, joining Marian Gaborik (2006-07 & 2007-08) and Brian Rolston (2005-06) who had equal runs. Fiala is the 19th player to achieve that feat in 2019-20, with only Leon Draisaitl and Nikita Kucherov extending to five games. Fiala, 23, a native of St. Gallen, Switzerland, was selected 11th overall by Nashville in the 2014 NHL Draft. In his second season with the Wild, he leads the team with a career-high 49 points in 60 games (20-29—49).
SECOND STAR – RYAN ELLIS, D, NASHVILLE PREDATORS
Ellis had multiple points in all three contests to lead defensemen and tie for second in the entire NHL with seven points (1-6—7), factoring on seven of nine Nashville goals to guide the Predators (32-24-8, 72 points) to a 2-1-0 record and into a playoff spot for the first time since Nov. 13. Ellis began the week with one goal and two assists in a 3-2 victory over the Ottawa Senators Feb. 25. Two days later he notched 0-3—3 in a 4-3 overtime win over the Calgary Flames, matching career highs for assists and points in a game. He closed the week with two assists in a 3-2 loss to the Avalanche on Feb. 29. This is the third time this season that Ellis has posted multiple points in at least three straight games, with the first such run matching a franchise record at four games (Oct. 12-19, 2019: 0-8—8 in 4 GP). Selected 11th overall by Nashville in the 2009 NHL Draft, the 29-year-old native of Hamilton, Ont., is in his ninth season with the Predators and sits six points shy of a new career high despite playing in only 44 games in 2019-20 (7-29—36).
THIRD STAR – PAVEL FRANCOUZ, G, COLORADO AVALANCHE
Francouz went 3-0-0 with a 2.00 goals-against average and .946 save percentage as the Avalanche (39-18-7, 85 points) maintained their rank of second place in the Central Division. After leading the NHL's "Three Stars" last week, Francouz posted a trio of 3-2 victories beginning Feb. 26 against the Buffalo Sabres (31 saves) followed by a career-high 45-save performance Feb. 28 versus the Carolina Hurricanes. He closed the week with a 30-save triumph Feb. 29 in Nashville, extending his overall win streak to six games and point streak to seven contests (6-0-1). Only eight different goaltenders in franchise history have posted a longer win streak, with Jonathan Bernier (9-0-0 in 2017-18) and Andrew Raycroft (7-0-0 in 2008-09) the only ones to do so since 2006-07. Francouz, 29, a native of Plzen, Czech Republic, owns a 19-5-3 record over 29 games in his first full NHL season (2.24 GAA, .929 SV%, 1 SO).