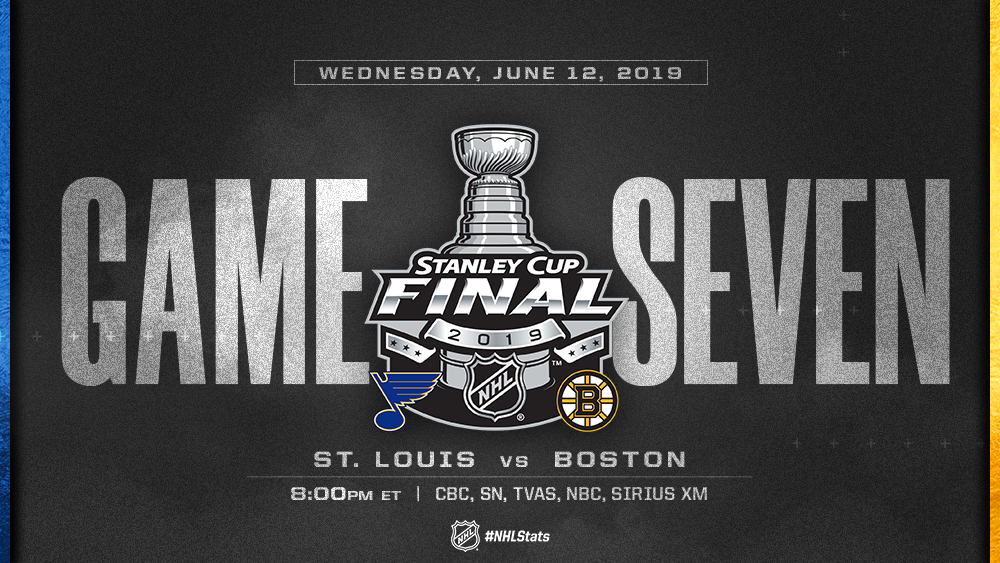 HISTORY AWAITS IN GAME 7 OF THE 2019 STANLEY CUP FINAL
The Stanley Cup will be awarded tonight at TD Garden as the Blues and Bruins lay it all on the line in the first winner-take-all showdown in the Final in eight years - and the first ever in Boston.
* Wednesday's showdown will mark 35 years to the day of the last Game 7 of a championship series held in Boston. Larry Bird and the Boston Celtics beat Magic Johnson and the Los Angeles Lakers in the 1984 NBA Finals on June 12, 1984.
* This will be the fifth Game 7 in a championship series between teams based in Boston and St. Louis, and fourth contested in Boston. The Celtics defeated the St. Louis Hawks at Boston Garden in the 1957 and 1960 NBA Finals, while the St. Louis Cardinals defeated the Boston Red Sox at Fenway Park in the 1967 World Series and at Sportsman's Park in St. Louis in the 1946 World Series.
* In 2002, the St. Louis Rams and New England Patriots met in Super Bowl XXXVI when Adam Vinatieri kicked a last-second 48-yard field goal as the Patriots won their first of six Vince Lombardi Trophies – all with Tom Brady as their quarterback.
* This will be the 28th all-time Game 7 for the Bruins - extending their NHL record - and first as hosts in the Stanley Cup Final. Boston owns an all-time record of 15-12 in its 27 previous Game 7s - the most such wins in NHL history - including a 14-8 mark at home.
* St. Louis, meanwhile, will contest its 18th all-time Game 7 (9-8) to surpass Pittsburgh and Washington for the most among non-Original Six teams. The Blues also will play their 11th road Game 7 (4-6); only the Maple Leafs (16; 5-11) and Canadiens (12; 6-6) have played more as visitors.
* If the Blues win, they will claim the first Stanley Cup in their 52-year history and match the NHL record for road wins in a single postseason.
* If the Bruins win, they will move into sole possession of fourth place in NHL history with their seventh Stanley Cup and become the ninth team to overcome a 3-2 series deficit in the Final – a feat last achieved by them in 2011.
2019 BRUINS LOOK TO BUILD OFF 2011 EXPERIENCE
Zdeno Chara, Patrice Bergeron, Brad Marchand, David Krejci and Tuukka Rask all were part of the Bruins' Game 7 in the 2011 Stanley Cup Final, with Marchand and Bergeron each scoring twice in Boston's 4-0 victory at Vancouver. Only 84 players in NHL history have skated in multiple Game 7s in the Stanley Cup Final.
* Chara, who logged 27:12 and a +2 rating in the 2011 finale, is set to become the all-time leader by skating in his 14th career Game 7 on Wednesday. His record-setting appearance would come 16 years and 20 days after his first career Game 7, with Ottawa in the 2003 Conference Finals against New Jersey.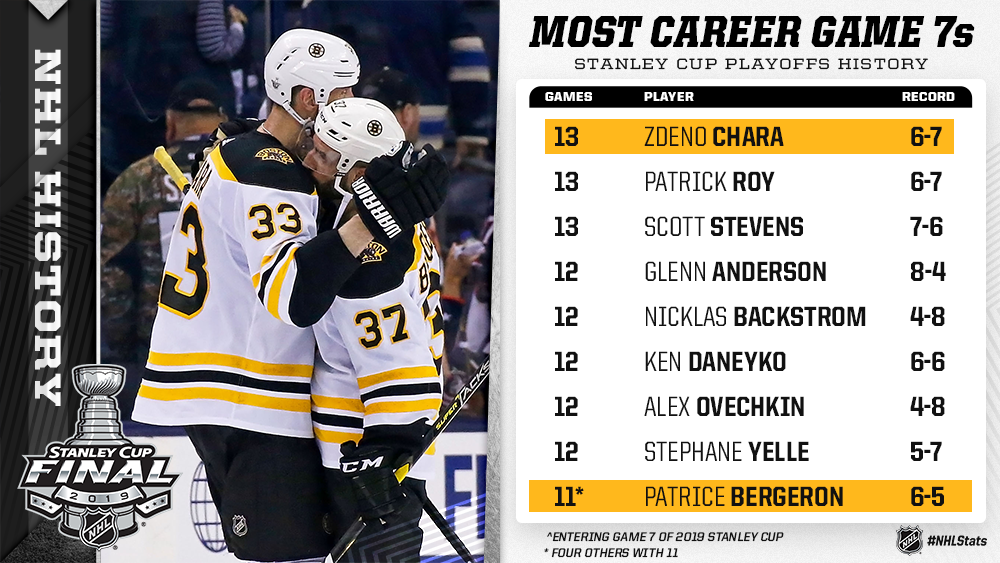 * Marchand, who tallied 2-1—3 and a +3 rating in Boston's Cup-clinching victory in 2011, sits one point shy of matching Red Kelly (2-2—4 in 4 GP) for the most career points in Stanley Cup Final Game 7s.
* Marchand and Bergeron - who had 2-0—2 and a +4 rating in 2011 - are among a group of 15 players with multiple career goals in Stanley Cup Final Game 7s. The only player with more than two such goals is Henri Richard, who tallied 3-0—3 in two Game 7s during the Final (winning both).
* Additionally, Bergeron can become the first player in NHL history to record multiple game-winning goals in Game 7 of the Stanley Cup Final.
WITH THOUSANDS EXPECTED IN ST. LOUIS, BLUES AIM FOR FIRST CUP ON ROAD
* St. Louis will match an NHL record by playing its 26th game this postseason. Of the four previous teams to play 26 games in a playoff year, only the 2014 Kings won the Stanley Cup.
* A Blues victory would not only end the longest wait in NHL history for a team to win its first Stanley Cup, but would also see the Blues match the single-postseason record for road wins - they are 9-3 as visitors thus far.
* The road team has won four of the 16 prior Game 7s in the Stanley Cup Final, including each of the last two (2011 Bruins at VAN, 2009 Penguins at DET, 1971 Canadiens at CHI, 1945 Maple Leafs at DET).
TOREY KRUG CLOSING IN ON FRANCHISE LEGENDS
After assisting on the Bruins' opening goal in Game 6, Torey Krug (1-5—6 in 6 GP) now sits two points shy of matching the franchise record for points by a defenseman in a Stanley Cup Final. Franchise legend Bobby Orr is the only Bruins blueliner with more points in the Final, tallying 3-4—7 in 1974 against the Flyers (6 GP) and 4-4—8 in 1972 against the Rangers (6 GP).
* Overall, Krug leads the NHL in assists and all defensemen in points during the 2019 Stanley Cup Playoffs (2-16—18 in 23 GP). He can become the fourth defenseman in franchise history to reach the 20-point mark in a postseason – a feat that has only been achieved by Ray Bourque (3x), Orr (2x) and Brad Park (1x).
O'REILLY, SCHWARTZ AND PIETRANGELO EYE BLUES HISTORY
Blues teammates Ryan O'Reilly, Jaden Schwartz and Alex Pietrangelo each are one away from either setting or matching a franchise playoff record.
* O'Reilly leads all players with 4-3—7 in the Final, with each of those points coming during his active five-game point streak. He also paces the Blues with 7-14—21 during the 2019 playoffs (25 GP), matching the franchise record for points in a single postseason with his goal in Game 6 while equaling Frank St. Marseille (4-3—7 in 12 GP) for the most career goals and points in the Final for the Blues.
* O'Reilly has scored a goal in each of the last three games (4-1—5). Only 13 players in NHL history have posted a goal streak of four or more games in the Stanley Cup Final, including six in the expansion era (since 1967-68). A goal in Game 7 would make O'Reilly the first player with a four-game goal streak in the Final since Wayne Gretzky 34 years ago.
* By scoring St. Louis's first goal in Game 7, O'Reilly would become the third player in NHL history - and first in 53 years - to score his team's opening goal in four consecutive games during a Stanley Cup Final. Toronto's Sid Smith did so in 1951 (Games 1-4) followed by Detroit's Norm Ullman in 1966 (Games 3-6).
* Schwartz (12-6—18 in 25 GP) remains one goal shy of tying Brett Hull (1990: 13 G in 12 GP) for the most goals in one playoff year by a Blues player. Vladimir Tarasenko (11-5—16 in 25 GP) enters Game 7 two goals back of matching Hull.
* Pietrangelo already holds the single-postseason franchise record for assists (15) and points (17) by a defenseman and can eclipse another Blues benchmark in Game 7. He needs one assist to leapfrog Bernie Federko (1982: 15 in 10 GP) for the most in one playoff year.
RASK, BINNINGTON SET FOR ONE MORE HEAD-TO-HEAD MATCHUP
Boston's Tuukka Rask and St. Louis' Jordan Binnington are set to face off in one more head-to-head matchup after each playing in all their team's games thus far.
* Rask, who recorded shutouts in Game 6 of the Second Round (at CBJ) and in Game 4 of the Conference Finals (at CAR), can become the first goaltender in NHL history to record three series-clinching shutouts in one playoff year. He has stopped 95 of 96 shots against in Boston's three series-clinching victories thus far (.990 SV%).
* Rask is 3-0 when facing elimination during the 2019 Stanley Cup Playoffs, stopping 82 of 86 shots and allowing only four goals against across those three games (1.34 GAA, .953 SV%).
* Binnington, who is 9-3 as a visitor this postseason, can become the 14th different rookie in NHL history to earn a Stanley Cup-clinching win. Only three of the previous 13 instances came in Game 7: Frank McCool (1945), Ken Dryden (1971) and Cam Ward (2006).
* Binnington owns a career record of 13-2-0 following a loss – including a 7-2 mark in the 2019 Stanley Cup Playoffs (1.86 GAA, .933 SV%). Only five goaltenders in NHL history have posted as many wins after defeat within a single postseason.
* Binnington, who in Game 5 tied the single-postseason record for overall wins by a rookie goaltender, is seeking to become the first rookie netminder in NHL history to earn all 16 victories for his team in one playoff year.
(NHL Media)