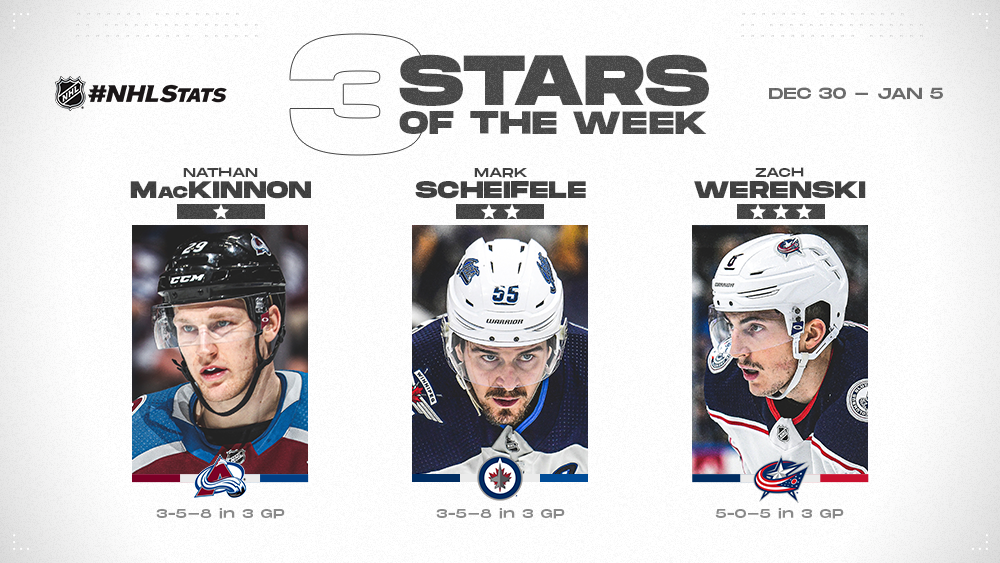 NEW YORK (Jan. 6, 2020) – Colorado Avalanche center Nathan MacKinnon, Winnipeg Jets center Mark Scheifele and Columbus Blue Jackets defenseman Zach Werenski have been named the NHL's "Three Stars" for the week ending Jan. 5.
FIRST STAR – NATHAN MACKINNON, C, COLORADO AVALANCHE
MacKinnon shared the League lead with 3-5—8 in three contests, posting multiple points in all three appearances, to help the Avalanche (25-13-4, 54 points) win two of three games and maintain their hold on second place in the Central Division standings. MacKinnon opened the week with a pair of goals in a 7-4 loss to the Winnipeg Jets Dec. 31 and followed it up with 1-3—4 in a 7-3 victory over the Western Conference-leading St. Louis Blues Jan. 2. In doing so, he became the first Avalanche player since Peter Forsberg (6x) and Joe Sakic (4x) in 1995-96 to post four or more four-point outings within the team's first 41 games of a season. He finished the week with a pair of assists in a 5-2 win over the New Jersey Devils Jan. 4. A 24-year-old native of Halifax, N.S., MacKinnon has recorded 25-39—64 in 42 games this season and sits one point behind Leon Draisaitl (24-41—65) and Connor McDavid (23-42—65) in the Art Ross Trophy race. MacKinnon is set to captain the Central Division at the 2020 Honda NHL All-Star Game in St. Louis Jan. 24-25.
SECOND STAR – MARK SCHEIFELE, C, WINNIPEG JETS
Scheifele recorded multiple points in each of his three appearances last week to tie for the League lead with 3-5—8 for the Winnipeg Jets (22-16-4, 48 points) – who sit one point back of a Wild Card position in the Western Conference standings with two games in hand. Scheifele matched a career high with his fourth career four-point outing (1-3—4) in a 7-4 win over the Colorado Avalanche Dec. 31. He closed the week with consecutive multi-point outings with 1-1—2 in a 6-3 loss to the Toronto Maple Leafs Jan. 2 and 1-1—2 in a 3-2 overtime loss to the Minnesota Wild Jan. 4. A 26-year-old native of Kitchener, Ont., Scheifele leads all Jets skaters with 20-28—48 in 42 games this season. It marks the fifth consecutive campaign in which Scheifele has reached the 20-goal benchmark – only teammate Blake Wheeler (6x) has recorded more 20-goal seasons in franchise history. He is set to make his second All-Star appearance in St. Louis Jan. 24-25.
THIRD STAR – ZACH WERENSKI, D, COLUMBUS BLUE JACKETS
Werenski scored five of Columbus' eight goals last week to lead the League (5-0—5 in 3 GP) and help the Blue Jackets (19-15-8, 46 points) win two of three games to move within three points of the final Wild Card position in the Eastern Conference standings. Werenski opened the week with his first career hat trick in a 4-1 win over the Florida Panthers Dec. 31 and then played a team-high 27:00 in a 2-1 overtime win over the Boston Bruins Jan. 2. He closed the week with a pair of goals in a 3-2 loss to the San Jose Sharks Jan. 4 to become the first defenseman in franchise history to score five or more goals in a three-game span and just the third blueliner to do so in the last decade joining Brent Burns: (Feb.12-18, 2017) and Lubomir Visnovsky (March 4-9, 2011). The 22-year-old native of Grosse Pointe, Mich., has recorded 13-12—25 in 35 games this season – only Nashville's Roman Josi (14) has more goals among defensemen.