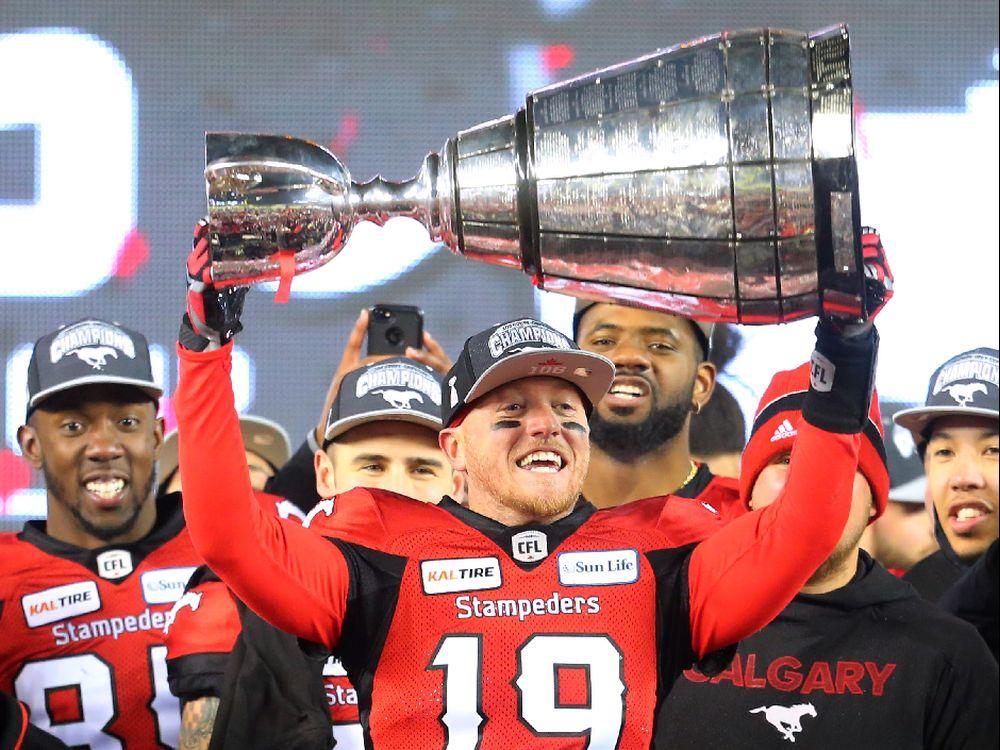 --The 106th Grey Cup and the 2018 CFL season is over. The "choker" label that the Calgary Stampeders had can go out the window. They got it done in their third straight appearance in the big game beating Ottawa 27-16 in a game that basically was over on the final play of the first half as far as I am concerned.
Why Richie Leone didn't punt the ball out of bounds is the question I and many others have. If you do that, you don't give Terry Williams the opportunity to skate 97 yards down the field on the last play of the first half to expand Calgary's lead to 10. I am guessing he would have been told to do so, but he didn't and Ottawa paid. At the end of the day, special teams killed the Redblacks as you add that to a Diontae Spencer fumble in the 2nd half that Calgary recovered and it was a good night for that area as far as the Eastern champs were concerned. Ottawa never seemingly recovered from the Williams touchdown and while there were glimpses of them possibly making it a game, it was basically over.
Other thoughts
There was no doubt TSN would do an outstanding job with what is one of the biggest days on their calendar and once again, they did not disappoint. I didn't see all the coverage, but what I did see was outstanding as usual. It's no secret that I think the network doesn't do the league some favours at times, but when the league needs them the most on the final Sunday in November, they come through with flying colours.
The temperature in Edmonton last Sunday was colder than it was this Sunday. Would that have made the field conditions better? That was the major complaint. This just in. Both teams played on the same field. Unless you are putting the game in a dome, you aren't going to get ideal conditions. End of story. In Canada, whether it be early November, mid-November or late November weather is going to play an issue. It would be nice to know though why the field conditions weren't that great. We didn't see that problem at Mosaic for the Western Semi-Final. Some also complained it wasn't a great game. It wasn't, but this just in....not all championship games are destined to be classics!
To me, Bo Levi Mitchell wasn't the MVP of the game. He wasn't spectacular on the afternoon. I would have given the honour to Williams or Jamar Wall. Speaking of Bo, have we seen the last of him? He wants an NFL opportunity and if you look at some of the plugs playing backup in the NFL, he deserves it and will likely get it. This Seahawks fan would feel much more confident having BLM in the game than Brett Hundley. I am guessing he will have his offers and being the league MVP will help him get what should be a significant signing bonus. Whether or not he comes back is another story.
So now, we go to what might be the most tumultous off-season we have ever seen. A new CBA has to be done and I don't think those negotiations are going to be smooth. You have this stupid salary cap for coaches and football operations, you have the Alliance of American Football which surprisingly was not brought up by Commissioner Randy Ambrosie during his "State of the League" address on Friday, you have the state of officiating and the role of the command centre to deal with. It should be a winter where the CFL doesn't go away when it comes to making headlines.
--It's no secret I love football. Whether it be CFL, USports, NFL or NCAA, I love sitting down and watching the games. Last Monday's Chiefs-Rams game was spectacular, but that was only the start. The Michigan-Ohio State game was a huge letdown, but Washington and Washington State provided a thriller in a snow-globe on Friday night as did some other games like Oklahoma and Virginia Tech that ended 59-56. The game we didn't see though was the LSU-Texas A&M game. I would have loved to have seen that seven OT 74-72 battle. That was a real-life Madden game!
--Those who thought the Seahawks had seen their window close might want to re-think that stance. The team that was supposed to be in a rebuilding mode looks like they could be a playoff team after a big win over Carolina. The team has not allowed Russell Wilson to be the player he can be, but when they need a play, Wilson delivers as he did in the final 5 minutes at Carolina. With four of their final 5 at home, I think they may find themselves in the playoffs again. Realistically, I don't know how that is with a defence full of no-names, but they are getting it done when they need to.
--Are Packers fans just waiting for the season to end so they can fire Mike McCarthy. The ones I know can't wait.
--Dare I say it is Baker Mayfield finally the quarterback the Cleveland Browns have been looking for. I was surprised to see him go number one, but it appears as if he is the guy to get them out of the years of misery they have had.
--Check the top of the NHL standings. Yes, the Buffalo Sabres are one point behind Tampa and Nashville for the most points in the league. The Buffalo Sabres!! The youth this team has assembled over the past few years is finally paying off. I haven't really watched Buffalo play this year, but they are obviously a team to check out with the likes of Jeff Skinner (who is going to GET PAID in free agency if he gets there), Jack Eichel, Rasmus Dahlin, Rasmus Ristolainen and others.
--How cool was Hockey Night in Canada bringing back the blue blazers for charity on Saturday night. I heard Ron McLean talking about those blazers on NHL Radio and how uncomfortable, yet how iconic they were.
Seeing McLean and Dave Hodge sit down and talk Hockey Night in Canada was amazing. Like many of you, these were the two gentlemen you have spent many a Saturday night with over the years. If you are old enough, you remember the Dave Hodge pen flip. It was amazing. I had never seen that before on TV. The outrage Hodge had with his employer that night and the raw emotion that came out was something you don't see a lot of these days. The segment with these two can be found right
here
. It is six minutes of must-watch!
- Look at this dandy from the Associated Press on Saturday night after the Jets-St. Louis game where Patrick Laine scored 5. There are no words on this one! Well, there are but none of them are kind.
SIGHHHH!!
--RIP Mick McGeough. There is nothing I could say that those who knew him didn't know already. The man had a unique style, had stories to tell and always wanted info on the Riders. He left us wayyyyyyyyy too soon and wayyyyyyy too quick. I got to know Mick a little more during my days in the SJHL when he was put into the league hall of fame. I knew how good of a man he was before working with him on the Hall-of-Fame ceremony and that only got better during and after. He was one of a kind.
--That's all I got. I am and have been in holiday mode and I have no problem with that whatsoever. Well, I am not headed to a warm weather location, but I'm still OK with being off for a week. Have a great one!