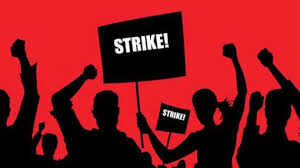 As first reported by Sportscage insider Arash Madani from Sportsnet, the CFL Players Association will be staging a strike vote on Wednesday.
Madani says a memo has been sent to all players. The memo reads:
Gentlemen,
On Wednesday April 24, 2019, the Canadian Football League Players' Association ("CFLPA") will be conducting a strike vote among members (as defined below). Members will be asked to vote on the following question:
YES – I authorize the CFLPA Bargaining Committee to call a strike if necessary.
NO – I do not authorize the CFLPA Bargaining Committee to call a strike if necessary.
Members can vote on Wednesday April 24, 2019. The polls will be open from 9:00AM-9:00PM Eastern Daylight Time. You should check to see when the polls open and close in your time zone.
All players on the Roster, Injured Players' List, Reserve List, and Practice Roster of a Member Club as of April 19, 2019 shall be eligible to vote.
The vote will be conducted online via secret ballot. You will be receiving a voting package by email that will set out how and when you can vote.
If you have not yet provided your email address to the CFLPA or have not received a voting package by April 23rd, 2019, please contact the CFLPA office
The move comes just days after the PA instructed players not to travel to their member clubs for training camp while informing the league they would not work past May 18th which is when the existing CBA expires unless a new deal is done.
The CFL has said they will not be engaging in any talks until April 29.