THREE HARD LAPS: QUICK HITS FROM WEDNESDAY
* The Blue Jackets erased a 3-0 deficit in regulation to stun the No. 1-seeded Lightning.
* Islanders forward Josh Bailey scored the first overtime goal of the 2019 Stanley Cup Playoffs.
* Stars rookie defenseman Miro Heiskanen joined rare company with two goals in his first playoff game.
BLUE JACKETS RALLY TO STUN LIGHTNING
After falling behind by three goals in the first period, the Blue Jackets scored four unanswered markers – including three in the third period – to erase a 3-0 deficit and steal Game 1 from the Presidents' Trophy winners.
* Columbus became the sixth team in NHL history to rally from a deficit of at least three goals to win a playoff game against the No. 1-seeded club. The Blue Jackets became the 27th team in League history to overcome a deficit of at least three goals and win a playoff game in regulation and first since the Jets in Game 3 of the 2018 Second Round against the Presidents' Trophy-winning Predators (7-4 W).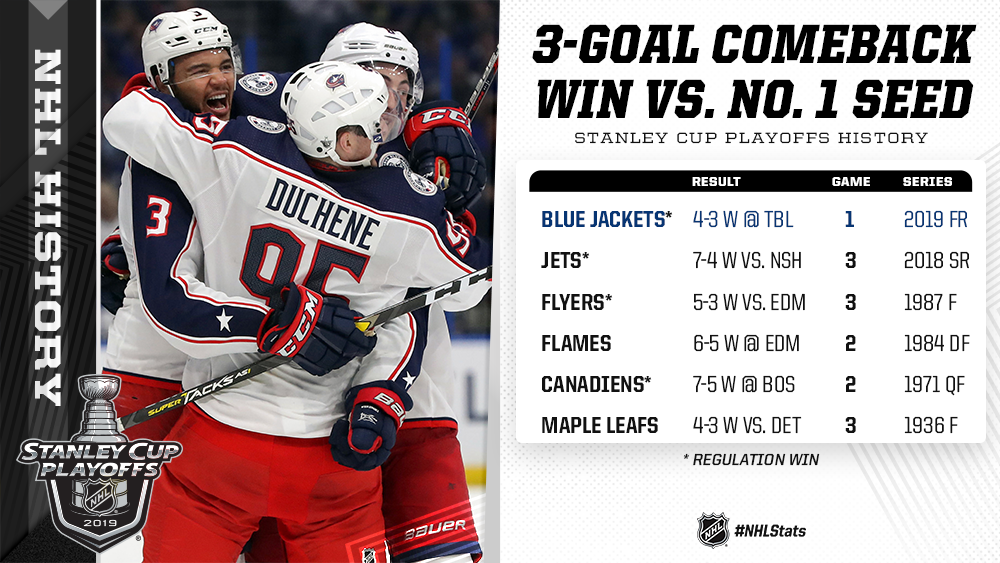 * Columbus has trailed by multiple goals in five of its six all-time playoff wins (also Games 2 and 4 of 2014 R1 vs. PIT and Games 1 and 2 of 2018 R1 vs. WSH).
* Five players have been in the Columbus lineup for all five postseason multi-goal comeback wins: Cam Atkinson, Boone Jenner, Brandon Dubinsky, Sergei Bobrovsky and David Savard – whose highlight reel goal was the first of three third-period markers for the Blue Jackets.
* Did You Know? The 2018-19 regular season featured an all-time high of 138 multi-goal comeback wins. Overall, 41% of games contested during the 2018-19 regular season saw a team overcome a deficit of at least one goal to win (525 of 1,271 GP) – the second-most comeback wins in NHL history (537 in 2005-06).
BAILEY SCORES OT WINNER AS ISLANDERS TAKE 1-0 SERIES LEAD
The Penguins overcame deficits of 1-0, 2-1 and 3-2, but Josh Bailey scored at 4:39 of overtime to power the Islanders to victory in their first postseason opener at home since 1988.
* Bailey, who has played each of his 820 career games with the Islanders (regular season and playoffs), scored his first career game-winning goal in the Stanley Cup Playoffs. He became the first Islanders player to score an overtime goal in the postseason since John Tavares tallied 30:41 after regulation in Game 6 of the 2016 First Round to power New York to its first series win since the 1993 Division Finals (2-1 2OT W vs. FLA).
* Making his first career playoff start just four days after securing the William M. Jennings Trophy, Robin Lehner (41 saves) became the third Islanders goaltender to make 40 or more saves in a postseason game against the Penguins. He joined Billy Smith (44 saves) in Game 2 of the 1975 Quarterfinals (3-1 L) and Glenn Healy (42 saves) in Game 7 of the 1993 Division Finals (4-3 OT W).
HEISKANEN JOINS RARE COMPANY WITH MULTI-GOAL PLAYOFF DEBUT
Stars rookie Miro Heiskanen (2-0—2) became the youngest defenseman in NHL history to score twice in his playoff debut, leading the Stars past the Predators in Game 1 of their First Round series.
* Heiskanen (19 years, 266 days) also became the third-youngest defenseman in NHL history to score multiple goals in a playoff game, behind only Buffalo's Phil Housley (19 years, 44 days) in Game 6 of the 1983 Division Finals (2-0—2 vs. BOS) and Boston's Glen Wesley (19 years, 235 days) in the suspended Game 4 of the 1988 Stanley Cup Final (2-0—2 vs. EDM).
* Heiskanen became the first Stars rookie skater to record a multi-goal game in the postseason since Niko Kapanen in Game 5 of the 2003 Conference Semifinals (2-0—2 vs. ANA).
DEFENSEMEN LEAD SHARKS PAST GOLDEN KNIGHTS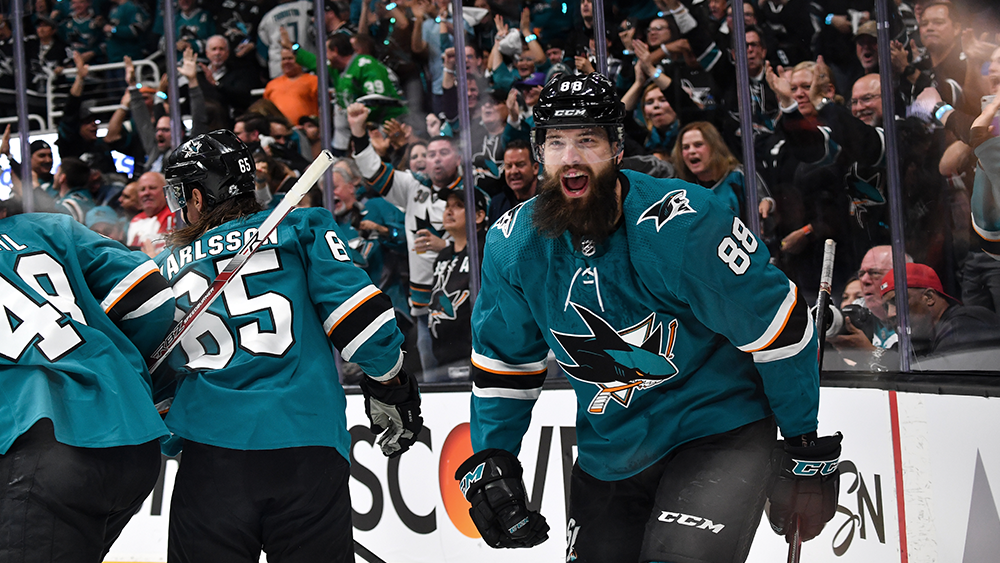 Defensemen Brent Burns (1-1—2), Marc-Edouard Vlasic (1-1—2) and Erik Karlsson (0-2—2) each collected multiple points to lead the Sharks to a Game 1 win at SAP Center.
* Burns, who led San Jose in scoring during the regular season (16-67—83 in 82 GP), has collected 45 points in 64 career postseason games with the Sharks (16-29—45). His 16 career playoff goals in a San Jose uniform are the most by a defenseman in franchise history, while his 45 points are three shy of matching Dan Boyle (11-37—48 in 62 GP) for first place among Sharks blueliners.
* Karlsson registered two assists in his first playoff game with the Sharks. In his most recent postseason run, Karlsson averaged almost one point per game to lead the Senators to within one game of the 2017 Stanley Cup Final (2-16—18 in 19 GP).
BOZAK SCORES LATE WINNER AS BLUES WIN GAME 1
David Perron tied the contest at 4:05 of the third period and Tyler Bozak scored the go-ahead goal with 2:05 remaining in regulation as the Blues withstood the return of the "Winnipeg Whiteout" to win Game 1.
* After notching five shutouts and establishing a single-season franchise record for wins by a rookie (24-5-1), Jordan Binnington made 24 saves to win his Stanley Cup Playoffs debut. Binnington became the third rookie goaltender in franchise history to earn a win in his first career postseason start, joining Ed Staniowski in Game 1 of the 1976 Preliminary Round (5-2 W vs. BUF) and Curtis Joseph in Game 1 of the 1990 Division Semifinals (5-2 W vs. TOR).
THURSDAY'S ACTION
The Bruins host the Maple Leafs at TD Garden in the second opening-round meeting in as many seasons between Boston and Toronto. The Maple Leafs hold an 8-7 advantage in the 15 prior series between the clubs, but the Bruins have won their past five postseason meetings – including seven-game victories in the last two (2013 CQF, 2018 R1).
* Bruins forward David Pastrnak has collected 32 points in 22 career games against Toronto (regular season: 11-8—19 in 15 GP; postseason: 5-8—13 in 7 GP). His career points per game average of 1.45 versus the Maple Leafs franchise ranks second all-time among Bruins players (min. 10 GP), behind only Phil Esposito (1.52 P/GP) and Jean Ratelle (1.46 P/GP).
The Capitals begin the quest to defend their title when they host the Hurricanes, who have excelled in the New Year with a 30-12-2 (62 points) record since Jan. 1. Carolina will contest its first postseason game since Game 4 of the 2009 Conference Finals (4-1 L vs. PIT).
* Washington, which has advanced to at least the Second Round in four consecutive postseasons, is looking to become only the fourth repeat Stanley Cup champion in the last 30 years (since 1989) – a feat accomplished twice by rival Pittsburgh (1991, 1992 and 2016, 2017). The Red Wings (1997, 1998) are the only other club to do so in that span.
Twelve days after clinching first place in the Western Conference standings, the Flames square off with the Avalanche at Scotiabank Saddledome. The franchises have never previously met in the Stanley Cup Playoffs, however the clubs are linked with almost 70 different players having appeared in at least one game with both teams (regular season and/or playoffs) – notably Jarome Iginla, Theo Fleury, Owen Nolan and Alex Tanguay.
* The Flames-Avalanche series offers a showcase for two of the NHL's most exciting talents, Calgary's Johnny Gaudreau and Colorado's Nathan MacKinnon. Both players set career scoring highs this season, each posting 99 points (Gaudreau: 36-63—99, MacKinnon 41-58—99). Both also enter the postseason on a roll, MacKinnon finished the season with a seven-game point streak (4-4—8) and Gaudreau a six-game run (1-6—7).
* The Flames are 7-0-1 in their last eight home games against the Avalanche dating to Dec. 4, 2014 (COL: 1-6-1), including five consecutive wins.
(NHL Media)