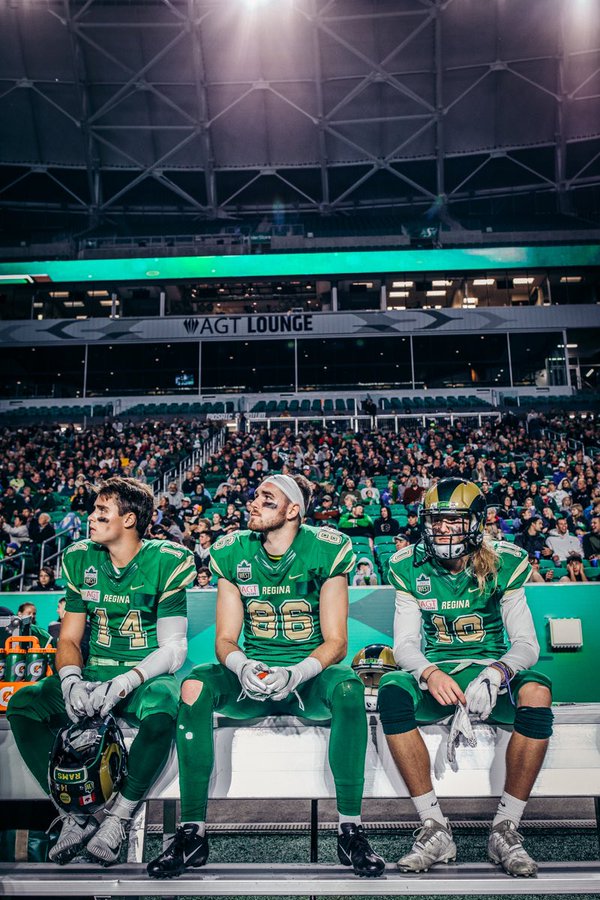 HEADLINES
• The Rams will be looking to pull back up to .500 on the season and move up into a tie for third place in the Canada West standings, while Calgary is alone in first place and remains one of four undefeated teams in the nation.
• The last time the Rams defeated an opponent ranked No. 4 or higher was back during the 2016 season, when they held on for a 32-27 victory over then-No. 2 Calgary in a Week 4 game in Regina.
• For the second consecutive week, the Rams will square off against an opponent they'll see only once in conference play. Calgary won't make the return trip to Regina for the first time since 2014.
LINE PLAY
The U of R's defensive line has combined for eight tackles for loss, 4.5 sacks, one forced fumble, and one fumble recovery.
Eric Wicijowski
alone has collected three TFLs, two sacks, and a forced fumble.
TURNOVER TRACKER
The Rams defence has forced a total of six turnovers through the first three weeks of the season including two interceptions, two fumble recoveries, and two on downs. Opposing defences have forced five Rams turnovers, all of which have come on interceptions.
BIG PLAY BOERSMA
WR
Riley Boersma
has been QB
Josh Donnelly's
favourite downfield target this year. While he's just fourth on the team with 10 receptions, Boersma has a team-leading 254 receiving yards and enters Week 4 just one yard behind Alberta's Ben Kopczynski for the conference lead in that category. Boersma is averaging 25.4 yards per catch, thanks in large part to a 75-yard touchdown catch at UBC and a 76-yard reception last week against Saskatchewan.
DONNELLY NOTES
QB
Josh Donnelly
threw for at least 300 yards in last Friday's game for the third week in a row. He's the Canada West leader in passing yards (1034) and ranks second in the nation in passing yards per game (344.7).
SEMBA STARTS
RB
Semba Mbasela
got his first career start last week, finishing with 12 carries for 35 yards and four catches for 79 yards. Mbasela is second on the Rams with 231 all-purpose yards this year (120 rushing, 111 receiving) as he trails only Boersma in that category.
RECORD BOOK
SB
Ryan Schienbein
continues his ascent up the school's record book in all major career receiving categories, most notably receptions where he's currently fifth with 168 in his career but within striking range of both fourth-place
Mitchell Picton
(169) and third-place Chad Goldie (173). He's also tied for fourth with Jason Clermont in receiving yards (2169) and remains tied with Mike Thomas for fourth in school history with 17 touchdown catches.
VARAO UPDATE
After rumbling his way to three one-yard touchdowns in the first half of the season opener at UBC, RB
Sam Varao
is still tied for the Canada West lead this year in touchdown runs. He's also tied for third in all of U SPORTS in that category.
ON THE LINE
The U of R's offensive line got back to full strength last week as
Andrew Becker
returned to start at right guard after missing the Week 2 game against Alberta due to injury.
Jesse Ens
,
Liam Jensen
,
Maguire Abell
, and
Theren Churchill
have been the other four starters on the line for each of the first three games of the season.
ALL-TIME AGAINST CALGARY
The Dinos hold a 21-7 all-time advantage over the Rams in conference games and have won 12 of 14 conference games between the two teams at McMahon Stadium. The Rams' four wins in Calgary came during a four-season span starting with a victory in the 2000 Canada West semifinals. They also beat the Dinos in Calgary twice in 2002 (once in the regular season and once in the postseason) and once during the 2003 regular season.
(Braden Konschuh/U of R Athletics)