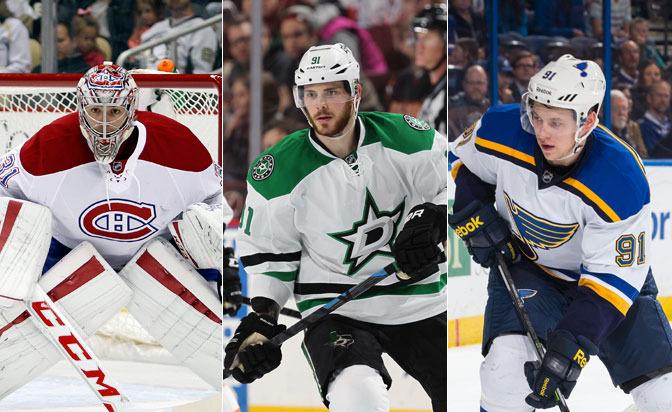 Montreal Canadiens goaltender Carey Price, Dallas Stars center Tyler Seguin and St. Louis Blues right wing Vladimir Tarasenko have been named the NHL's "Three Stars" for the week ending Oct. 18.
FIRST STAR – CAREY PRICE, G, MONTREAL CANADIENS
Price went 3-0-0 with a 1.00 goals-against average, .963 save percentage and one shutout to backstop the Canadiens (6-0-0, 12 points) to three wins, leading the team to its best start in its 98-year NHL history. He began the week with 31 saves in a 3-2 victory over the Pittsburgh Penguins Oct. 13. With the win, the Canadiens became the third team in League history to begin a season with a 4-0-0 record, with all four of those wins coming on the road (also 1965-66 Chicago Blackhawks and 2001-02 New York Islanders). Price then stopped all 25 shots he faced to record his 35th career shutout (fourth in franchise history) in a 3-0 triumph over the New York Rangers Oct. 15. He closed the week with 21 stops in a 4-1 victory over the Detroit Red Wings Oct. 17. The 28-year-old Anahim Lake, B.C., native – and reigning Hart Memorial Trophy, Ted Lindsay Award, Vezina Trophy and William M. Jennings Trophy winner – has posted a 5-0-0 record with a 1.20 goals-against average, .957 save percentage and one shutout in his first five appearances this season.
SECOND STAR – TYLER SEGUIN, C, DALLAS STARS
Seguin tied for first in the NHL with 3-4—7 in three outings to power the Stars (4 1-0, 8 points) to a trio of victories. He registered one assist in a 4-2 win over the Edmonton Oilers Oct. 13. Seguin followed that performance with 1-1—2 in a 5-3 triumph over the Tampa Bay Lightning Oct. 15. He capped the week with 2-2—4, including the game-winning goal with 3:02 remaining in regulation, in a 4-2 comeback victory over the Florida Panthers Oct. 17. The 23-year-old Brampton, Ont., native – who has 3-5—8 in his first five contests this season – has 133-257—290 in 359 career NHL appearances, including 77-92—169 in 156 games since joining the Stars for the 2013-14 campaign.
THIRD STAR – VLADIMIR TARASENKO, RW, ST. LOUIS BLUES
Tarasenko notched 3-3—6 and a +6 rating in four games to lift the Blues (5-1-0, 10 points) to four consecutive wins. He collected one assist in a 4-3 victory over the Calgary Flames Oct. 13 and scored one goal in a 4-2 triumph over the Edmonton Oilers Oct. 15. Tarasenko then finished the week with a pair of multi-point performances: two assists in a 4-3 win over the Vancouver Canucks Oct. 16 and two goals, including the decisive tally, in a 4-2 victory over the Winnipeg Jets Oct. 18. The 23-year-old Yaroslavl, Russia, native has registered at least one point in each of the team's opening six games of the season, sharing the League lead in goals (5) and points (9).