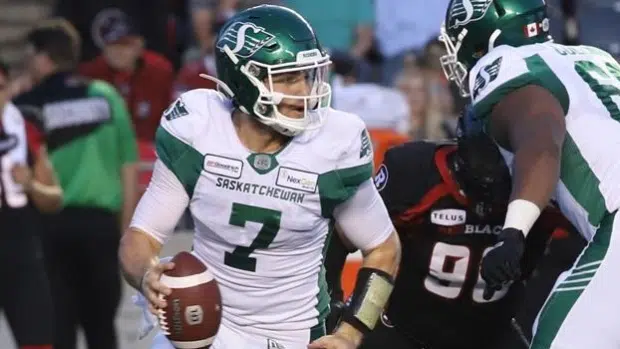 With just a couple of days to go before a game that could see the Riders finish first in the West for the first time since 2009, the team practiced Thursday without quarterback and most outstanding player nominee Cody Fajardo.
The team was inside at the AffinityPlex on Thursday after practicing outdoors at the University of Regina in a closed practice on Wednesday. During that practice, Fajardo tweaked a muscle in his back and spent the day getting treatment on it.
Head Coach Craig Dickenson feels the injury is not a serious one, but his status for Saturday's win and clinch first game against Edmonton.
"We'll see how he feels." Dickenson said. "It's going to be his call if he plays or not. If he feels fine, he'll play. If he feels like he can't, he won't."
Isaac Harker and Bryan Bennett shared first team reps at practice Thursday with Harker being the guy to start if Fajardo can't go.
Saturday's game starts at 2 on 620 CKRM with our pre-game show starting at 11.