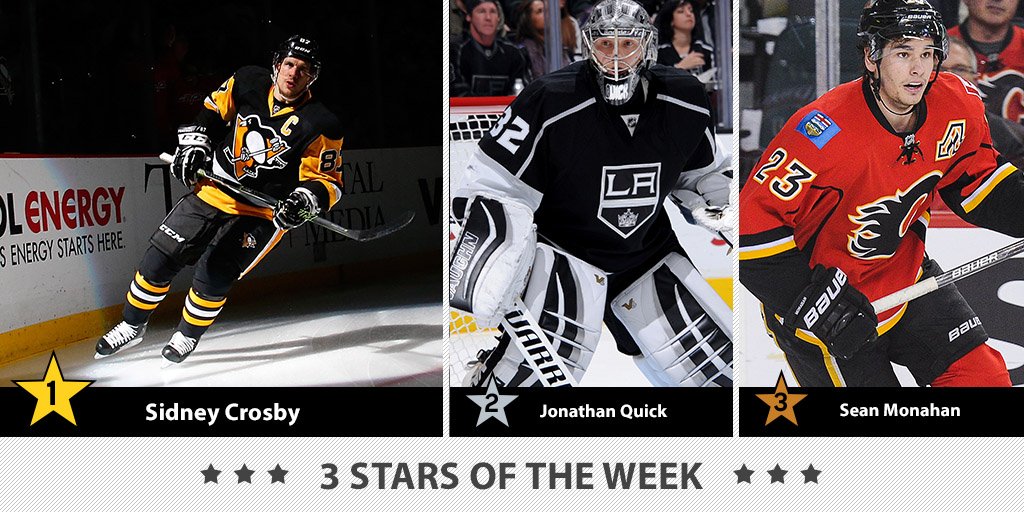 Pittsburgh Penguins center Sidney Crosby, Los Angeles Kings goaltender Jonathan Quick and Calgary Flames center Sean Monahan have been named the NHL's "Three Stars" for the week ending March 20.
FIRST STAR – SIDNEY CROSBY, C, PITTSBURGH PENGUINS
Crosby shared the League lead with 2-5—7 in four outings to help the Penguins
(40-24-8, 88 points) extend their winning streak to six games and move into second
place in the Metropolitan Division. He opened the week with one assist in a 2-1 shootout
victory against the New York Islanders March 15. Crosby then registered multiple points
in each of his next three games: 2-0—2, including the winning goal, in a 4-2 triumph over
the Carolina Hurricanes March 17, 0-2—2 in a 4-1 victory against the Philadelphia Flyers
March 19 and 0-2—2 in a 6-2 win over the Washington Capitals March 20. In doing so,
Crosby reached the 30-goal milestone for the seventh time in his 11 campaigns and also
extended his point streak to 12 games (6-14—20). The 28-year-old Cole Harbour, N.S.,
native ranks third in the NHL with 31-45—76 in 71 appearances this season, including a
League-best 14-21—35 in 24 contests since the All-Star break.
SECOND STAR – JONATHAN QUICK, G, LOS ANGELES KINGS
Quick went 3-0-0 with a 1.32 goals-against average, .953 save percentage and
one shutout to help the Pacific Division-leading Kings (44-22-5, 93 points) post four
victories and clinch their sixth playoff berth in the past seven seasons. He began the
week by stopping all 32 shots he faced in a 5-0 triumph over the Chicago Blackhawks
March 14. In doing so, Quick (Milford, Conn.) earned his 41st career shutout to move
past Frank Brimsek (Eveleth, Minn.) and John Vanbiesbrouck (Detroit, Mich.) for the
most by a U.S.-born goaltender in NHL history. He followed that performance with
23 saves in a 4-3 overtime win against the New York Rangers March 17 and 27 saves in
a 2-1 victory over the Boston Bruins March 19. The 30-year-old goaltender ranks second
in the NHL with 37 wins in 58 appearances this season (2.14 GAA, .921 SV%, 4 SO),
two shy of his career high established in 2009-10.
THIRD STAR -- SEAN MONAHAN, C, CALGARY FLAMES
Monahan paced the NHL with five goals and tied for the League lead with seven
points in four games to lift the Flames (31-35-6, 68 points) to a 3-0-1 record. He notched
2-1—3, including the winning goal, in a 7-4 victory over the St. Louis Blues March 14.
Monahan scored again in a 4-1 triumph over the Winnipeg Jets March 16 before being
held off the scoresheet in a 4-3 shootout loss to the Colorado Avalanche March 18. He
capped the week with another 2-1—3 performance, including the winning goal, in a 4-1
victory over the Montreal Canadiens March 20. The 21-year-old Brampton, Ont., native
ranks second on the Flames with 26-29—55 in 71 appearances this season, including
12-14—26 in 23 games since the All-Star break