ARRRRRGHHHHHH!!!!!! --Is it safe to say this is what a majority of Rider Nation was doing Friday night around 1130??
Football is a game of inches and for the Riders it came down to this as you well know.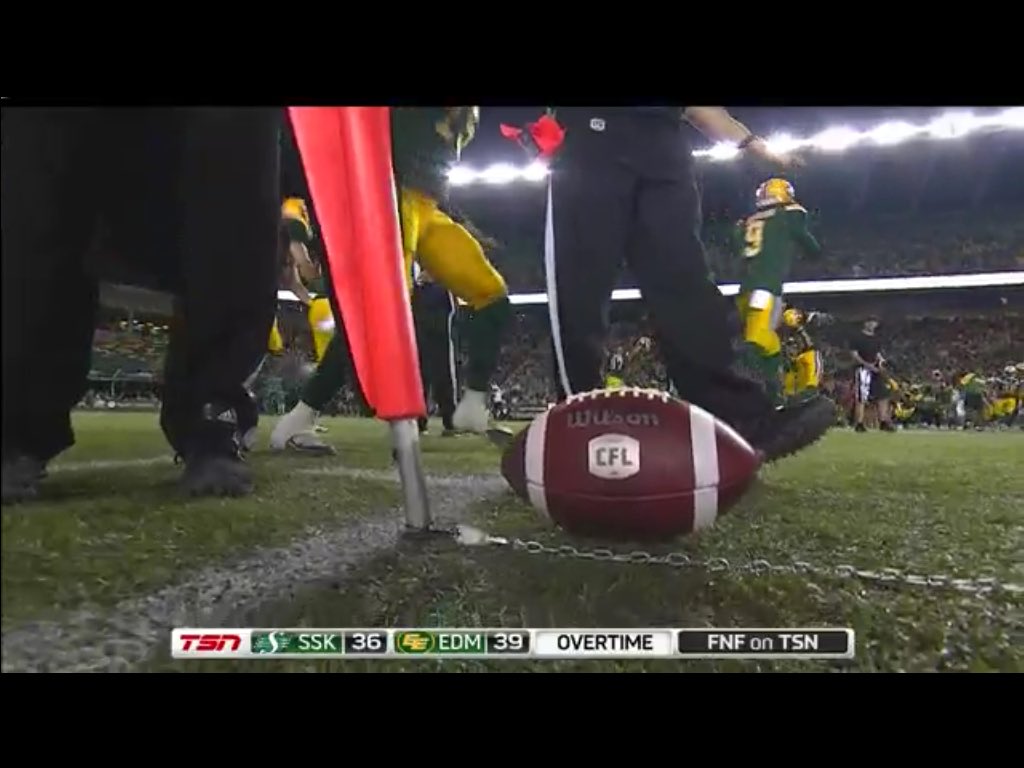 Whether or not the Riders would have scored a TD to win it or force a FG to extend overtime where god knows what might have happened is not known, but at the end of the day, short yardage execution killed the green and white.
Correct me if I am wrong, but the Riders botched 3 3rd and short plays in this game along with the one resulting in the Toronto touchdown in their first game. That's 4 in 2 weeks! Most teams won't have 4 in a season or 3 or 2 for that matter. The question being asked by everyone is how can you not get a yard in a league where the defenders have to give you a yard at the line of scrimmage. Where is that surge by the o-linemen. I can understand this happening once, but four times? It is obvious where work needs to be done. Hey, at least Chris Jones kept Darian Durant in to run the short yardage offence instead of having the 3rd string QB come in cold off the bench.
As for the call itself, I was OK with it. A touchdown and the Riders win the game. It was a chance to win and Jones went for it with some aggressive play-calling both in OT and down the stretch---until the final 19 seconds.
It isn't the first time it has happened in the CFL and it won't be the last, but the decision to play so soft in the final few seconds allowing Edmonton to kick a 51 year old field goal to tie it had many exasperated and for good reason. The game was over. Play some tighter D and you are coming home with a 1-1 record. Jones took full credit for that faux-pas when it was over, Other coaches wouldn't have done the same thing in the same spot.
All in all, this team heads into its game against BC on Saturday with a record of 0-2, but I think they are on the right path. A win over the Lions at Mosaic will validate that thought.
--WEEK 3 THOUGHTS
-- The CFL thinks it is fixing its game, but they are wrong. Watching games this weekend, it is challenge after challenge after challenge after challenge. There is no flow to the game and fans are once again becoming disenchanted. It is time for the CFL to start penalizing teams when challenges go the wrong way. If you want to challenge a pass interference or a roughing the passer or something that isn't turnover or scoring related, it should cost you 10 yards if you are wrong. Glen Johnson can sit there and say the game is better, but its not. Agree or disagree?
Other thoughts
--Is Toronto's o-line that bad, or is Ricky Ray slower?
--Are the Argos really as good as their 2-1 record indicates?
--Is the return of Zach Collaros the thing the Ti-Cats need to turn things around or is there a deeper problem in Hamilton?
--Bo Levi Mitchell doesn't look as sharp as he did last season to me. Yes, it is early
--Winnipeg did win a game, but did they win it or did Hamilton give it to them?
--Will Henry Burris see the field again in Ottawa? Trevor Harris has been incredible in his 2 1.2 games of work.
--Did anyone else forget Anthony Allen was the back-up running back in BC. After seeing Chris Rainey in that role in the Week 1 win over Calgary, I thought Rainey would be the starter with Jeremiah Johnson out. Uhhhhh no!
--
MASTERFUL MURRAY
-- I didn't see all of the mens final at Wimbledon between Andy Murray and Milos Raonic, but when I sat down to start watching midway through the second set, you knew how this was going to end. Raonic performed well, but Murray was at the top of his game answering everything the Canadian had, Try and try as he might, Milos had no answer losing in straight sets. Genie Bouchard's career took a downturn after losing the Wimbledon final a few years ago, but I don't see the same for Milos.
--
UFC 200
-- For all the hype given to UFC 200, it was a snorefest. Yes, Anderson Silva only had about 48 hours for his match with Daniel Cormier, but that might have been one of the worst UFC matches I have ever seen. Cormier was content with laying down on Silva for much of the match. YAAAAWWWWNNNNN!!!. I guess we shouldn't be surprised seeing that is Cormier's M-O, but there is no doubt Jon Jones would have lit him up had that fight gone ahead. As for Brock Lesnar-Mark Hunt, this was definitely the highlight....
By the way, Bruce Buffer did apologize in a Tweet for mis-pronouncing Regina. It was very cool to hear that. I'm just glad he didn't come down to the octagon with "Last Saskatchewan Pirate". That might have been it for me. Some on Twitter said he should come down to a Colter Wall tune, and that would have been tremendous. In the end, he came down to "Enter Sandman" and there is absolutely nothing wrong with that either. Joe Rogan says he has "built a compound" in the province of Saskatchewan. Can anyone in the Maryfield area confirm this?
DUSTY SHUTS DOWN THE JAYS -- I didn't see him do his thing Sunday at Rogers Centre as I was doing the webcast for the Regina Red Sox game, but there was quite the buzz at Currie Field over the performance of Dustin Molleken. The 31 year old is showing he belongs in the bigs as he went 2 2/3 innings allowing 3 hits, and striking out 3. More importantly, he keptToronto off the scoreboard even though the Jays took the final game before the all-star break by a score of 6-1. With baseball at the break, I would expect the Tigers to send him back to Triple A so he can get some work in this week, but will they call him back up? I would certainly hope so, because he deserves it after his first two outings, but if they don't, I am guessing he will be a September call-up.
WE'RE NUMBER 1 -- I am guessing former CKRM announcer now salesman Perry Nyhus will be strutting around the station with a smile on his face this morning. Perry's son Mason was a quarterback on the Canadian team which won gold at the Under 19 Football Championships as they beat the U-S in the final 24-6. Besides Nyhus, there were 9 other players from Saskatchewan on the 38 man team. 10 of 38!! We are doing something right in Saskatchewan it would seem. There are many coaches out there who should be very proud of this accomplishment because from minor football right through to high school, they have done a tremendous job as have the players representing this fine nation.
That's all I got. Have a great week!