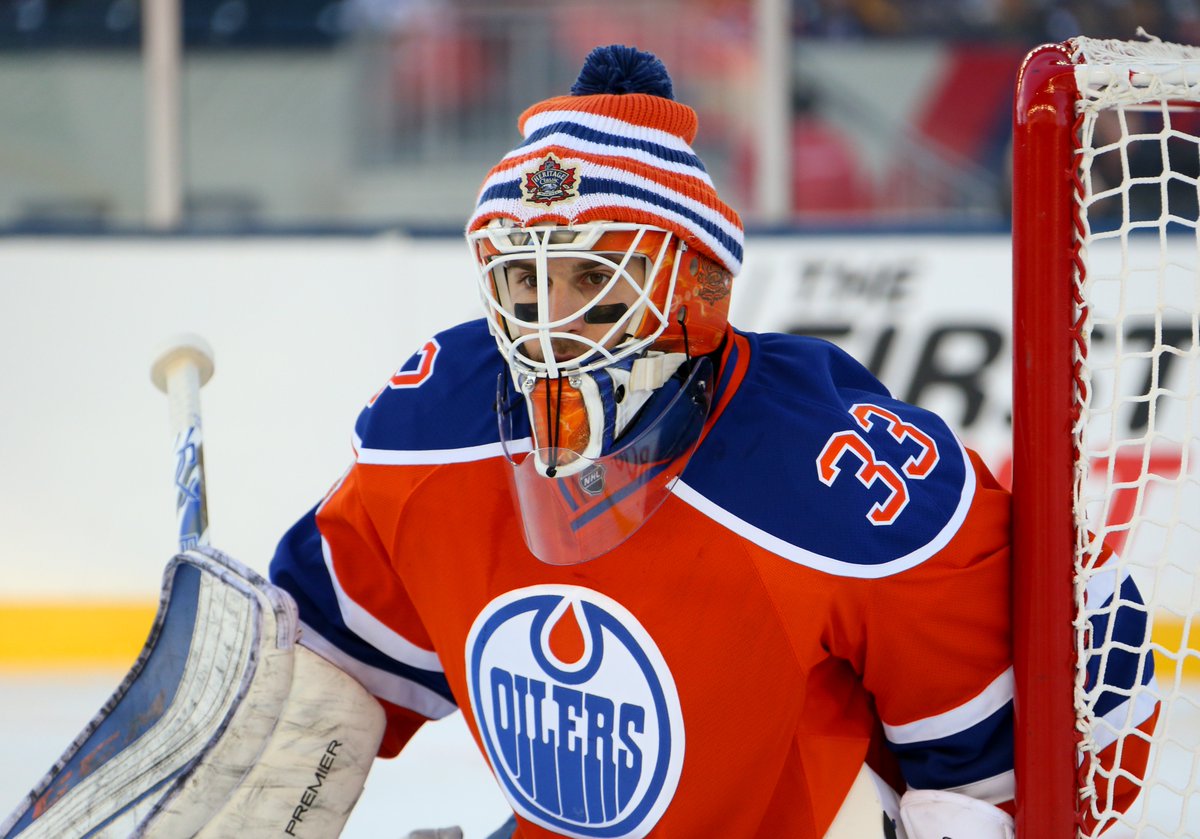 Edmonton Oilers goaltender Cam Talbot, Chicago Blackhawks center Artem Anisimov and Detroit Red Wings defenseman Mike Green have been named the NHL's "Three Stars" for the week ending Oct. 23.
FIRST STAR – CAM TALBOT, G, EDMONTON OILERS
Talbot went 3-0-0 with a 1.00 goals-against average, .970 save percentage and
one shutout to pace all goaltenders in wins and guide the Oilers (5-1-0, 10 points) to the
top of the NHL's standings, highlighted by their best six-game start since 1985-86 (also
5-1-0). He recorded 31 saves in a 3-2 victory over the Carolina Hurricanes Oct. 18 and
34 stops in a 3-1 triumph over the St. Louis Blues Oct. 20, one day after becoming the
father of twins. Talbot capped the week with a flawless performance in a 3-0 win over
the Winnipeg Jets in the 2016 Tim Hortons NHL Heritage Classic Oct. 23, becoming the
third goaltender in League history to post a shutout in a regular-season outdoor game
(31 SV). The 29-year-old Caledonia, Ont., native owns a 59-43-10 record in 119 career
NHL appearances (2.29 GAA, .924 SV%, 12 SO), including a 5-1-0 clip this season
(2.75 GAA, .919 SV%, 1 SO).
SECOND STAR – ARTEM ANISIMOV, C, CHICAGO BLACKHAWKS
Anisimov led the NHL with 4-3—7, including a pair of multi-goal performances, to
power the Blackhawks (3-3-0, 6 points) to two victories in three contests. He opened the
week with 2-2—4 in 7-4 triumph over the Philadelphia Flyers Oct. 18, his third career
four-point outing and first since Feb. 6. Anisimov added one assist in a 3-2 loss to the
Columbus Blue Jackets Oct. 21 before scoring twice, his seventh career multi-goal
game, in a 5-4 shootout win against the Toronto Maple Leafs Oct. 22. The 28-year-old
Yaroslavl, Russia, native has 110-132—242 in 495 career NHL appearances, including
4-4—8 in six outings this season.
THIRD STAR – MIKE GREEN, D, DETROIT RED WINGS
Green registered 3-2—5 to lead the Red Wings (4-2-0, 8 points) to a perfect 4-0-0
week. He notched his first career hat trick – and the first by a Detroit defenseman since
Dec. 15, 2010 (Nicklas Lidstrom) – in the final home opener at Joe Louis Arena, a 5-1
win over the Ottawa Senators Oct. 17. Green then collected one assist in both a 2-1
victory over the New York Rangers Oct. 19 and a 5-3 triumph over the Nashville
Predators Oct. 21 before being held off the scoresheet in a 3-0 win over the San Jose
Sharks Oct. 22. The 31-year-old Calgary native has 123-279—402 in 655 career NHL
outings, including 3-4—7 in six appearances this season.
(NHL Media)