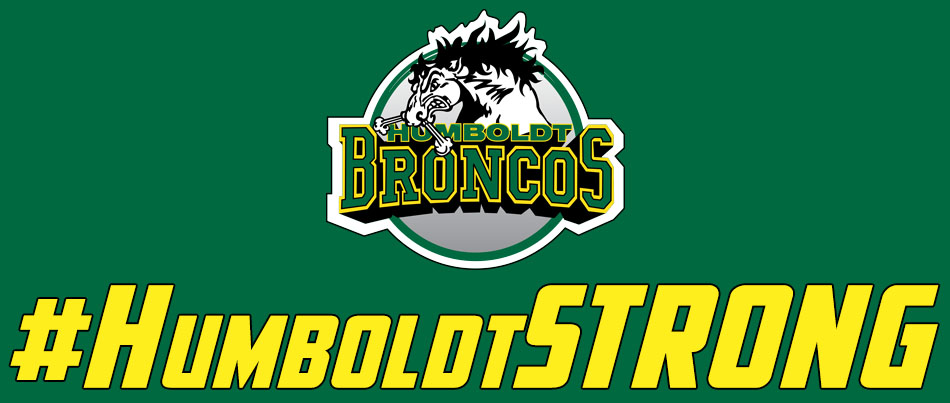 The social media hashtags #HumboldtStrong and #Sticksontheporch became a rallying cry for those impacted by the horrific Humboldt Broncos bus crash last month. Now the two phrases have become part of a trademark battle between the team and the league.
On April 6, the Humboldt Broncos team bus collided with a transport truck on the way to a Saskatchewan Junior Hockey League (SJHL) playoff game. The crash killed 16 people and injured 13 others.
In the days and weeks after the collision, people on social media showed their support for the team using the hashtag #HumboldtStrong. Another campaign encouraged users to place their hockey sticks outside their doors, and share photos using the hashtag #Sticksontheporch.
Two weeks following the crash, the SJHL applied for a trademark on both phrases, leaving Broncos team president Kevin Garinger confused, in part because he says he was never consulted.
"Ultimately, the trademark should sit and reside with the Humboldt Broncos and with the Humboldt community," Garinger told CTV News on Saturday. "The right thing is for us to hold the trademark."
League president Bill Chow says the league decided to apply for the trademarks as a way to protect the league and the Broncos from the unofficial merchandise that has surfaced since the collision.
"There's just so much of that stuff out there," Chow said. "We thought we would try and get that protection."
Shortly after the crash, CTV News uncovered more than 50 unofficial apparel designs related to the Humboldt Broncos bus crash, with only one indicating that money would be going to the victims.
In wake of the tragedy, the SJHL partnered with Regina-based clothing company 22Fresh to produce official "Humboldt Strong" T-shirts. All proceeds from these sales go to the SJHL assistance program which offers mental health support to all players in the league.
The Broncos, meanwhile, are in a partnership with Humboldt-based Spotlight Sport & Corporate Wear, which produces T-shirts and hoodies with the phrase "We are Humboldt Strong" on them. Proceeds from these sales go back to the players' families.
(CTV News)