TUESDAY'S RESULT
Tampa 4 Washington 2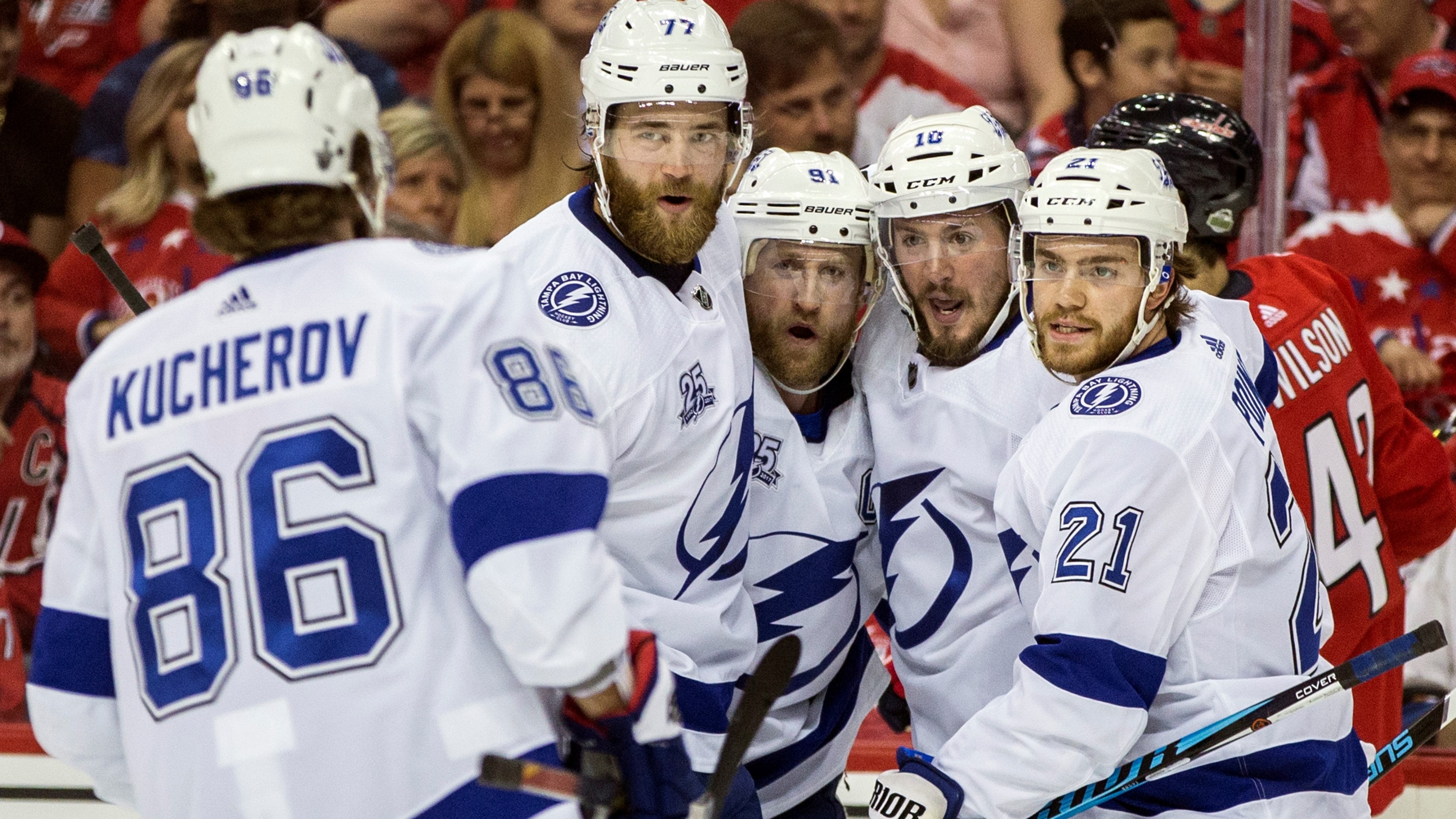 ALL-STARS POWER LIGHTNING TO FIRST WIN OF SERIES
Victor Hedman (1-2—3), Steven Stamkos (1-1—2), Nikita Kucherov (1-1—2) and Brayden Point (1-1—2), who all represented the Lightning at home during the 2018 NHL All-Star Game in Tampa alongside goaltender Andrei Vasilevskiy (36 saves), combined for all four goals as the Lightning cut their series deficit to 2-1 in the Eastern Conference Final.
* Stamkos – who scored for the third consecutive game – extended his point streak to six contests (5-4—9). He notched his 10th career power-play goal in the Stanley Cup Playoffs (all w/ TBL) to move into a tie with Martin St. Louis for the most in franchise history.
* Kucherov boosted his career totals to 29-29—58 in the Stanley Cup Playoffs. He leads all players in postseason goals since making his NHL debut in 2013-14 and has recorded the fourth-most playoff points over that span, trailing only Sidney Crosby (26-54—80), Evgeni Malkin (26-42—68) and Ryan Getzlaf (16-45—61).
* Point recorded his fourth multi-point game of the postseason and second in as many contests. He ranks third on the team with 6-8—14 in the 2018 Stanley Cup Playoffs and leads all Lightning skaters with five goals and 11 points (tied) since the start of the Second Round.
* Vasilevskiy improved to 9-4 in the 2018 Stanley Cup Playoffs (2.68 GAA, .915 SV%), including a 4-1 mark on the road (1.99 GAA, .940 SV). He led all goaltenders with 18 road wins in the 2017-18 regular season.
HEDMAN EXTENDS POINT STREAK TO EIGHT GAMES
Lightning defenseman Victor Hedman extended his point streak to eight games (1-10—11), tied for the longest in the 2018 Stanley Cup Playoffs (w/ Jake Guentzel). This marks just the 15th time in NHL history that a defenseman has recorded a point streak of eight-plus games in the postseason and first since Pittsburgh's Larry Murphy had a nine-game run in 1995 (2-13—15 in 9 GP).
* The record for longest point streak by a defenseman in the postseason belongs to Calgary's Al MacInnis, who put together a 17-game stretch (7-19—26 in 17 GP) during the Flames' Stanley Cup run of 1989 en route to being awarded the Conn Smythe Trophy.
* Hedman, who was named a finalist for the Norris Trophy for the second consecutive season, matched his career high for points in a playoff game originally set in Game 3 of the 2016 Second Round (1-2—3 at NYI). Only one other defenseman in franchise history has recorded three points in a postseason contest: Eric Brewer in Game 2 of the 2011 Conference Quarterfinals (1-2—3 at PIT).
SNEAK PEEK AT WEDNESDAY'S ACTION
The Golden Knights pack another franchise first into their inaugural NHL season when they host a Conference Finals game for the first time on Wednesday against the Jets. When a Conference Finals/Semifinals series is tied 1-1 (since 1974-75), the winner of Game 3 holds an all-time series record of 35-8 (81.4%).