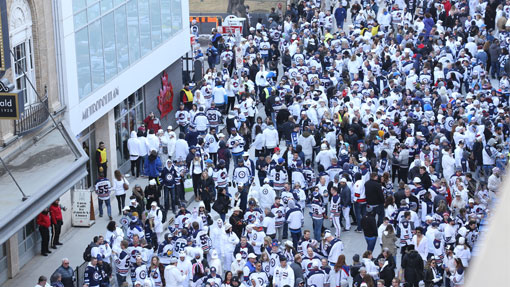 --If the Saskatchewan Roughriders were in the Grey Cup this year, would crazed Rider fans if it were somewhat pleasant outside on game-day gather around Mosaic Stadium, City Square Plaza, or wherever to watch the game and party with other members of Rider Nation. Would they go inside Brandt Centre or the Eventplex if it was available to watch the game on the big screen? I don't know what the answer is, but I do know that Winnipeg is basically going to close down around mid-afternoon today so the city can get ready to celebrate that the Jets could reach the halfway point of the NHL playoffs.
One can only imagine what the scene will be tonight in downtown Winnipeg outside Bell MTS Place as the Jets look to advance to the Western Conference final with a win over Nashville. Is there any reason to think it isn't going to happen? The Jets have taken Nashville to the woodshed in this series and Saturday night was no different. When they turn it up a notch, Nashville has a tough time keeping up. Pekka Rinne has been very leaky, PK Subban looks like a liability, Filip Forsberg seems to be a spectator as do some of the other Nashville forwards. It doesn't bode well. Yes, if they get their game together, they can force a Game 7, but it looks to me like Winnipeg is just too good.
--Can you get a five minute major for "high licking"? If so, the NHL needs to hand that out to Brad Marchand. The first stunt with Toronto's Leo Komarov was amusing, but his blatant lick to Ryan Callahan on Friday night was just gross. There's no other way to describe it. Yes, I understand there are methods used to try and get under someone's skin, but that was taking it wayyyyyyyyy too far. You know its bad when Sean Avery says that is over-stepping the boundaries.
I'm on record as saying I would have Marchand on my team any day of the week as he provides you with that little something every team needs, but this is just a little too much, creepy and gross.
--The Vegas Golden Knights are starting to make it look too easy. Is it safe to say if they were handing out the Conn Smythe Trophy right now that it would be going to Marc-Andre Fleury. Spectacular doesn't even start to describe his performance in these playoffs.
--I think it is safe to say the best ever Moose Jaw Warrior to advance to the NHL is Theoren Fleury. Where would Warrior fans place Brayden Point on that list? I don't think it surprises anyone to see Point having the success he has had in the NHL and his career is far from over. Where would you put him though as it stands right now? Has to be top 5 wouldn't it?
-You know the Regina Pats will be honouring some alumni at the Memorial Cup with opening ceremony puck-drops. I don't know what his health is, and I was hoping he would have been here for the 100th anniversary weekend, but here's hoping Josh Harding finds his way to the Brandt Centre to be recognized somewhere during the tournament-----one that is now less than two weeks away. Who will be saluted by the Pats prior to the games. I would think Ed Staniowski and Clark Gillies are a natural. If Jordan Eberle gets back from the Worlds which end on the 20th, I would think he would be a shoo-in as well. There are so many to choose from.
--One would think the Swift Current Broncos may have saved their season Saturday night with an overtime win after being down 3-0. It may have been a very short series had the Silvertips walked out of the I-Plex with a 2-0 series lead. One would also have to think the Ed Chynoweth Cup will also be handed out in Saskatchewan for the second straight year as I can't see either team winning all three games back in Everett.
--20 years ago Sunday, Chicago Cubs pitcher Kerry Wood struck out 20 Houston Astros on a cold, rainy and somewhat miserable afternoon at Wrigley Field. Just a shade over 15000 people went to the game and what they saw live was brilliance.
I remember watching that game live on WGN that afternoon after working a morning shift. There was no way I could doze off while watching that. I thought it was the best ever pitching performance I had seen. I wasn't alone on that. 20 years later, the Cubs put out a documentary on their Facebook page recounting that day. Like the Steve Bartman 30 for 30, there were a lot of things I didn't know about that day until seeing the show. What amazed me the most was that catcher Sandy Martinez didn't really have to move his glove much that afternoon. He put down the target and Wood hit it. It is still amazing to see footage of that game today. As good as his fastball was, his change-up and curve were even better.
--On Saturday night, I tuned in to the Raptors game at half-time. Once I saw the score, I turned away, but I turned back with 3 minutes to go and Toronto trying desperately to come back and get back in their series with Cleveland. A 3 pointer tied the game----but there were 8 seconds left. Matt Devlin and Leo Rautins obviously went insane with the fact Toronto had tied it, but had everyone forgotten about Lebron James. Eight seconds is an eternity for him. It was poetry in motion as he ran down the court swooped towards the basket and deposited a running one hander off the glass. Did anyone really think that wouldn't happen? One can't take away Toronto had its best ever season and the window is still open, but what more can you do with that team to get it to the next level----one they thought they had achieved.
--That's all I got. Have a great week!