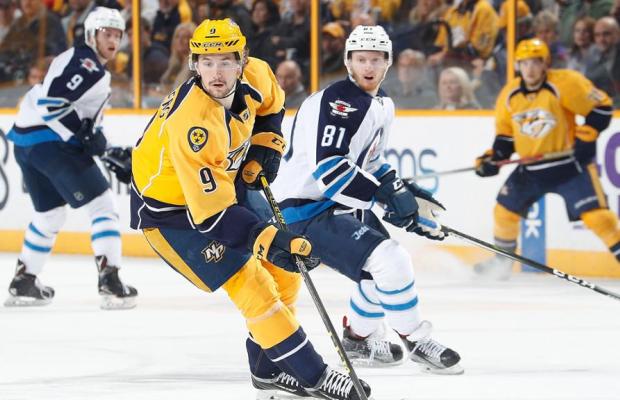 PREDATORS TO HOST JETS IN GAME 7 TONIGHT
The Predators and Jets will each mark franchise firsts when they meet in Game 7 of their Second Round series tonight in Nashville, with the winner moving on to face the expansion Golden Knights in the Western Conference Final.
* There have been 17 second-round Game 7s since 2009, with at least one played every year during that span. The road team holds a 9-8 advantage in those contests, with a total of 10 decided by one goal (including three in overtime).
* The Predators will host a Game 7 for the first time, looking to improve to 2-1 in such contests overall. They won 2-1 at Anaheim in the 2016 First Round and lost 5-0 at San Jose in the Second Round that year.
* Playing in their fourth all-time series, the Jets will contest a seventh and deciding game for the first time. This marks the first time the club will have a chance to close out a series on the road – they won their only potential clinching game at home in the First Round against Minnesota and were swept in their other two series prior to this year.
GAME 7 COMPARISONS: EXPERIENCE
Nashville's roster is comprised of 20 players combining for 47 career Game 7s, compared to Winnipeg's eight players with 13 such appearances.
* Predators forward Nick Bonino, signed by the team on July 1, leads all players on either side with five Game 7s. He has one assist (2014 SR w/ ANA) and a 3-2 record in those contests, with all three wins coming over the past two years on runs to back-to-back Stanley Cup championships with the Penguins.
* Veteran forwards Scott Hartnell (3-1) and Mike Fisher (1-3) and defenseman P.K. Subban (3-1) each have four Game 7 appearances to their credit. Hartnell and Subban have 1-1—2 apiece in winner-takes-all playoff games.
* Jets forwards Paul Stastny (2-1), Matt Hendricks (1-2) and Mathieu Perreault (0-2) each have multiple Game 7 appearances. Stastny, acquired from the Blues at the 2018 Trade Deadline, leads all players on either side with 2-3—5 in those games.
* Jets skaters have combined for nearly as many points in Game 7s as Predators skaters, despite having played in significantly fewer contests (NSH: 4-5—9 in 45 GP; WPG: 4-4—8 in 12 GP).
GAME 7 COMPARISONS: GOALTENDING
A series that features two 2017-18 Vezina Trophy finalists – Pekka Rinne of Nashville and Connor Hellebuyck of Winnipeg – has seen an average of 6.7 goals per game, with 40 goals scored through six contests. However, both netminders have a history of strong play in decisive games:
* Rinne, who has twice rebounded with stellar performances following defeats in this series, owns an all-time record of 7-8 in 15 potential series-clinching games (including a 1-1 mark in Game 7s). He has earned five series-clinching victories on home ice (9 GP), posting a 1.91 goals-against average and .932 save percentage in those contests.
* Hellebuyck, who is playing in the Stanley Cup Playoffs for the first time, is expected to start in his third career potential series-clinching game (Game 6 vs. NSH and Game 5 vs. MIN). The 24-year-old netminder has lost consecutive appearances only once since February (March 10 & 12), rebounding from his three playoff defeats with a 3-0 record, 2.00 goals-against average and .940 save percentage.
GAME 7 COMPARISONS: COACHING
Head coaches Peter Laviolette of the Predators and Paul Maurice of the Jets boast a combined .778 winning percentage in Game 7s (Laviolette 5-2, Maurice 2-0). Laviolette is one of four NHL coaches who has won a Game 7 in each of the four different playoff rounds, along with Pat Burns, Mike Keenan and John Tortorella.
GAME 7 QUICK HITS
Of the 170 all-time Game 7s in the Stanley Cup Playoffs:
* The team that scores first is 126-44 (.741), including 0-1 in 2018.
* Home teams own a 100-70 (.588) advantage, including a 1-0 record in 2018.
* Forty-one have required overtime (24.2%). Home teams have a 21-20 edge.