WEDNESDAY RESULT
Washington 4 Tampa 0
CAPITALS WILL FACE GOLDEN KNIGHTS IN STANLEY CUP FINAL
After 16 teams competed across three rounds, 79 games and three Game 7s – including Washington's win on Wednesday to advance from the Eastern Conference Final – the Metropolitan Division champion Capitals will face the Pacific Division champion Golden Knights in the Stanley Cup Final which begins on Monday, May 28 at T-Mobile Arena in Las Vegas.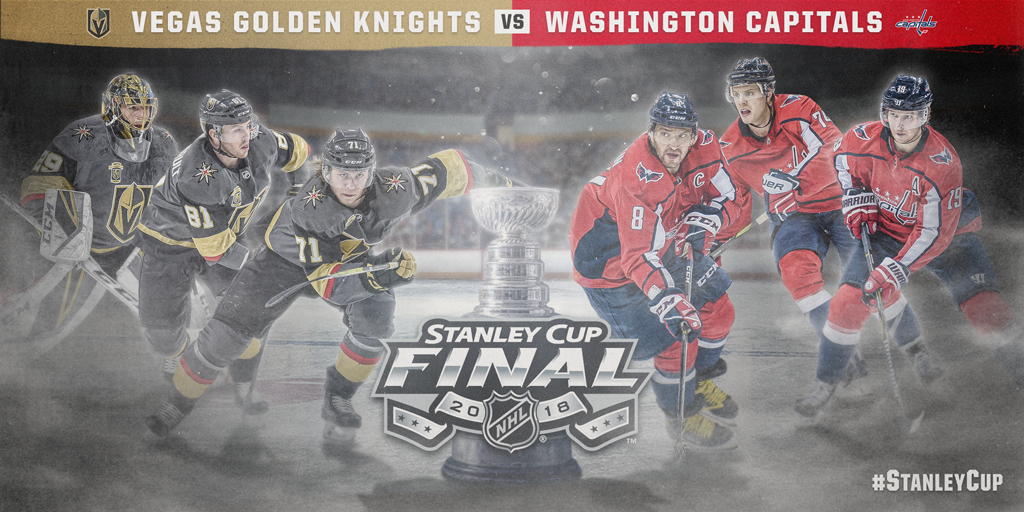 * This marks the sixth Final in NHL history to feature two clubs each chasing their first-ever Stanley Cup. Either the Golden Knights or Capitals will become the 19th active franchise to win the Cup.
* The Golden Knights and Capitals each earned three series-clinching victories on the road, marking the first time in NHL history that two clubs reached the Final in that fashion.
* The Golden Knights, backstopped by three-time Stanley Cup champion Marc-Andre Fleury (1.68 GAA, .947 SV%, 4 SO), became the third team in history to reach the Stanley Cup Final in their inaugural NHL season and the first to require three series wins to do so. No team outside of the Toronto Arenas in the NHL's first season (1917-18) has won the Stanley Cup in the franchise's inaugural campaign.
* The Capitals have reached the Stanley Cup Final for the second time in franchise history (also 4-0 L vs. DET in 1998). They have been led offensively by the duo of Evgeny Kuznetsov (11-13—24) and Alex Ovechkin (12-10—22), who sit first and second in League scoring during the 2018 postseason, respectively.
* Vegas (2-0-0) swept the two-game season series between the clubs (WSH: 0-2-0). Fleury stopped all 26 shots he faced in a 3-0 W on Dec. 23 and the Golden Knights rallied from three separate one-goal deficits, led by 2-0—2 from Reilly Smith, in a 4-3 W on Feb. 4.
CAPITALS BLANK LIGHTNING IN GAME 7, PUNCH TICKET TO STANLEY CUP FINAL
Alex Ovechkin's goal 1:02 into the contest stood as the game-winning tally and Braden Holtby stopped all 29 shots he faced to record his second straight shutout as the Capitals won Game 7 to clinch a berth in the Stanley Cup Final for the second time in franchise history (also 1998).
* The Capitals improved to 5-11 in Game 7s, including a 2-3 mark on the road. Washington played in its 11th Game 7 since the beginning of the 2008 Stanley Cup Playoffs, the most among all teams in that span.
* Washington became the eighth team to overcome a 3-2 deficit to win a Conference Finals/Semifinals series (since 1974-75) after splitting Games 1-4. The Penguins were the last team to do so, rallying past the Lightning in 2016 en route to winning the Stanley Cup.
* The Capitals improved to 8-2 as visitors in the 2018 Stanley Cup Playoffs, outscoring opponents 36-20 in those contests. Washington moved within two road wins of matching the NHL record for most in a postseason.
* Evgeny Kuznetsov assisted on Ovechkin's opening goal to extend his point streak to a franchise-record 10 games (6-9—15). He is just the seventh player in the last 20 years (since 1998) to register a playoff point streak of at least 10 games and the first since 2014, when Anze Kopitar recorded an equal run en route to capturing the Stanley Cup with Los Angeles (4-11—15 in 10 GP).
OVECHKIN AMONG ELITE PLAYOFF SCORERS
Alex Ovechkin, who eclipsed 600 goals and 1,000 games in 2017-18, will be making his Stanley Cup Final debut in his 13th NHL season. He aims to become the third player in NHL history to score 600 career regular-season goals before hoisting his first Stanley Cup (also Luc Robitaille in 2002 w/ DET and Dave Andreychuk in 2004 w/ TBL).
* Ovechkin scored his 58th career goal in the Stanley Cup Playoffs (116 GP). His 0.50 goals per game average in the postseason ranks ninth in NHL history among players to appear in at least 100 contests – all eight players ranked higher are members of the Hockey Hall of Fame.
* Ovechkin (12-10—22 in 19 GP), who captured his seventh Maurice "Rocket" Richard Trophy in 2017-18 after leading the NHL with 49 goals, moved within two goals of tying the Capitals franchise record for most in a postseason (John Druce: 14 in 1990).
* A key contributor to Washington's 8-2 record on the road this postseason, Ovechkin leads all skaters in the 2018 Stanley Cup Playoffs with 15 road points (8-7—15 in 10 GP).
* Since his postseason debut in the 2008 Stanley Cup Playoffs, Ovechkin ranks third in goals with 58 (116 GP), behind only Sidney Crosby (63 in 155 GP) and Evgeni Malkin (62 in 153 GP) over that span.
* In career Game 7 appearances, Ovechkin boosted his totals to 4-3—7 (11 GP). Only two active NHL players have scored more career Game 7 goals: Justin Williams (7) and Patrice Bergeron (5).
* Ovechkin opened the scoring at 1:02 of the first period, tied for the ninth-fastest goal to begin a Game 7 in NHL history. His tally was also the second-earliest winning goal in Game 7 history, behind only Montreal's Jean Beliveau (0:14) in the 1965 Stanley Cup Final vs. CHI (4-0 W).
HOLTBY JOINS RARE COMPANY WITH SECOND STRAIGHT SHUTOUT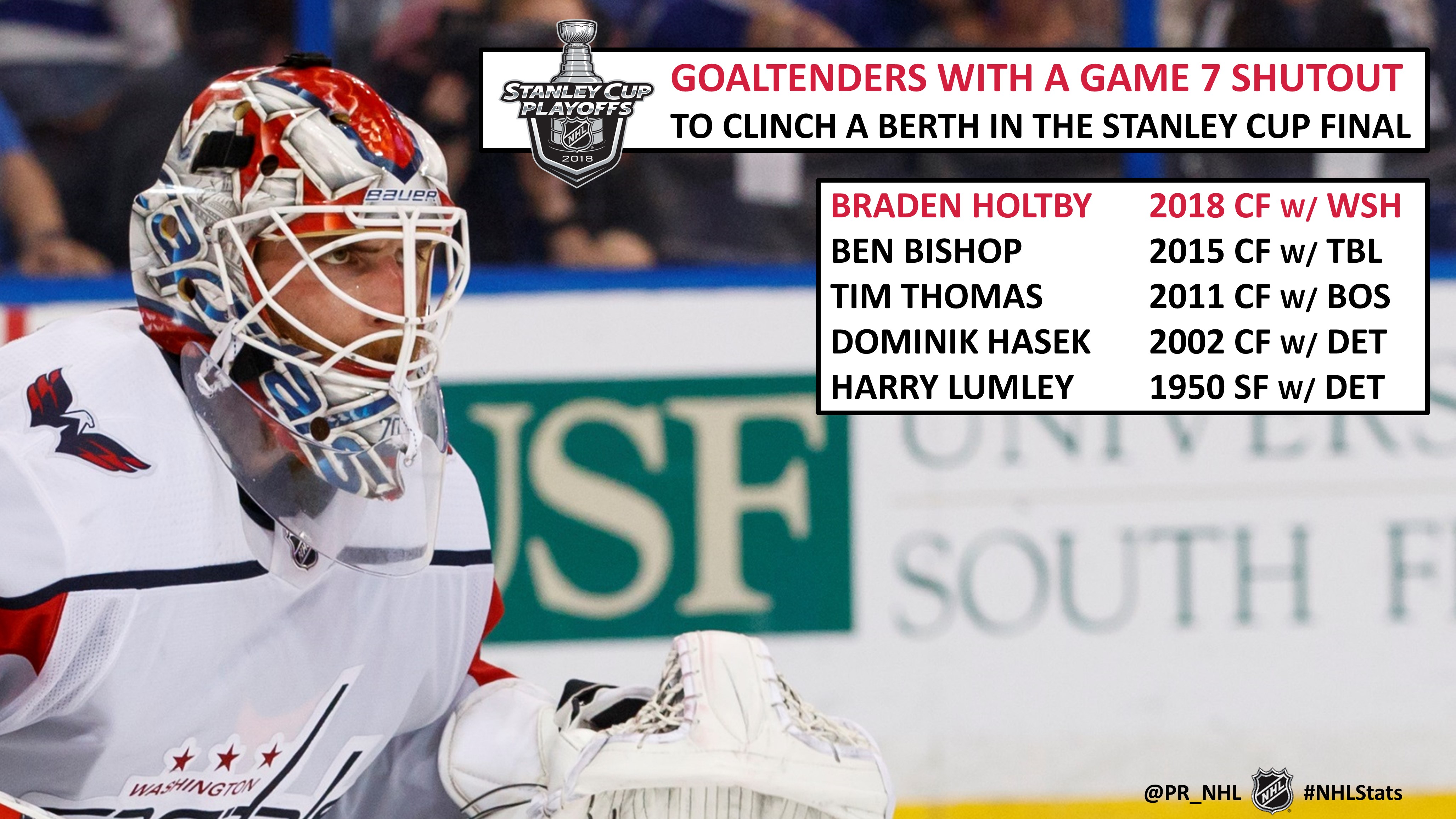 Capitals goaltender Braden Holtby, who also blanked the Lightning in Game 6 to avoid elimination, became the second netminder in franchise history to record consecutive shutouts in the Stanley Cup Playoffs. He joined Olie Kolzig, who did so in Games 4 and 5 of the 1998 Conference Semifinals against the Senators.
* Holtby became the 27th different goaltender in NHL history to record a shutout in a Game 7 and just the fifth to do so to clinch a berth in the Stanley Cup Final. Of those five goaltenders, Harry Lumley and Dominik Hasek also recorded shutouts in Game 6 of their respective series.
* Holtby improved to 3-4 in seven career Game 7 appearances (1.81 GAA, .934 SV%, 1 SO). Rangers goaltender Henrik Lundqvist (6-2) is the only active NHL goaltender with more career Game 7 appearances.
* Holtby also improved his record to 8-5 in elimination games (1.73 GAA, .937 SV%, 1 SO) and his sixth career playoff shutout (all w/ WSH) moved him into a tie with Kolzig for the most in franchise history.
BURAKOVSKY SCORES FIRST TWO GOALS OF POSTSEASON
Capitals forward Andre Burakovsky scored his first two goals of the 2018 Stanley Cup Playoffs (8 GP) to become just the second player in franchise history to score twice in a Game 7, joining Dale Hunter in the 1988 Division Semifinals vs. PHI.
* Burakovsky, who was drafted in the first round (23rd overall) by Washington in 2013, recorded 12-13—25 during the 2017-18 regular season, his fourth with the Capitals. Among his eight career postseason goals (44 GP) are three multi-goal performances: 2-0—2 vs. NYR in Game 4 of the 2015 Second Round and 2-0—2 at PIT in Game 6 of the 2017 Second Round.
* From a hockey pedigree, his father, Robert, was drafted 217th overall by the Rangers in 1985 and appeared in 23 regular-season games for the Senators in 1993-94 but never made an appearance in the Stanley Cup Playoffs.