WEDNESDAY RESULTS
Tampa 4 Boston 1
San Jose 4 Vegas 0
JONES, SHARKS BLANK GOLDEN KNIGHTS TO EVEN SERIES
Martin Jones turned aside all 34 shots he faced and Logan Couture collected two assists as the Sharks won Game 4 on home ice to tie their series with the Golden Knights at two games apiece.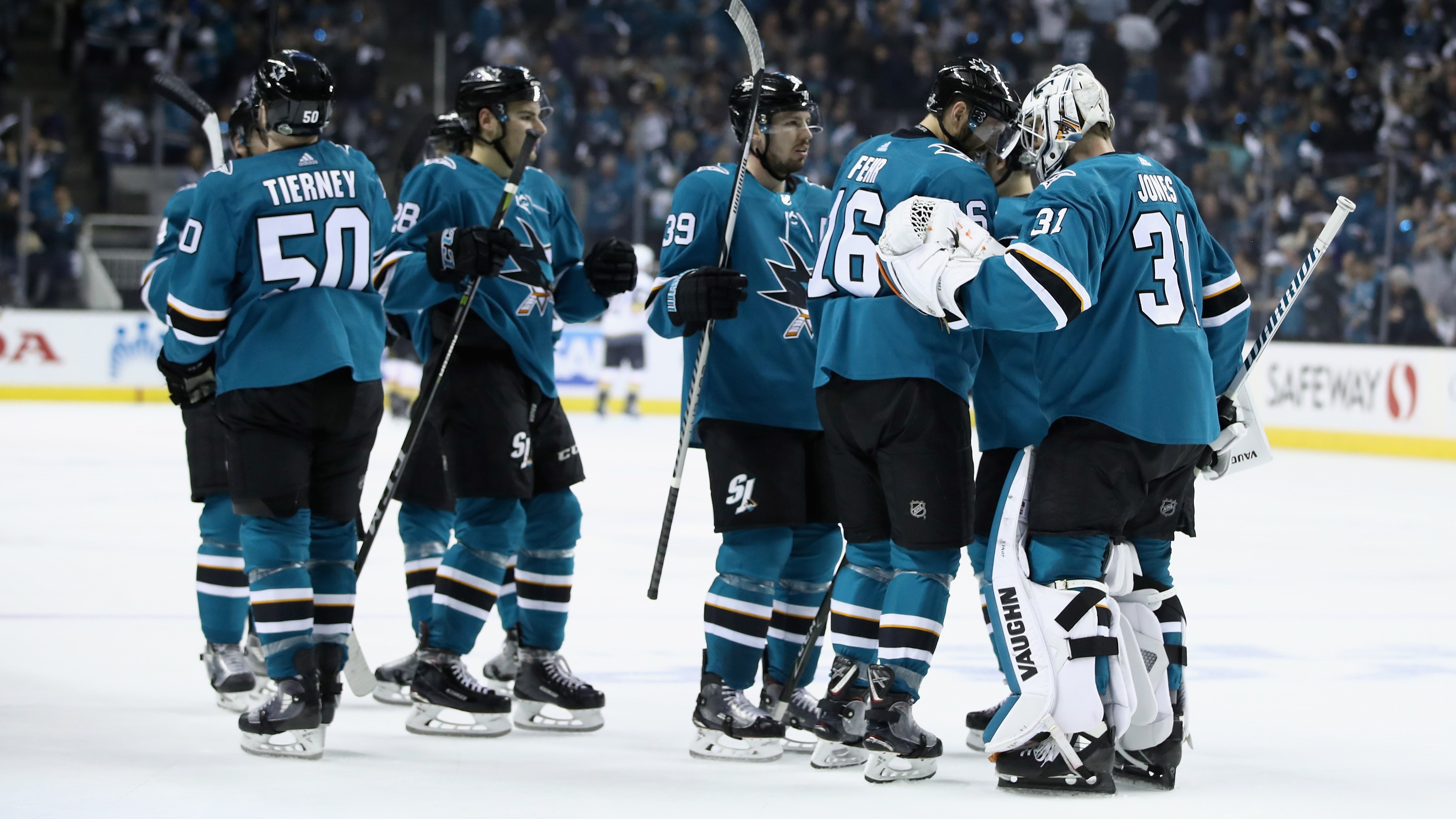 * Jones recorded his 22nd career playoff win, six of which have come via shutout (27.3%). Each of those wins and shutouts have come in a Sharks uniform (38 GP), placing Jones one back of tying Evgeni Nabokov (7 in 80 GP) for the most postseason shutouts in franchise history.
* Couture, who led the NHL and established single-postseason franchise records for assists and points during the Sharks' run to the 2016 Stanley Cup Final (10-20—30), now leads the team with 4-5—9 in these playoffs. With 34-44—78 in his career, Couture ranks fourth in franchise history in both playoff assists and points.
* Marcus Sorensen (GWG) scored his fourth goal of the 2018 Stanley Cup Playoffs, trailing only Boston's Jake DeBrusk (6) for the most among rookies. Only two rookies in franchise history have scored more goals in a postseason: Couture in 2011 (7) and Joonas Donskoi in 2016 (6).
PALAT SCORES TWO EARLY GOALS TO HELP LIGHTNING WIN GAME 3
Ondrej Palat scored twice in the opening 3:19 of the first period and Andrei Vasilevskiy made 28 saves as the Lightning won Game 3 in Boston to take a 2-1 series lead.
* Palat scored his 17th and 18th career playoff goals (all w/ TBL) to move into a tie with Brad Richards for sixth place on the franchise's all-time list. In doing so, Palat became the 16th player in NHL history to score twice in the opening five minutes of a playoff game; only six players achieved the feat faster from the start of the contest.
* Victor Hedman collected his 34th and 35th career playoff assists – including a helper on Palat's second straight game-winning goal – to move into a tie with Martin St. Louis for the most in franchise history.
ROOKIES RACKING UP THE GOALS
Lightning forward Anthony Cirelli scored to become the 23rd different rookie to net at least one goal in the 2018 Stanley Cup Playoffs (56 GP), one more than during the entire 2017 postseason (87 GP). Only five postseasons in the last 30 years (since 1988) have featured more rookies with at least one goal: 1989 (26), 1990 (28), 1992 (28), 1993 (25) and 2006 (26).
* The NHL record for most rookies with a goal in one postseason stands at 38, set in 1981 when Minnesota North Stars forward Dino Ciccarelli led the pack with 14 goals and 21 points. Ciccarelli's goal total still stands as the rookie record for a single postseason, though Penguins forward Jake Guentzel came within one of matching it last year when he tallied 13-8—21 to become the third rookie to record 21 points in a postseason (also Ville Leino: 7-14—21 in 2010 w/ PHI).
* Now a sophomore, Guentzel shares the League lead with 8-11—19 this postseason (9 GP). Bruins forward Jake DeBrusk paces all rookies with six goals and eight points in 10 games.
PASTRNAK CONTINUES SCORCHING START TO THE POSTSEASON
Bruins forward David Pastrnak (0-1—1) boosted his totals to 5-14—19 in the 2018 Stanley Cup Playoffs (10 GP) and is tied with Penguins forward Jake Guentzel (8-11—19 in 9 GP) for the League lead in points.
* Pastrnak and Guentzel are the first players to record at least 19 points through 10 or fewer team games since Doug Gilmour had 19 points in 10 games with the Toronto Maple Leafs during the 1994 Stanley Cup Playoffs.
* Only six different players have recorded more points through a team's first 10 games of a postseason – including two Bruins: Wayne Gretzky (5x), Mark Messier (2x), Mike Bossy, Rick Middleton, Barry Pederson and Darryl Sittler.
* Only four players recorded more than 19 points during the entire 2017 postseason: Guentzel (13-8—21) and his Pittsburgh teammates Evgeni Malkin (10-18—28), Sidney Crosby (8-19—27) and Phil Kessel (8-15—23).
(NHL Media)