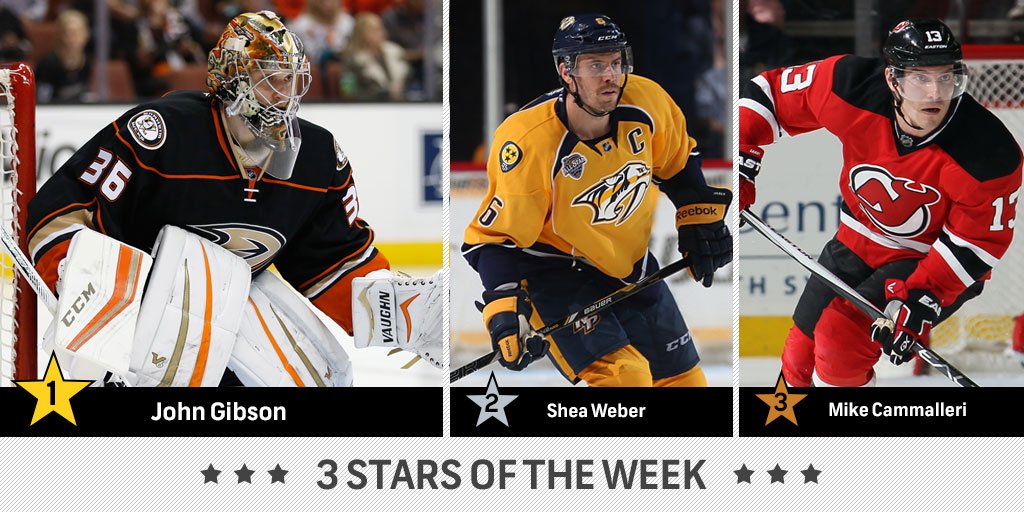 Anaheim Ducks goaltender John Gibson, Nashville Predators defenseman Shea Weber and New Jersey Devils left wing Mike Cammalleri have been named the NHL's "Three Stars" for the week ending Dec. 6.
FIRST STAR – JOHN GIBSON, G, ANAHEIM DUCKS
Gibson posted a 3-1-0 record with a 0.76 goals-against average, .968 save percentage and two shutouts to lift the Ducks (11-12-5, 27 points) into fourth place in the Pacific Division. He began the week by stopping all 25 shots he faced in a 4-0 victory over the Vancouver Canucks Nov. 30. Gibson followed that performance with 20 saves in a 2-1 loss to the Tampa Bay Lightning Dec. 2 before recording 23 saves for his second shutout of the week (and the fourth of his career) in a 1-0 triumph over the San Jose Sharks Dec. 4. He then closed the week with 23 stops en route to 2-1 win over his hometown team, the Pittsburgh Penguins, Dec. 6. The 22-year-old Pittsburgh native owns a 20-10-1 record in 33 career NHL appearances (2.24 GAA, .923 SV%, 4 SO), including a 4-2-1 clip and League-leading 1.47 goals-against average in seven outings this season.
SECOND STAR – SHEA WEBER, D, NASHVILLE PREDATORS
Weber tied for second among all players with 3-3—6, including his first career hat trick, to power the Predators (13-8-5, 31 points) to a 1-1-1 record in three contests. He posted his sixth career three-assist game, and first since Nov. 18, 2014 at TOR, in a 5-2 win over the Arizona Coyotes Dec. 1. After being held off the scoresheet in a 2-1 loss to the Florida Panthers Dec. 3, Weber registered his first career hat trick – and the first ever by a Predators defenseman – in a 5-4 overtime loss against the Detroit Red Wings Dec. 5. In doing so, Weber also became the first defenseman to post a hat trick for any team since Jan. 4, 2014, when former defensive partner Ryan Suter achieved that feat with the Minnesota Wild. The 30-year-old Sicamous, B.C., native shares second among defensemen with nine goals this season (26 GP), including eight via the power play.
THIRD STAR – MIKE CAMMALLERI, LW, NEW JERSEY DEVILS
Cammalleri led the NHL with 4-3—7 in four outings, including three straight multi-point performances, to help the Devils (14-10-3, 31 points) move into the final Wild Card spot in the Eastern Conference. After failing to register a point in a 2-1 loss to the Colorado Avalanche Dec. 1, Cammalleri reeled off three consecutive multi-point games: 2-1—3 in a 5-1 victory over the Carolina Hurricanes Dec. 3, 1-1—2 in a 4-3 overtime loss to the Philadelphia Flyers Dec. 4 and 1-1—2 in a 4-2 win over the Florida Panthers Dec. 6. The 33-year-old Toronto native, who has recorded nine multi-point performances this season, ranks fifth in the League with 11-19—30 overall (27 GP). He has posted three straight multi-point contests for the third time in his career, also Feb. 3-10, 2007 (3-5—8 in 3 GP w/ LAK) and Feb. 24 – March 1, 2009 (4-4—8 in 3 GP w/ CGY).