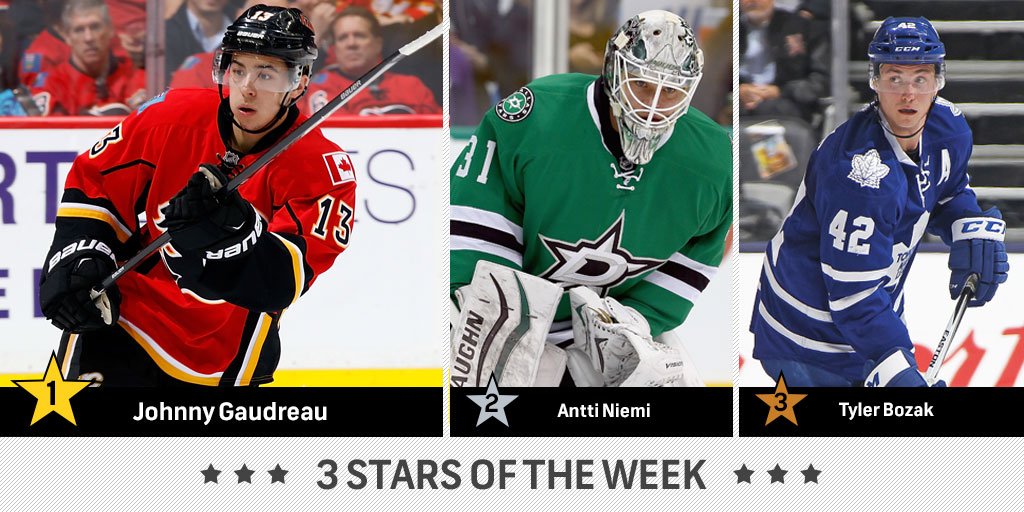 Calgary Flames left wing Johnny Gaudreau, Dallas Stars goaltender Antti Niemi and Toronto Maple Leafs center Tyler Bozak have been named the NHL's "Three Stars" for the week ending Dec. 27.


FIRST STAR – JOHNNY GAUDREAU, LW, CALGARY FLAMES
Gaudreau led the NHL with five goals in two games to help the Flames (17-16-2, 36 points) set a franchise record with their 11th consecutive victory on home ice. He opened the week with his third career hat trick – and second of the month (also Dec. 4 vs. BOS: 3-1—4) – in a 4-1 triumph over the Winnipeg Jets Dec. 22. Gaudreau then scored twice, including the game-winning goal, in a 5-3 comeback victory over the Edmonton Oilers Dec. 27. The 22-year-old Salem, N.J., native paces the Flames and shares sixth in the NHL in both goals (17) and points (39) in 35 appearances this season. His five game-winning goals are one shy of the League lead (Joe Pavelski: 6).
SECOND STAR – ANTTI NIEMI, G, DALLAS STARS
Niemi went 2-0-1 with a 1.02 goals-against average, .966 save percentage and one shutout to lift the Stars (27-7-3, 57 points) back into first place in the League standings. He turned aside 30 of 31 shots in relief of Kari Lehtonen in a 6-3 win over the Minnesota Wild Dec. 21. Niemi then made 20 saves for his 35th career shutout (third this season) in a 4-0 victory over his former team, the Chicago Blackhawks, Dec. 22. He closed the week with 35 saves, plus another four in the shootout, in a 3-2 loss to the St. Louis Blues Dec. 26. The 32-year-old Vantaa, Finland, native boasts a 15-5-3 record (2.28 GAA, .917 SV%, 3 SO) in 24 outings this season, his first with the Stars.
THIRD STAR – TYLER BOZAK, C, TORONTO MAPLE LEAFS
Bozak ranked second in the NHL in both goals (4) and points (tied-5) to power the Maple Leafs (13-14-7, 33 points) to two victories in three starts. He recorded his second career hat trick, including the game-winning goal, in a 7-4 triumph over the Colorado Avalanche Dec. 21. Bozak then collected one assist in a 3-2 loss to the Arizona Coyotes Dec. 22 before closing the week with one goal in a 3-1 win over the New York Islanders Dec. 27. The 29-year-old Regina, Sask., native shares second on the Maple Leafs with 9-15—24 in 30 games this season, including 5-5—10 in his last eight outings.
(NHL Media)