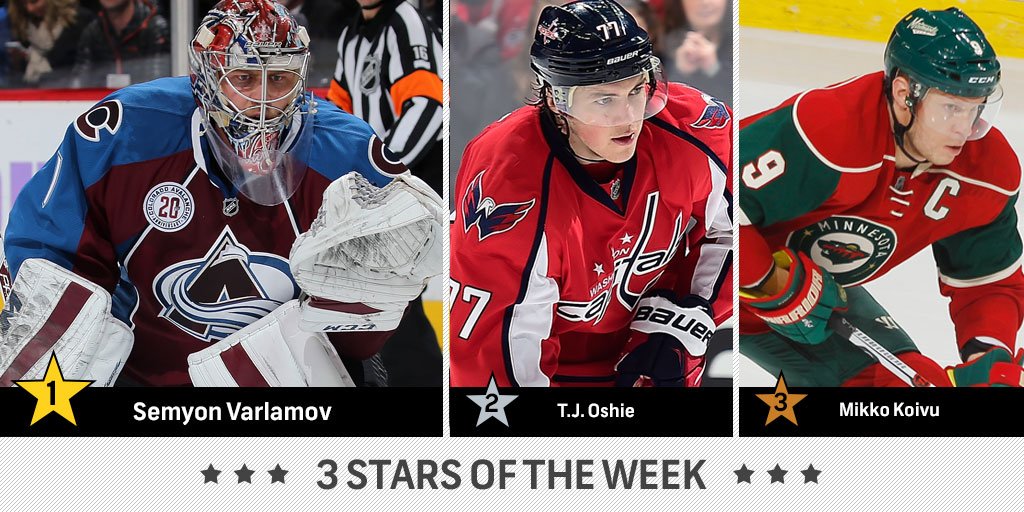 FIRST STAR – SEMYON VARLAMOV, G, COLORADO AVALANCHE
Varlamov went 3-0-0 with a 0.67 goals-against average, .981 save percentage and one shutout to help the Avalanche (17-16-1, 35 points) extend their winning streak to five games, their longest such run since March 25 – April 5, 2014 (6-0-0). He stopped all 29 shots he faced, including 20 over the final two periods, to earn his 19th career shutout in a 3-0 victory over the Chicago Blackhawks Dec. 15. Varlamov then allowed one goal in each of his next two starts, making 33 saves in a 2-1 win over the New York Islanders Dec. 17 and 39 saves in a 5-1 triumph over the Edmonton Oilers Dec. 19. The 27-year-old Samara, Russia, native has won six consecutive decisions, equaling a career high last achieved March 4-19, and boasts a 12-8-1 record in 22 total outings this season (2.45 GAA, .921 SV%, 1 SO).
SECOND STAR – T.J. OSHIE, RW, WASHINGTON CAPITALS
Oshie paced the NHL with five goals and shared the League lead with eight points as the Capitals (24-6-2, 50 points) won all four of their games to move into first place in the overall standings. He opened the week with 2-1—3 in a 4-1 victory over the Pittsburgh Penguins Dec. 14. After being held off the scoresheet in a 2-1 win over the Ottawa Senators Dec. 16, Oshie responded with 2-2—4 – his third career four-point game and first since Jan. 3 at SJS (3-1—4 w/ STL) – in a 5-3 comeback victory over the Tampa Bay Lightning Dec. 18. He finished the week with one goal in a 7-3 triumph over the New York Rangers Dec. 20, the team's second consecutive multi-goal comeback win. The 28-year-old Everett, Wash., native has 13-9—22 in 32 games this season, his first with the Capitals.
THIRD STAR – MIKKO KOIVU, C, MINNESOTA WILD
Koivu tied for first in the NHL with 3-5—8 in three games to lift the Wild (17-8-6, 40 points) to a pair of wins. He started the week with 1-3—4 – his third career three-point performance and first since Jan. 2, 2011 vs. PHX (0-4—4) – in a 6-2 victory over the Vancouver Canucks Dec. 15. Koivu followed that with 2-1—3 in a 5-2 triumph over the New York Rangers Dec. 17 before collecting one assist in a 3-2 loss to the Nashville Predators Dec. 19, ending the team's season-high point streak at nine games (6-0-3). The 32-year-old Turku, Finland, native leads the Wild with 8-21—29 in 31 contests this season, his seventh as the club's captain.
(NHL Media)