--A tremendous, and oh so relaxing Victoria Day long weekend is over. It was one of those weekends where there was nothing pressing so it was one of those weekends to simply just kick back. Summer is here, and next week Riders camp begins so it would appear we have survived the off-season and are ready for what 2016 brings.
--There are a lot of things that happened over the long weekend, so let's recap and to steal a line from the Friday column, these come in no particular order.
WORLD HOCKEY CHAMPIONSHIP
-- Canada is still atop the hockey world after a 2-0 win over Finland in the final. There were many who were wringing their fingers after Finland schooled the Canadians to end the round-robin, and there were some believing a repeat performance was going to happen in the final. NOPE! Connor McDavid picked a great time to score his first of the tournament, Cam Talbot made some big saves, White City's Ryan Murray had his best game of the event as did many others and Canada came away with the prize. How about Putin showing up for the closing ceremonies! That was as big a surprise as Seth Rollins' return at WWE Extreme Rules.
PATRICK LAINE
-- Randy Turner of the Winnipeg Free Press took to Twitter with this picture of Patrick Laine after the Finns had been beaten by Canada saying "When it hits you that you are finally going to Winnipeg." OUCH!!!
-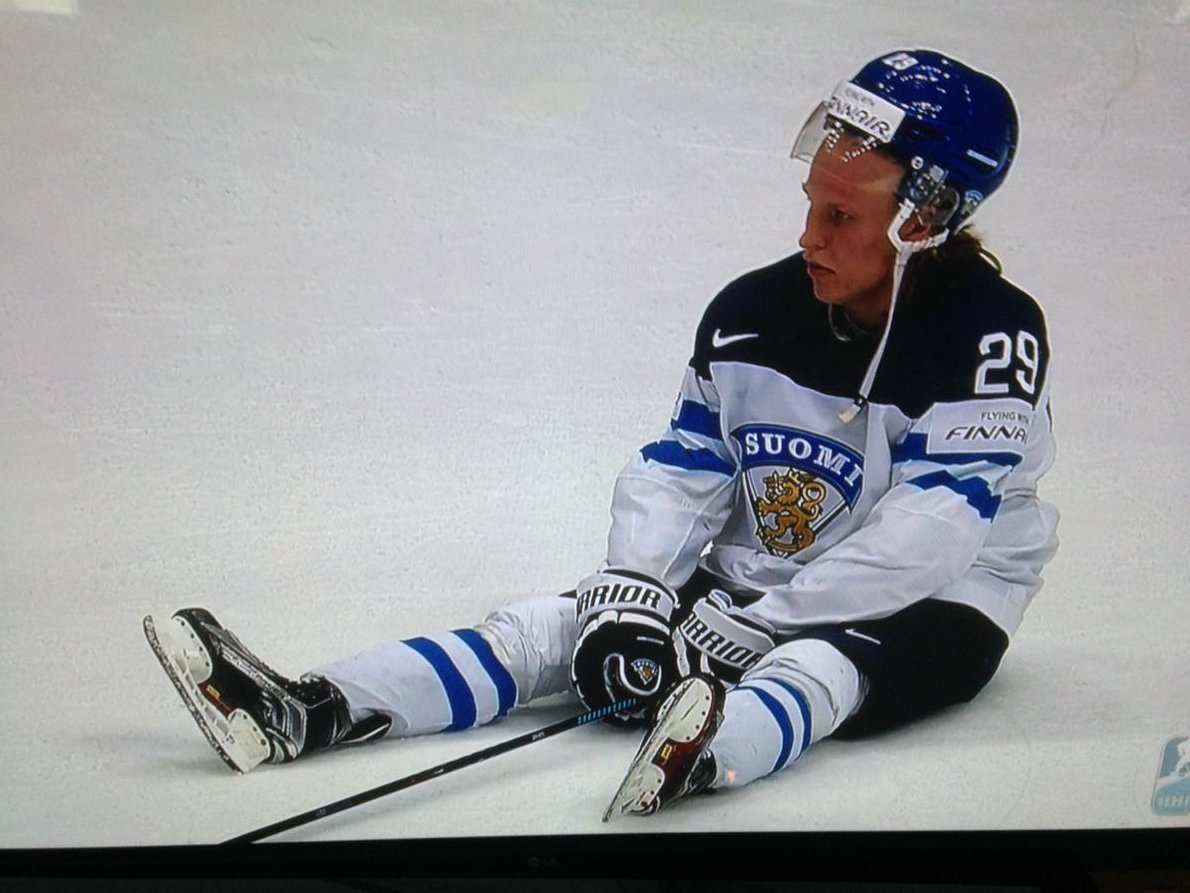 Unless the Leafs do the unthinkable and take the young Finn ahead of Auston Matthews, Winnipeg is getting what some think is the best player available in the 2016 draft. He certainly will give Jets fans another "Finnish Flash" to cheer for. Add him to the likes of Hellebuyck, Trouba, Ehlers, Schiefele and 1st round pick Kyle Conner and you have to be excited for what the future holds in the Manitoba capital.
MEMORIAL CUP
-- The tournament isn't over, but one would be hard pressed to think the London Knights won't be carrying the Cup around the ENMAX Centrium Sunday afternoon. They are steamrolling the competition including Monday's 9-1 pasting of the Brandon Wheat Kings in what was a highly enjoyable contest for this blogger. If you are a Leafs fan, you have to love what you are seeing from Mitch Marner. Would the Leafs send him to the Marlies for a year or would they put Marner, Matthews and William Nylander on the big team. I am guessing the time-line for Marner would be the same as it was for Nylander this year.
VERNON ADAMS --
A lot of people in the CFL were scratching their head wondering how Alouettes GM Jim Popp could send a first round pick next year to BC for former Oregon quarterback Vernon Adams when he hadn't signed a deal. This just in---Popp knew exactly what he was doing. What I don't know is what Popp is going to do with the stable of quarterbacks he has. Going into camp, Popp has Adams, Kevin Glenn, former Clemson standout Tajh Boyd, Rakeem Cato and Jonathan Crompton. You can't keep all of them, Some Rider fans are wondering if Chris Jones and crew could do something to pry Cato away and bring him to Riderville. Cato might be a more prototypical quarterback than Brett Smith, but Smith did show signs in what was a brutal 2015. Time will tell. As for Adams, if he can adapt to the CFL game, the Alouettes may have gotten a dandy.
NBA PLAYOFFS --
Are the Oklahoma City Thunder on the verge of what would be perhaps the biggest upset in NBA history? I didn't see much of their Game 3 blowout win over Golden State, but when I saw the score going into the 2nd half, I asked WTF? The Warriors are getting everything they can handle and then some from Kevin Durant, Russell Westbrook and the Thunder. Game 3 was highlighted by a "kick" to the junk of Thunder center Steven Adams from Golden State's Draymond Green. An act that surprisingly did not get Green kicked out of the game. On Saturday, Cleveland's Dahntay Jones came into the game in the last seconds and was promptly suspended a game for delivering a low blow to Toronto's Bismack Biyombo, Green's act was worse than Jones'--although admittedly Jones had nothing to lose with his act of cowardice. The NBA mysteriously is not fining Green and after seeing the performance of the refs in Games 3 and 4 of the Raptors-Cleveland series, it makes me wonder if the league has requested a Warriors-Cavs final again. Methinks the NBA would not be happy if the Thunder or Raptors spoiled the party and can you imagine what ratings in the U-S would be for an Oak City/Toronto final?
NHL PLAYOFFS --
I think we are seeing seven game series in both The East and West finals have been full of twists and turns. San Jose is no gimme at home vs the Blues and without Stamkos and Bishop, the Penguins are still the better team than Tampa.
WWE EXTREME RULES --
With the WWE Network finally available on Access Communications, it enabled me to sit back Sunday night and watch the repeat showing of the "Extreme Rules" pay per view. OMG! That might have been the best PPV I have seen from the WWE. WWE fans, what match was better---the main event and what followed (the return of Seth Rollins) or the fatal 4 way match. I didn't think you could get any better than the fatal 4 way, but the A-J Styles-Roman Reigns match was tremendous theatre.
JOSH DONALDSON --
Safe to say the Blue Jays 3rd baseman had an interesting weekend at Target Field in Minneapolis. The reigning American League MVP was tossed out of Saturday's game in the first inning in what was an extreme bonehead and knee-jerk reaction by the home plate umpire who thought Donaldson had said something to him after a routine groundout when he hadn't. That is another story for another time. Fast forward to Sunday and Donaldson belts one to center field for a homer and as he gets to home plate says something to the Twins dugout in response to what happened Saturday. It resulted in Donaldson getting buzzed twice by Minnesota pitcher Phil Hughes with no warning, no retribution, no nothing. ???? After what happened against Texas and what happened last year against Kansas City, teams know what buttons to push against the Jays, but the umpires need to step in. Unlike Jose Bautista in Arlington, Donaldson did not take matters into his own hands, but he brought up some very valid points after the Sunday win.
"Major League Baseball has to do something about this," Donaldson said. "They talk about trying to protect players. They put in a sliding rule at second so you can't slide past the base. They make a rule to protect catchers on slides at home. "It says in the rules you can't throw at hitters. Yet when someone throws a pitch at a batter … nothing. My manager comes out to ask a question and gets thrown out. It doesn't make any sense to me. It gets to the point where two balls are thrown at me."
I have no problems with pitchers throwing inside, but umpires have seemingly lost their read on the temperature of a situation. The home plate ump had to have seen the exchange after the homerun and has to realize this could escalate. When it escalates---nothing! That's wrong! The difference between this weekend and last is that Bautista wanted to exact some measure of payback for getting drilled in the ribs thus throwing gas on an already volatile game. Baseball needs to wake up and baseball also needs to start taking a closer look at their umpires to see what is happening because some (like home plate ump Toby Basner on Saturday) apparently don't see what is going on. Missing a ball or a strike is one thing, but Basner's demeanour Saturday was a joke.
SASKATCHEWAN RUSH -
If Saskatchewan didn't know anything about lacrosse going into this NLL season, they do now. The Rush are looking to win back-to-back titles with that 2nd title coming calling Saskatoon home. 15-thousand were jammed into Sask-Tel Centre for their win over Calgary Saturday and I would think they will have that if not more for the league final against Buffalo. The Rush have been good for Saskatoon, and good for Saskatchewan, but they still aren't what that other pro team in this province is and oh yeah, they start things up on Sunday. Talk about perfect timing.
That's all I got. Have a great week!