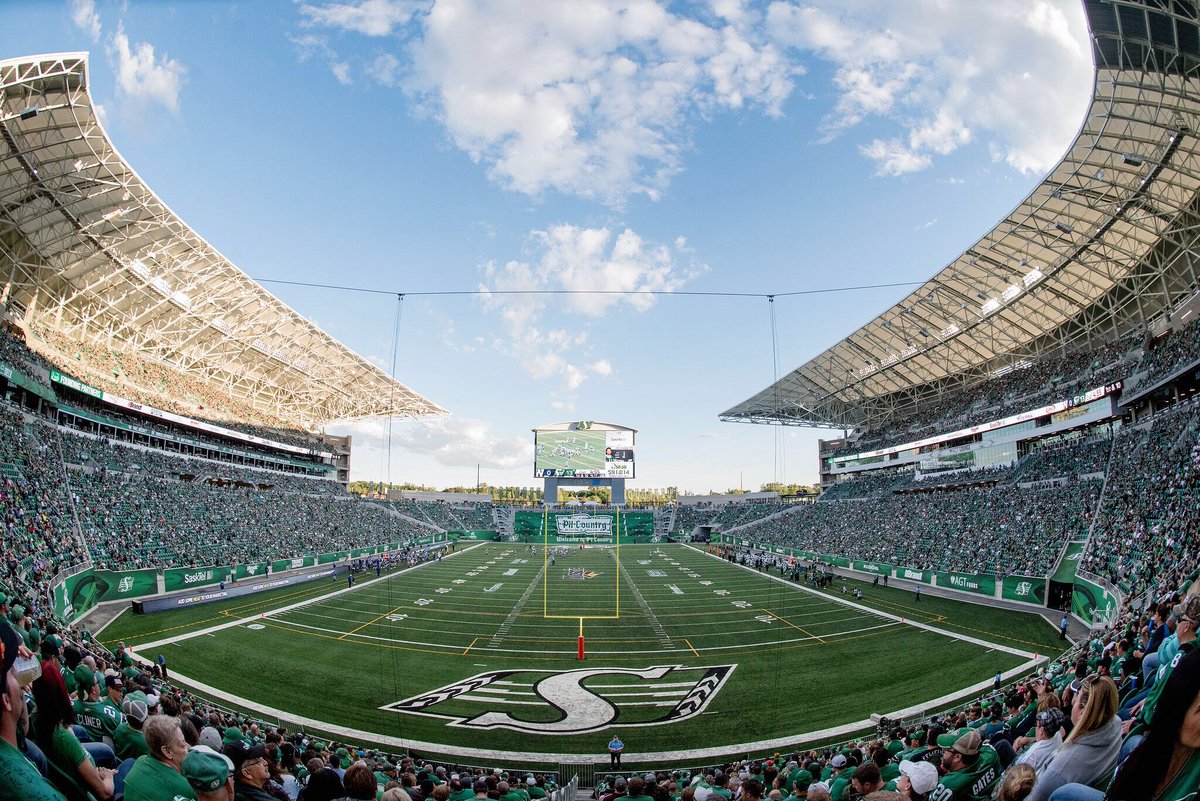 OFF AND RUNNING
- Awayyyy we go. For the first time since the New England Patriots beat the Atlanta Falcons in the Super Bowl, it was nice to be able to watch professional football again. Yes, it was an exhibition game, and the first one of the year is usually an ugly one, but football is back, and it is back at a brand new location.
I have to admit it was a little different A) driving past the old stadium knowing I was not going there for a Riders game B)not being able to turn off Saskatchewan Drive onto Elphinstone to head to my parking spot C) not going behind the fieldhouse to park and D) walking into the new Mosaic Stadium for a football game. I was parked where I usually park for a Pats game. Can I call dibs on that spot?
As I walked in and walked around before taking the elevator (YES, NO MORE RAMPS!!) up to the press box, I once again was in amazement of what I was looking at and saying to myself how overdue this is for Rider Nation.
Make no doubt it about it, I loved Taylor Field (yes, can we go back to calling it by its true name now), but I won't miss many things about it (LIKE THE RAMPS). I've often said there is no better atmosphere than at Taylor Field on game-day, and while it will be quite different on Canada Day when the regular season home opener hits, I am guessing that atmosphere will be intensified somewhat thanks to the brand new digs.
As for the game, it was an exhibition game and that was highly evident. I thought Brandon Bridge did a lot to secure the backup quarterback job. I also think Chris Jones is going to have some tough decisions in the secondary and at receiver, especially receiver. We knew going in there was a lot of talent at that spot and it showed as both imports and non-imports (or Internationals and non-Internationals if you prefer) showed their stuff.
I can't imagine how much grief Quincy Walden has been getting from his teammates. The good was that he took a missed field goal back for a long return, one that appeared as if he would score on, but he was caught.....BY THE KICKER!!! Oh, the razzing he will take from his teammates.
Could Quinn Van Gylswyk handle all three kicking duties for the team? He showed he can on Saturday. Having him handle all three thus freeing up two other Canadians and some salary elsewhere is something the coaching staff will have to consider.
Duron Carter will get the distinction of being the first Rider to score a TD at the new stadium, and it was vintage Carter on the drive as we saw the good Duron Carter and the bad Duron Carter. The good was he was catching the football and running the routes. The bad was the constant beaking with TJ Heath and the over-the-top celly where he tried to kick the ball onto Saskatchewan Drive. Jarious Jackson was quick to pull Carter aside after the TD to have a chat with him. There's no denying Carter's talent, but there is also no denying his intensity is almost a problem. He's the CFL's version of Odell Beckham Junior. There might be no better when he is on top of his game, but if you get him off his game, he is a nightmare to have on the field.
Speaking of nightmares on the field, there was no Worksafe Bob at the end of the 3rd quarter. I repeat there was NO WORKSAFE BOB!!! This trend must continue!
I knew going in people would be complaining about the price of food and beverage at the stadium. CMON PEOPLE! Are the prices high? Yes they are, but they are extremely comparable to the price of food and beverages at many other places like Rogers Centre, Rogers Place, the Saddledome and Investors Group Field. There was really no difference in prices at the stadium from my recent trip to Wrigley. It's the way things are now. Like it was at the other locales, it didn't stop many from buying said food and beverage, and it won't moving forward. The same thing happened in Edmonton when Rogers Place opened and after three trips to that facility this year, I can tell you there was no shortage of lineups to get beer and food. It's the way it is, and you're going to have get used to that. Sorry! If you don't like it, fill up before the game which is entirely your choice.
It may not get a lot of press, but the Riders made the day of many kids in Saskatoon on Sunday. They dropped in to say hi during an afternoon of Saskatoon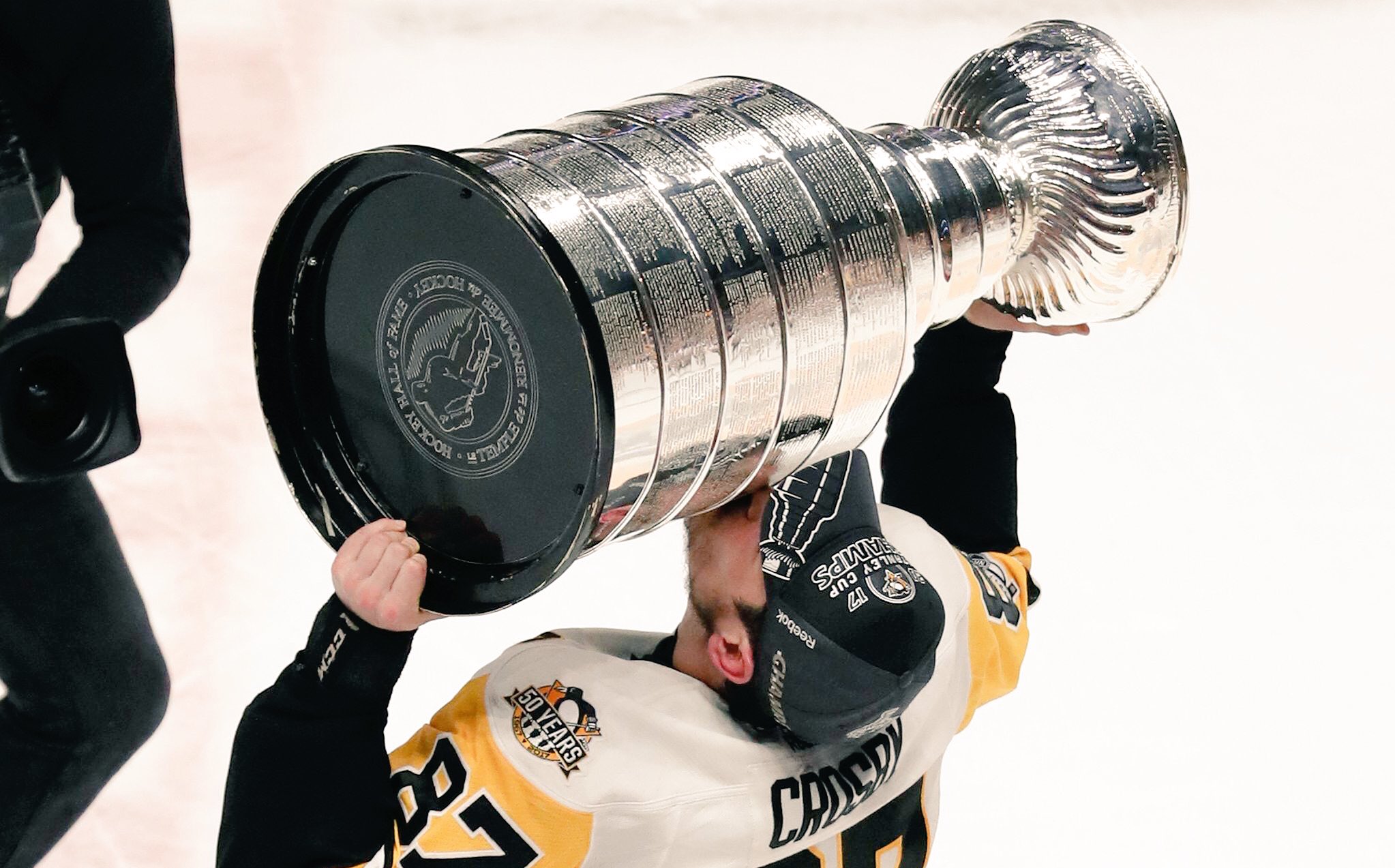 BACK TO BACK - We got one good game in the Stanley Cup final, but Game 6 will be remembered for what should have been a goal by the Nashville Predators. That's a tough pill for the Predators to swallow, and it's a tough situation for the NHL as well as they get put in a situation they didn't want to. At least, Pittsburgh didn't win because of a challenge for offside that was upheld. In the end, the Penguins were the best team ending what was a memorable run by the Predators as all hockey fans, including this one, now want to go to a playoff game in the country music capital of the world. I don't necessarily agree with Sid winning the Conn Smythe as I think it should have gone to Jake Guentzel, but there is no denying the year Mr. Crosby has had. Now he can go win an Olympic gold next year.....OH WAIT!

Does this win make Crosby the greatest ever Penguin?
The win also means another Stanley Cup for Chris Kunitz. That is his 4th! Regina has been home to many NHL'ers, but no one has had the resume Kunitz has had. He hasn't been the most high-profile guy from our fair city, but I don't think you can deny he is the best product to come out if winning titles is the be all end all as many say.
By the way, does seeing Gary Bettman get booed on the ice as he tries to present a trophy ever get old? He loves it! You can tell that. It would be great if he did the old Goldie Rogers hands over the ears trick and stomp back up the entrance way. That was a howl when he did that in the old Stampede Wrestling days. I digress. I'm sure Gary's ringtone is a loud chorus of boos.
CBC/SNET once again deserves a huge pat on the back. The fact Hockey Night in Canada gets or tries to get as many winning players on the Stanley Cup team on camera for them to talk about the sacrifice they have made and the emotion they are feeling is great television. The bench guys get as much love as the stars. It's tremendous.
TAKING OVER SEATTLE - Safeco Field became Rogers Centre West this weekend as many Canadians flocked to the Pacific Northwest to watch the Blue Jays. By checking in on Sunday's game, it looked like there were more Jays fans there than Mariners. Why even the great Cliff Mapes was in attendance! While Blue Jays fans were there to cheer on their team, it sounds like one of their favourite players wanted nothing to do with them.
I was literally stunned to see the following quote from Jose Bautista in a Sportsnet article talking about the invasion.
"It's more magnified now," says the right-fielder. "We're out here stretching, they open up the gates and we literally can hear people running, like it's the running of the bulls or there are horses coming down the street. It's pretty exciting for us, understanding the passion of Blue Jays fans when they come down from Vancouver and flood the city, walking around downtown. It's something I try not to do too much because I'm basically taking pictures and signing autographs all morning if I do it. The hotel gets the benefit of a lot room service being ordered, at least from my room.
Soooooo, one of the guys that Jays fans love and would like to interact with even for a brief moment says screw you, I don't want to sign autographs and I'm going to stay in my room. Why do Jays fans cheer for this moron? This obviously tells you why he doesn't come on those cross-Canada caravans! What an ignorant statement for Bautista to make. Do you think Rider players when on the road say they don't want any interaction with their fans? NHL players aren't like that either, and I did see some photos of players like Josh Donaldson and Marcus Stroman taken with Jays fans outside of Safeco.
I'll say it once, and I'll say it again. The sooner Toronto gets rid of this guy, the sooner I will start having some respect for the organization again. What does he do off the field that isn't team-mandated to help sell the team. The answer is apparently nothing!
Still with the Mariners, good on them to recognize the Seattle Thunderbirds and have head coach Steve Konowalchuk throw out the first pitch. It helps sell the game. The Mariners get it! PS: I will expect the Regina Red Sox and Riders to do the same thing next year ----hopefully!
TAQUITOS, SLURPEES AND , AND -
I don't know if its a nation-wide thing, but Regina's 7-11 outlets (or at least three of them) have decided selling magazines is no longer going to be offered. ???? Who made that call? Hey, I fully understand the magazine and newspaper industry is in a free-fall, but this decision is a little odd. No other store is doing this. Those wanting a magazine no matter the subject or no matter the demographic are now being forced to go elsewhere and yes, people are still buying magazines. If they want that business going to places like Safeway, Shoppers, Superstore, London Drugs etc etc, go for it. Some will argue it means more "sellable space". Yeah, tell me how much grocery items with the exception of milk and bread are going out of there.
FAREWELL ADAM WEST
- The original "Batman" has left us as Adam West died at the age of 88. The original Batman series was simply cheezy beyond its years and outstanding. The "THWACK", "POW" and the ever-popular "ZOWIE" were great! And now, who will the new mayor of Quahog be?
HAVING A RIOT -
Congratulations to the Regina Riot. They won the Western Womens Canadian Football League title in Saskatoon beating Calgary 53-0. I'm not sure, but I think the only team to score a point against the Riot this year were the Saskatoon Valkyries. Head Coach Olivier Eddie and his staff do a lot of work, and there are a lot of women out there playing a game they never thought they would have a chance at playing a few short years ago. Congrats to all!
That's all I got. Have a great week!