The search is over and Riders president/CEO Craig Reynolds has lived up to his word of having a new general manager in place by mid-December. If the story first broken by TSN Edmonton's Ryan Rishaug, Chris Jones has become the new head coach and general manager of the Saskatchewan Roughriders with the announcement coming about one week to the moment he was getting a Gatorade shower after leading the Edmonton Eskimos to a Grey Cup victory. As of Sunday night, there had been no confirmation from the Riders to make it official, but one has to believe it is. We know he can coach a championship team, now we will find out if he can put one together. The question now is what happens to Jeremy O'Day and does he have a spot in the front office. I would think O'Day could go back into his role and be of valuable assistance to Jones since his feet were on the ground here, but he could be cast adrift. After what they did in the second half of the season taking over for Brendan Taman and Corey Chamblin, I hope both men have a spot in the organization, but it also wouldn't surprise me if both sought another home. Time will tell. What is certain is the first week of the off-season has been a wild one.
---
I may have made a grave mistake on Friday night when talking about Jones with Tom Shepherd. I jokingly asked Tom if Jones comes to Saskatchewan with an exorbitant salary if it means "Friends of The Riders" Lottery Tickets will jump to 125 dollars. If that happens (and with Shepherd ya just never know), I'll just say it was Pedersen's idea.
----
A great question asked of me this weekend was what news was bigger from the CFL this week. The return of Wally Buono or the retirement of Jon Cornish. I would have to say it is Cornish because we are seeing one of the game's best players being forced to the sidelines for good because of concussions. You don't pay money or sit in front of your TV to watch coaches, you do it to watch players and sadly, the CFL has lost perhaps the best Canadian player we have seen in a long time.
----
There was a great article written this weekend on the "wooing" of UBC quarterback Michael O'Connor by the T-Birds program and what exactly was done before the former Penn State signal-caller came to the Vanier Cup champion Thunderbirds. There is no doubt O'Connor was wined and dined by Blake Nill and T-Bird supporters as he had a seat at a Seahawks game and a chance to meet Warren Moon amongst many things, but there is nothing in the rulebook that says you can't do that unlike the NCAA where giving a player the rest of your fries at a Burger King could result in sanctions. Obviously, the Rams and Huskies and many other schools couldn't do for O'Connor what UBC did, but if there is nothing that says you can't do it, there has been no foul. Perhaps the CIS as Canadian university football starts to grow needs to implement some rules when it comes to what you can and what you can't do when it comes to recruiting.
---
How many Blue Jays fans are going to go out and get a Donaldson cut this year. If you don't know what I mean, this is what Donaldson had on his Twitter account this week.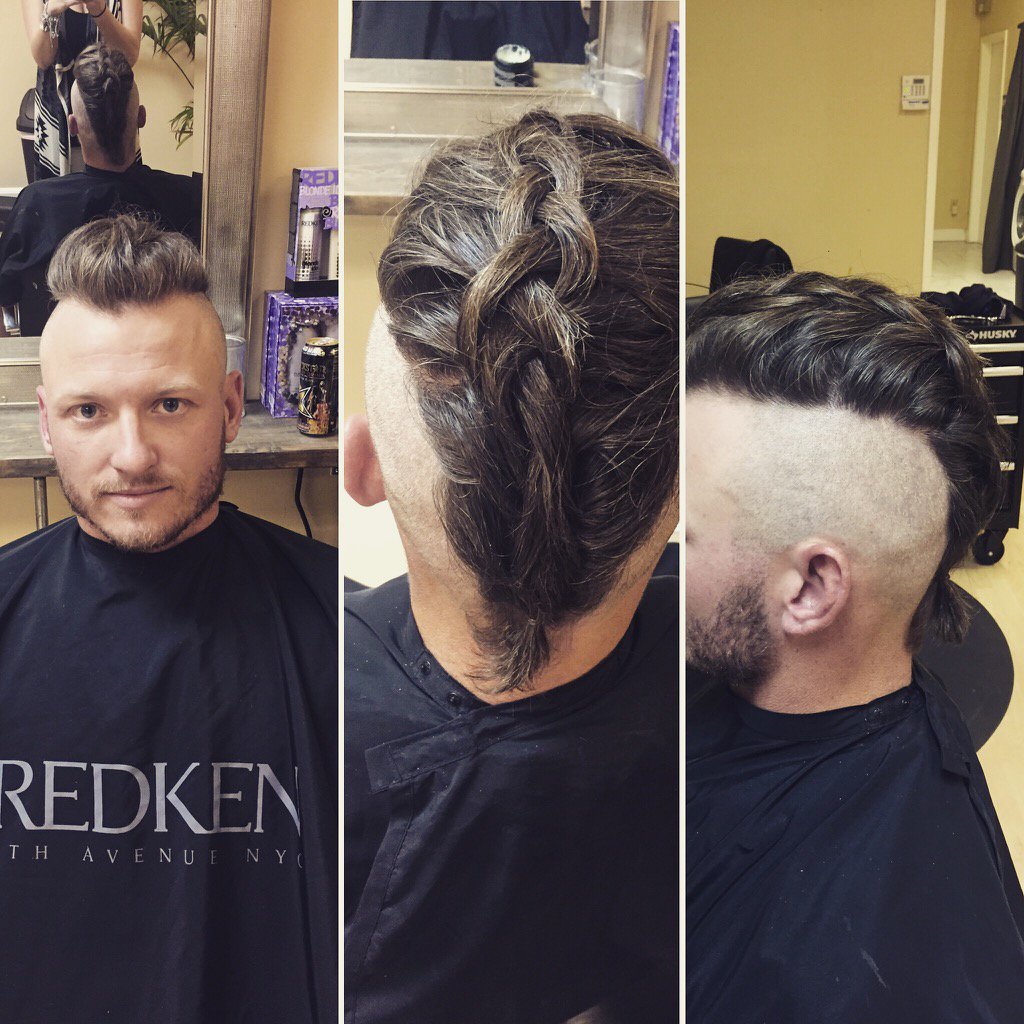 Uhhhhhhhh NO! However, I think my 620 CKRM co-workers Phil Andrews and Brandon Basler, who are true blue fans of the Jays would look great with this do. Go for it guys!
---
Speaking of Phil, it wouldn't surprise me if he needs directions to the Brandt Centre press box after watching the Pats play nine on the road. A shootout loss in Moose Jaw Saturday ended that trip with a very respectable 4-3-1-1 trip. I think John Paddock has to be pleased with coming away with nine of a possible 18 points as it keeps the team's head above water. The play of Tyler Brown and rookie Jordan Hollett has silenced anyone who thought trading Daniel Wapple was a mistake.
---
Are the Golden State Warriors ever going to lose? The Raptors gave it a damn good shot. I was looking forward to watching that game as I thought it was an early game on Saturday afternoon and was disappointed to hear it started at 4 meaning I missed a lot of it because of my duties at the CKHS calling Cougars basketball. I was expecting it to be a battle and it was with Toronto having a chance. There are simply no more superlatives you can use to describe Stef Curry. The guy is the game's best right now and there is no discussion on the topic.
----
Speaking of basketball,
It was another enjoyable weekend at the University of Regina watching the basketball teams rattle off a pair of wins each over Winnipeg. I'm not sure when the last time was that the mens team won both of their games at home on a weekend. I am sure it is a first since Steve Burrows took over the program. He has a fast team and an exciting team led by the Tull brothers. The Xmas break is now here for the U of R, but they play again January 9 and 10 so go give them a look-see. It's a solid night of entertainment, and cheap!
----
Compared to the New Orleans Saints pass defence, the Riders defence in 2015 was like the Steel Curtain. My god, is it bad! Cam Newton just threw the ball around at will against a hapless Saints secondary on Sunday.
----
Russell Wilson has been phenomenal over the last two weeks with the Seahawks getting two big wins. Is a late season rush coming? I can't see them winning the division, but I see them getting the 5 seed in the NFC playoffs which could mean a game in Washington or Philly in the first round. I'd take that!
----
Thanks to Twitter follower Trevor Bothorel for sending in this gem that he discovered during last night's game between the Colts and Steelers. Does this guy look familiar?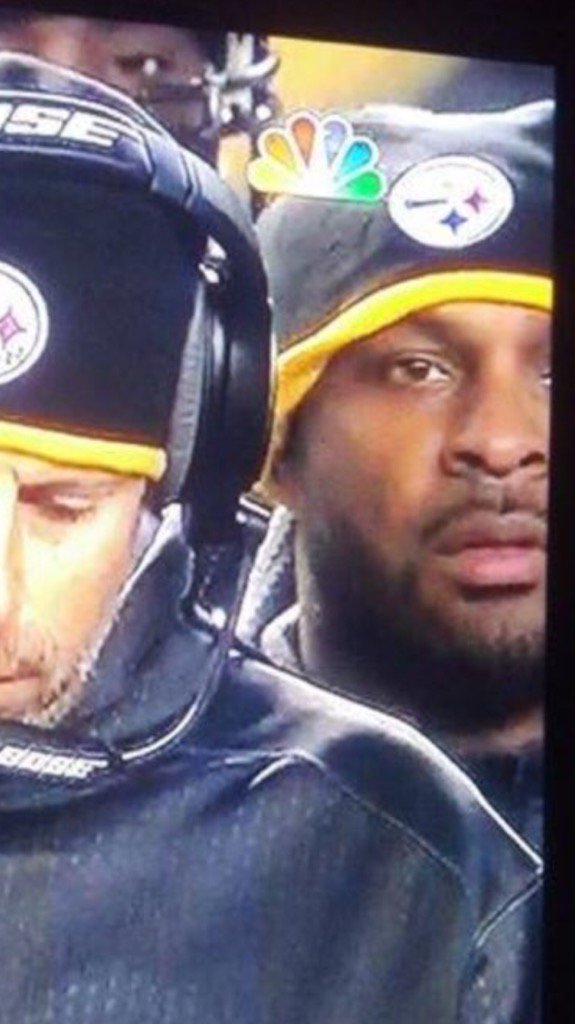 If you didn't know, Chamblin is good friends with Steelers coach Mike Tomlin. By the way, what the hell was Antonio Brown trying to do after his one touchdown. There are ways to celebrate after a touchdown and there are ways to try and kill yourself. Brown chose the latter!
-----
Does anyone have a problem with the weather we have had? Those who like skiing and snowmobiling are excluded from that statement. There aren't many early December weekends where one can go out with a coat on and I even saw people wearing shorts this weekend.
----
That's all I got. Have a great week everyone!