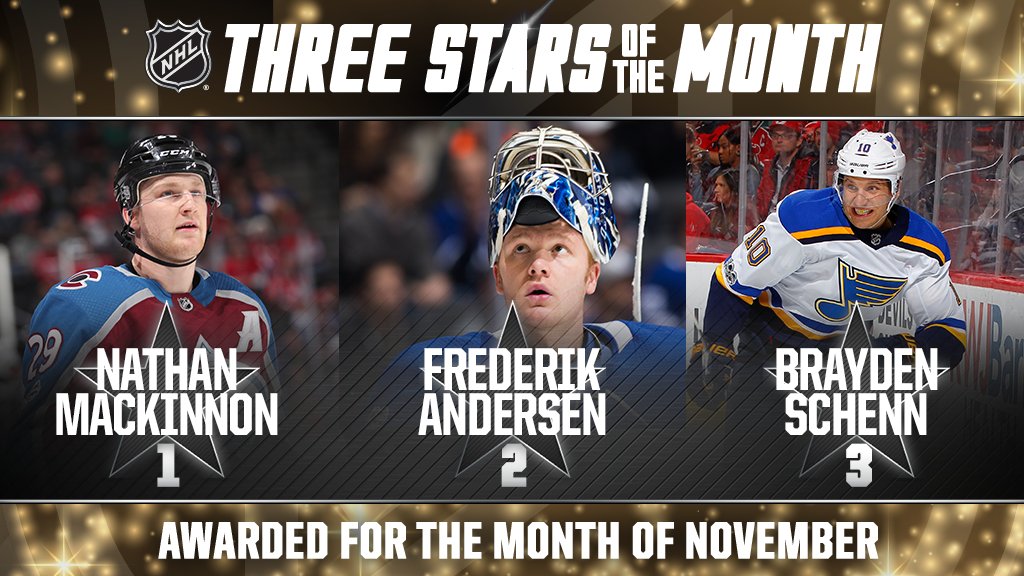 Colorado Avalanche center Nathan MacKinnon, Toronto Maple Leafs goaltender Frederik Andersen and St. Louis Blues center Brayden Schenn have been named the NHL's "Three Stars" for the month of November.
FIRST STAR – NATHAN MacKINNON, C, COLORADO AVALANCHE
MacKinnon registered 5-15—20 in 12 outings, leading the NHL with 1.67 points per game and a +11 rating to power the Avalanche (12-9-2, 26 points) to a 6-4-2 November. He posted seven multi-point games, highlighted by a career-high 1-4—5 Nov. 16 vs. WSH – the first five-point performance by a Colorado player since Milan Hejduk (3-3—6) and Paul Stastny (2-3—5) each achieved the feat Dec. 9, 2007. MacKinnon added two overtime goals in his final five contests of the month (Nov. 19 at DET and Nov. 29 vs. WPG), equaling his total from his first 318 career NHL games. The 22-year-old Halifax, N.S., native – who became the first Avalanche player with 20 or more points in any calendar month since Matt Duchene (11-9—20 in 13 GP) in November 2015 – paces the team with 20 assists and 28 points in 23 appearances this season, already more than half of his total from 2016-17 (16-37—53 in 82 GP).
SECOND STAR – FREDERIK ANDERSEN, G, TORONTO MAPLE LEAFS
Andersen went 9-2-1 with a 2.14 goals-against average, .938 save percentage and two shutouts to guide the Maple Leafs (17-9-1, 35 points) to a 10-4-1 November. He allowed two or fewer goals in eight of his 12 appearances, highlighted by consecutive shutouts Nov. 16 vs. NJD (42 SV) and Nov. 18 at MTL (33 SV). Andersen made 40-plus saves three other times during the month: Nov. 22 at FLA (42 SV), Nov. 24 at CAR (43 SV) and Nov. 30 at EDM (41 SV). The 28-year-old Herning, Denmark, native ranks second in the NHL with 15 wins this season, compiling a 2.76 goals-against average, .919 save percentage and three shutouts (tied for the League lead) in 23 outings.
THIRD STAR – BRAYDEN SCHENN, C, ST. LOUIS BLUES
Schenn recorded 7-12—19 in 12 contests, an average of 1.58 points per game, to propel the Blues (17-7-1, 35 points) to a 7-5-0 November and the top of the Western Conference standings. He collected five multi-point performances, headlined by a pair of career-high, four-point efforts: Nov. 4 vs. TOR (0-4—4) and Nov. 21 vs. EDM (2-2—4). Schenn also scored two game-winning goals, including his fifth career overtime tally Nov. 18 at VAN. The 26-year-old Saskatoon, Sask., native – who is in his first campaign with St. Louis – ranks seventh in the NHL with 10-20—30 in 25 outings this season, also more than half his point total from 2016-17 (25-30—55 in 79 GP w/ PHI).

---

Vancouver Canucks right wing Brock Boeser, who led all NHL players with 11 goals in 15 games (11-5—16), has been named the NHL's Rookie of the Month for November.

Boeser edged New York Islanders center Mathew Barzal (3-14—17 in 12 GP), Chicago Blackhawks right wing Alex DeBrincat (10-4—14 in 13 GP), Colorado Avalanche center Alexander Kerfoot (5-6—11 in 12 GP) and New Jersey Devils center Nico Hischier (3-8—11 in 14 GP) for the honor.

Boeser became the second rookie in Canucks history to register double-digits in goals in one calendar month, joining Pavel Bure (12 in March 1992). The 20-year-old Burnsville, Minn., native also became the first rookie to score 11 goals for any NHL team in one calendar month since Nail Yakupov posted an equal number with the Edmonton Oilers in April 2013.