HAPPY LABOUR DAY!!!!
For this guy and the rest of the Rider Nation, it obviously is. One picture can tell a thousand words and while this picture was taken before Sunday's game started, I am guessing when Bob Dyce got home Sunday night he broke out one of those grins and why he wouldn't he? He has been waiting for this opportunity for a long time and when he got it, he succeeded as his Saskatchewan Roughriders did something I haven't personally seen in a year's time and that is win a game. I was not at the Banjo Bowl when Darian Durant was injured and I was not at the late season home game against Edmonton instead watching it on a TV in the hotel bar I was at in Calgary after watching the Dinos end the Rams season in a Canada West playoff game. It didn't really dawn on me that it had been one year since seeing the Riders win until the drive home.
It was against a bad Winnipeg team, but a win is a win and NO ONE in that room is apologizing after a convincing win in LDC49 and yes, it was convincing. My thoughts from the game
--Rider Nation came through before the contest with the card promotion. It looked great!!
--I thought Brett Smith looked uncomfortable in the first half as he seemed to be running around out of control at times, but he calmed down in the second half. Perhaps everyone calmed down after Nic Demski scored his first pro touchdown on a 60 yard punt return as it seemed the game turned in the Riders favour on that play. What a moment it must have been for the Winnipeg native who knows full well what this game was about. Being from Winnipeg, I thought he must have made a roadie at some point for this game, but he said NO! You know he can't wait for next week's game at Investors Group Field. You are just seeing the surface of what the former Manitoba Bison can do.
--Greg Quick's defence did go up against a sub-standard quarterback in Brian Brohm, but no matter who is back there, you have to stop him and that is what the Rider D did as they had collectively their best game of the year. The decision to move Tyron Brackenridge to linebacker seems to be working well and Andre Monroe was a force in the middle. How about that belly dance? Maybe I should do that after a successful Sportscage! OK, maybe not! OK, definitely not!!
--Being in the room after, you could just sense the tension was gone. A win will change things, but what happened last week seemed to have really changed the guys in the room. To a man, they know they were part of what happened last week, but to a man, they are going to play their tails off for Dyce and we saw that on Sunday. Under no circumstances will I give the thought this team is going to the playoffs because they likely aren't, but this is the CFL and we have seen many stranger things occur.
--17 carries for Jerome Messam?? Keep that up if you want to be successful!
--In the words of Phil Andrews, how was Brian Brohm a 2nd round draft pick in the NFL. He was Sunseri-ish and he's a 2nd round NFL draft pick? The Bombers aren't going anywhere with him at the controls. I would expect to see Matt Nichols next week in the rematch.
--How long is Mike O'Shea's leash? One would think he has to be on the hot-seat with the way his team has performed. Shortly after the game, I was sent a Tweet asking if Gary Lawless would be reporting that Corey Chamblin is on his way to Winnipeg. I had to show it to Lawless who even laughed.
--Will Dyce get more than a free cinnamon bun from whoever gave it to him last week. He deserves it.
--Make no doubt about it, the Riders beat a very bad team in Winnipeg and I don't think a lot of people across the league are surprised over the end result, but a win is a win and the Riders aren't turning it down. The mission now is to win the Banjo Bowl and that won't be easy.
--I wonder how Corey Chamblin and Brendan Taman spent their Sunday afternoon. I know Taman was likely watching and I am guessing deep down he was smiling over what he saw. As for Chamblin, who knows. Maybe he drove up Highway 11 and watched the game at the Chamberlain bar. That would have been awesome!
Other odds and ends
--The football gods were definitely against the Regina Rams in the waning moments of their season opener against Alberta. It looked like the Rams were on their way to a win as they led by one with less than two to play in the game when a Noah Picton pass couldn't be controlled by Atlee Simon who tipped it up in the air allowing an Alberta linebacker to intercept it resulting in the Bears getting the winning points in a 29-22 win. The Rams had a chance to tie it, but Davin Johnston dropped what would have been a sure touchdown and it was game over. Yes, it would have been a tough grab, but I think its one if you ask Johnston he will tell you he should have had. The fireworks came after the game though. U of R Rams head coach Mike Gibson sat on his sideline and waited for his Alberta counterpart to come over. The two then got into what looked like a pretty animated and heated discussion with one another before Chris Morris left in obvious anger. I couldn't figure out what had happened, and I refused to believe Gibson would not shake hands because he was disgusted with the final score. I have heard from several it goes back to the Rams exhibition game in Medicine Hat against Calgary where the U of A taped the game or part of it. For whatever reason, Gibson decided to wait until after the game to have words with Morris about it. While I think Gibson should have done this off the field because it certainly made him look bad to those who saw it and didn't know what was going on, I don't blame him one bit for being pissed. I would think Calgary would be a little choked too. I was asked if this is illegal and the answer I got was if Canada West hasn't said or announced any punishment more than a week after the crime, it obviously isn't. Don't teams get film of one another anyway?
--Not only did I call Friday's game on Access, but with SHAW TV delivering a more enhanced package of Canada West football, it allowed the game to be shown in Edmonton. That worried me a little bit because I had very little information on the Golden Bears going in and with the broadcast going to both markets, I wanted to make sure I called it down the line. It was refreshing to get some tweets and texts from people in Edmonton including former U of A p x p and current Oilers radio colour man Bob Stauffer saying good job and the call was fair. It was great that 2 of the 3 games were shown across Western Canada as the conference and its players are the big winners. The more University sports that can be shown in our country the better. It does amaze me as to why the big two networks and the CBC for that matter ignores the CIS except for playoff time because that really needs to change. The athletes deserve the publicity.
-- 2nd Best line of the weekend came out of Toronto after the Blue Jays were beaten by Baltimore in a game where Justin Trudeau was in attendance. Over the last two weeks. all three of our major political leaders have been at Rogers Centre to watch the Jays and in all three occasions, Toronto has lost. With Baltimore beating Toronto 10-2, it was surmised Justin had the biggest deficit. On an unrelated matter, several American League teams have requested one of our political leaders throw out the first pitch at either the wild-card game or Game 1 of the American League divisional series.
--After the Riders media availability was over on Saturday afternoon, I was on my back home listening to ESPN Radio when half-time of the Louisville/Auburn game came on. It was like listening to Rider talk as the talking heads were talking about the upcoming Alabama/Wisconsin game and what Alabama would do without quarterback Blake Sims. They then discussed how Sims was in Canada and on the same team as Keith Price with the talking heads saying they thought Price could have been an NFL'er as a backup or 3rd stringer considering some of the guys who hold down those jobs now. It was a solid five minutes of Rider talk from the ESPN homes in Connecticut.
--The Montreal Gazette's Herb Zurkowsky spoke with former Rider GM Brendan Taman about his firing. We all know what it is like being involved with the Riders in this province and I thought one quote from Taman really symbolized what kind of pressure he was under--pressure transferred to Jeremy O'Day for now and perhaps the future.
Taman said
"In this market … it never shuts off. After a while, it takes a toll on you. The phone never shuts off. It could be Christmas Eve, and you get a text from a guy telling you about a player who should be put on the (negotiation) list. It wears on you.
"You don't have a life. Football is your life and you better be into this life 100 per cent, 100 miles per hour, every minute of the day or you're not going to win. You have to be on your game. If you go home at 5 and don't do your work again until the next morning, you've missed out on a whole bunch of things. There's guys working all the time. If you're not doing it, you're going to fall behind. I don't balance that well when it comes to my personal life and work."
The whole article can be seen right
here.
--Here is an only in the CFL moment!!
Yes, that is the new commissioner of the CFL Jeffrey Orridge who was in town this weekend. Did we know about that by the way? He is posing with the daughter of Rider uberfan Rick Gallinger outside her home. How the hell does a Rider fan get the commissioner of the CFL to come to his home. He asks! Rick knows Rider board chair Wayne Morsky and he let Wayne know his daughter would be attending her 100th game. Morsky said if he had time, he would stop by and bring Orridge with him which is exactly what he did. That is just cool and it is an only in the CFL thing. Can you see Roger Goodell or Gary Bettman doing this. NOPE! A tip of the hat to both men for making this happen.
--Can the NFL be any better in 2015? 40 percent of the games last year (103 of 256) were decided by 3 or fewer points while 60 and a half percent were decided by seven or less (155 of 256). It makes it tough buying Pro-Line tickets. It all starts Thursday and shockingly. NFL commish Roger Goodell will not be in attendance after the Tom Brady verdict. That's too bad because I'm sure Patriot fans would have welcomed Goodell with open arms.
--Does anyone see anything wrong with this picture put out by the NFL??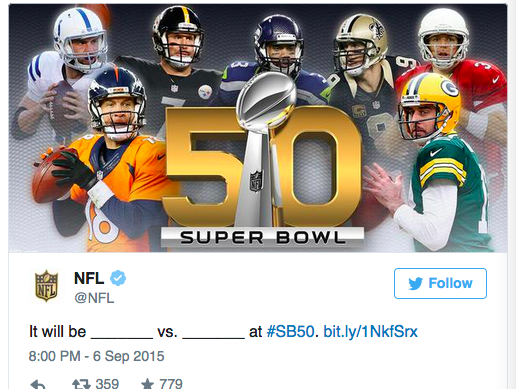 While it has Super Bowl winning quarterbacks in it, it is missing Joe Flacco and the guy who has won 4---a Mister Tom Brady! Did the NFL snub Tom Terrific by not including him in this picture? BTW, the NFL removed the tweet about three hours after putting it up because they fooled no one. Very petty! How the hell does Carson Palmer get in that shot anyhow? Where's Jay Cutler?
--Tim Tebow's football career now may indeed be over. The Eagles released the quarterback in the most highly publicized cut. Some have suggested it is time for Tebow to come to Canada, but he seemingly has no desire to join the Montreal Alouettes who have his rights. The question I have is why would the Alouettes want Tebow. Did they not just go through a circus with Michael Sam? They have been around that block before so why do it again.
-- 3 fantasy football drafts in 3 nights. Why do I put myself through this!!
--That's all I got. Enjoy your Labour Day and get set to watch what should be two pretty good football games Monday. For what its worth, I've got Edmonton and Hamilton. Have a great week!!!