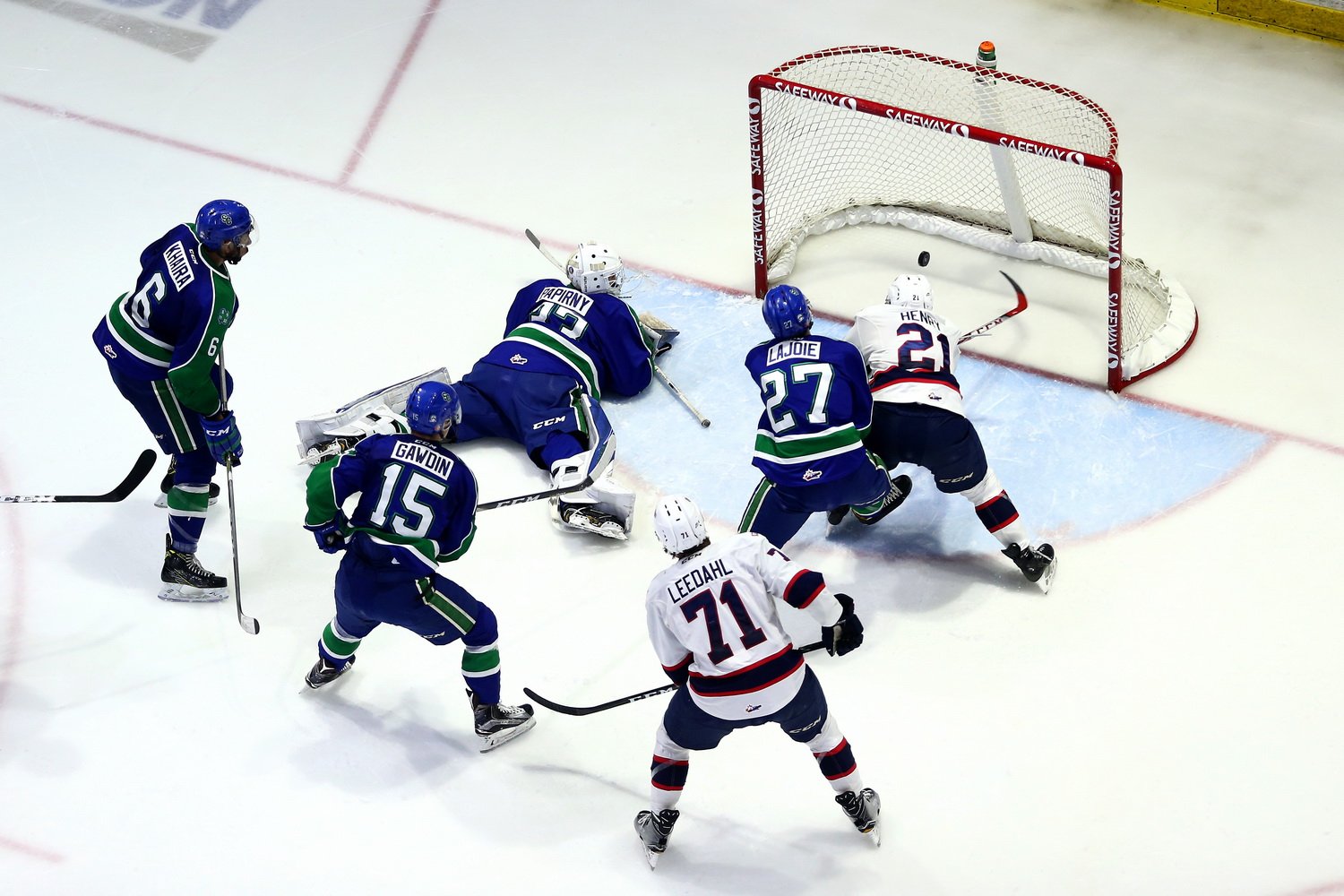 Photo: Keith Hershmiller
The Pats and Broncos will go back to Swift Current for Game 3 on Monday after a 6-2 Regina win in Game 2, but the question all weekend will be "What's the status of Adam Brooks?"
The 20 year old Pats captain, who was 2nd in WHL scoring this year, suffered a lower-body injury on Regina's first goal when he was hit at the blueline by Bronco Connor Chaulk. Brooks got up slowly and went to the Regina bench. He tried to skate things off during a stoppage in play, but he ended up leaving the bench and did not return.
After Regina opened the scoring, Swift Current scored twice to take the momentum going into Period 2, but Regina used a pair of power-play goals to take that momentum away, and take control as they were the better team in the final 40 minutes.
Swift Current 2 0 0 - 2
Regina 1 3 2 - 6

1st Period-1, Regina, Smart 1 (Davidson, Brooks), 9:36. 2, Swift Current, Lajoie 1 (Steenbergen, Heponiemi), 12:35 (PP). 3, Swift Current, Steenbergen 7 (Heponiemi, Pederson), 16:18 (PP). Penalties-Gawdin Sc (roughing), 5:27; Mahura Reg (kneeing), 11:11; Lindgren Sc (hooking), 13:09; Wagner Reg (roughing), 14:37; Lindgren Sc (elbowing), 19:53.

2nd Period-4, Regina, Hobbs 2 (Steel, Leedahl), 0:43 (PP). 5, Regina, Henry 2 (Mahura, Hobbs), 6:08 (PP). 6, Regina, Wagner 5 14:28. Penalties-Gawdin Sc (tripping), 2:23; served by Miller Sc (too many men), 4:51; Smart Reg (hooking), 7:48; Heponiemi Sc (hooking), 9:51.

3rd Period-7, Regina, Holmes 1 (Henry, Steel), 1:30. 8, Regina, Wagner 6 (Harrison), 14:45 (EN). Penalties-Smart Reg (slashing), 2:20; Khaira Sc (roughing), 9:59; Miller Sc (slashing), 9:59; Miller Sc (slashing), 13:39; Mahura Reg (interference), 14:36; Lajoie Sc (high sticking), 14:45.

Shots on Goal-Swift Current 8-6-3-17. Regina 8-19-13-40.
Power Play Opportunities-Swift Current 2 / 5; Regina 2 / 10.
Goalies-Swift Current, Papirny (39 shots-34 saves). Regina, Brown (17 shots-15 saves).
A-6,484
Referees-Reid Anderson (53), Chris Crich (20).
Linesmen-Riley Fitzsimmons (43), Kelsey Mahoney (138).
Elsewhere,
EASTERN CONFERENCE
Medicine Hat 4 Lethbridge 0 - Michael Bullion (MH) 16 saves (Tigers lead best of 7 1-0)
WESTERN CONFERENCE
Seattle 3 Everett 2 -- Donovan Neuls (SEA) GWG @ 1909 of 3rd period (Thunderbirds lead best of 7 1-0)
Kelowna 4 Portland 2 -- Calvin Thurkauf (KEL) 1G, 2A (Rockets lead best of 7 1-0)