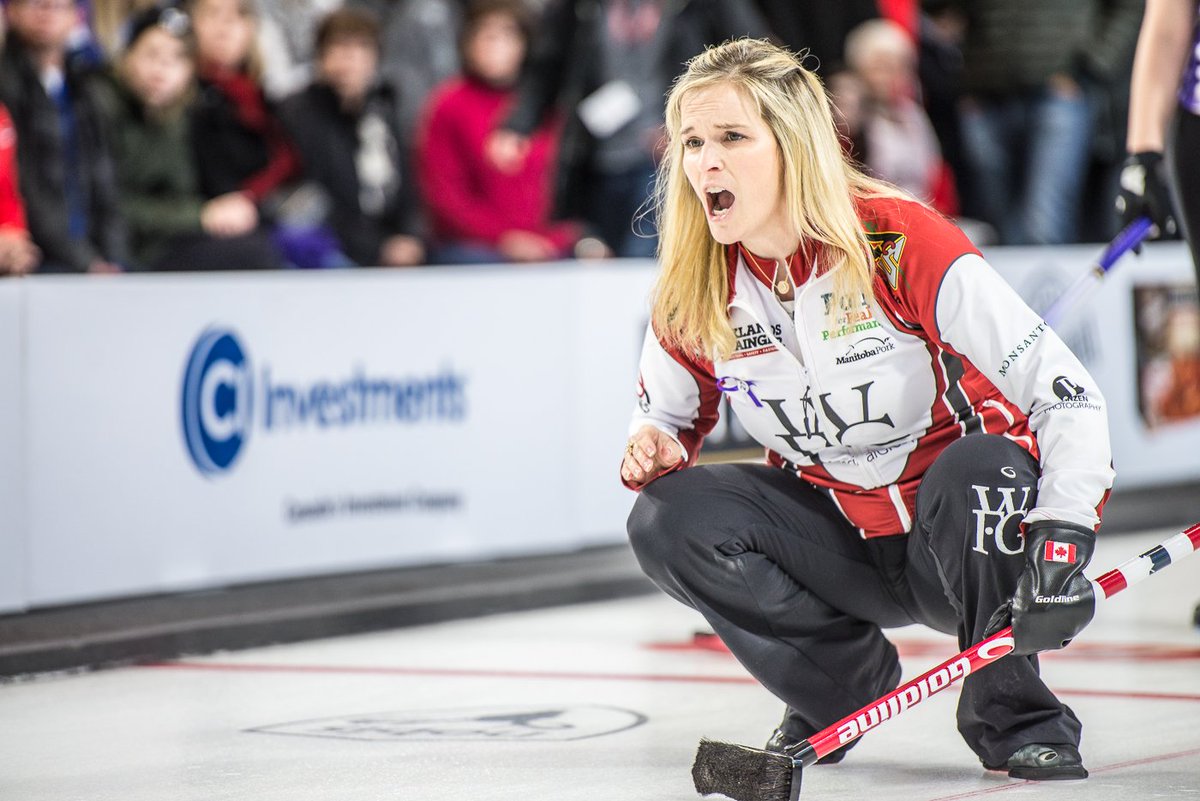 A victory at the 2016 Scotties Tournament of Hearts in Grande Prairie will further cement Jennifer Jones' place as one of the greatest players in the history of the sport.
One more national title under Jones's name make her the first skip to win back-to-back championships on separate occasions. Jones, along with second Jill Officer, and lead Dawn McEwen claimed the 2008, '09, and '10 championships as Teams Manitoba and Canada. Winning last season's Scotties event in Moose Jaw, Sask., has set up the potential to win back-to-back again. While third Kaitlyn Lawes was not part of the previous championship run, she can help etch her team's name in the history books by winning her second national championship at Revolution Place.
A 2016 Scotties victory would be the sixth for Jones and Officer and put them in elite company. The pair would join Colleen Jones at the top of the record book for most national championships won.
It's hard to imagine Jones finishing outside of the playoff picture at the 2016 Scotties. When it comes to qualifying for the final four, Jones has been perfect since her Scotties debut in 2002, qualifying for the playoffs in all 11 of her appearances so far.
Jones won her first national championship in 2005 with a last-end in-off shot – dubbed 'The Shot' – to defeat Ontario's Jenn Hanna 8-6. While McEwen was on the ice for the game, she was playing for Hanna's team at the time. Hanna returns to the mix at this year's event and fans will be treated to a rematch of that game on Feb. 25 during the evening draw.
In 2006 Jones played her way to the final and was hoping to seek her first back-to-back championship; however, she lost in the final to British Columbia's Kelly Scott. Scott once again eliminated Jones during the semifinal in 2007.
The team's first back-to-back championship run started in 2008 with a 6-4 win over Alberta's Shannon Kleibrink and they went on to win that year's world championship. In 2009, Jones defeated Marla Mallett 8-5 in the final, and claimed a third consecutive championship with an 8-7 victory against PEI's Kathy O'Rourke in 2010.
Jones, now armed with Lawes at third, aimed to match Colleen Jones's fourth consecutive Scotties championship in 2011, but she was edged 8-7 by Amber Holland of Saskatchewan. In 2012, Jones settled for bronze after losing to Heather Nedohin of Alberta in the semifinal, and defeating Marie-France Larouche 8-6 in the bronze medal game.
In 2013 Jones went undefeated through the round robin, but was bested by Ontario's up-and-coming (at the time) team of Rachel Homan 9-6 in the final.
The following year Jones was not at the Scotties Tournament of Hearts, the first time since 2004 that she did not appear. But she and her Winnipeg team had their sights set on another prize. In 2014, Jones went on an undefeated run to win her first Olympic gold medal.
The team returned to the Scotties in 2015 and wasted no time climbing to the top of the podium. Jones defeated Val Sweeting of Alberta 6-5 at last season's event.
(Curling Canada)