A SUNDAY NIGHT STOMPING
- Sunday night games that start at 6 o'clock aren't my ideal cup of tea, and I'm guessing those who drove into the Queen City from wherever before making the long trek home were saying the same thing. They were also probably saying if the Riders can play like that on a Sunday night, they'll come again and again and again. Where did that come from? No doubt that is the best game the Riders have played since the Chris Jones era began, but while it was one to remember, its not enough. This team needs to play well on the road before they can be considered as a football team to be beware of.
At home is one thing where they have scored 156 points, but the road is another thing. With a game in Edmonton following their 2nd bye week, they must do what they didn't do in BC and Calgary and stay with the Eskimos and perhaps beat them.
In the meantime, sit back and enjoy what you saw because it was something to behold. Kevin Glenn fired 3 more TD's to give him 14 on the season. Cameron Marshall was running and catching the ball, Ed Gainey was out of this world with a team-record 4 INTs and a fumble recovery. It was a game where everything went right.
The Lions didn't look ready, and Wally Buono sensed that before hand. Did his guys think it was too easy last week and all they had to do was get dressed and put their helmet on. I don't know what the answer was, but Wally knew something was up and he was right as he usually is.
Just some other thoughts
--Derrick Moncrief was solid at outside linebacker. As this guy learns the game, he could be a very good one. His first CFL game saw him make several big plays
--As good as Ed Gainey was, Crezdon Butler was just as good. Butler did not allow himself to get into bad positions and it showed.
--I didn't know who Christion Jones was, but I do now and so do you. The Alabama grad made several big returns and gave the team a spark in that area.
--Did Brendon Labatte's talk with Rod Pedersen last week pay some dividends. Labatte let it be known he was embarassed with the record and what was happening. Jones indicated after the game he had heard some of the comments coming out of the room in the wake of what happened in Vancouver. His "put up or shut up" message given to reporters on Saturday definitely rang true on this night.
As I said, the team still has a long ways to go before they can be considered as a team to be reckoned with. They are a different team in green than they are in white and that has to change. They need to come back from the bye week and get focussed on taking on a good Edmonton team and giving them everything they have. An effort like we saw in Calgary and BC and they will be what many think they are despite the win----that being a team that can't get it done away from Mosaic.
RIP BRYAN
- The hockey world is mourning the loss of Bryan Murray. The long-time NHL coach and GM passed away Saturday from colon cancer at the age of 74. If you are a long-time Pats fan like this guy, you remember Bryan's one lone season behind the Pats bench, but what a season it was.
With the likes of Wickenheiser, Blaisdell, Flockhart, Veitch, Varga and others, the Pats won the league title beating Victoria on home ice on a Brent Pascal goal to win it all. They then went onto the Memorial Cup where the hatred of Mike Keenan started for many Pats fans.
Were you in the building the night the Petes were "beaten" by Cornwall. Talk about chaos! What a night! Did Keenan's Petes throw that game to Dale Hawerchuk and the Royals as has been suggested to eliminate the Pats. Whether he did or didn't, it didn't work thanks to the Royals and an end-to-end rush by someone named Robert Savard.
That season was one of the first I really remember. Yes, I went to games at the old Exhibition Stadium and saw the likes of Sobchuk, Joly and Staniowski, but that 79 team was the first one I vividly remember because I went to a lot of the games. I always thought it was cool seeing Murray behind the Washington Capitals bench knowing he used to be behind the Pats bench.
The talk this past season was whether or not the Pats squad that got beat by Seattle in the WHL Championship was the best ever. The Memorial Cup team of 1974 still tops the list, but this one was close if not ahead of the current Pats squad. John Paddock had a chance to be the first since Murray to take the Pats to a WHL title. He will try again this year. Until then, the honour belongs to Murray.
TAKE NOTE CFL
- I love the fact that MLB players can personalize their jerseys and put nicknames on the back at the end of the month. It's like stealing a page from the XFL!! The fact players will be on the field with their nicknames is something other leagues should adopt. Of course in the NHL, it would look cheezie because the lack of colourful nicknames has somewhat eluded them, but why not do in the CFL. Seeing Durant take the field with "DOUBLES" on his jersey, Dressler with "WD7" and Derek Dennis with "BONECRUSHER" or Chad Owens with "Flyin Hawaiian" would be awesome! What would Winnipeg's Poop Johnson have on his jersey? I don't wanna know!
THUNDER ROLLED
- I can't imagine Scott McAulay and the rest of the Regina Thunder are happy after getting spanked by Saskatoon in the season opener. The Thunder believe they have what it takes to end Saskatoon's run atop the PFC, but the Hilltops showed that they aren't giving up anything to their provincial rival. It was only Game 1, but there was sloppiness from the home side especially on special teams. I am guessing that will be the focus going into this week's practice.
GOTTA BE LUCKY TO BE GOOD -
The PGA without Tiger Woods is a much better PGA. Some will dispute that, but once again, some of the game's youngest stars were on display at the PGA Championship. Justin Thomas became the latest "young gun" to win a major, but if it weren't for a little luck, would he have done so. It was fortunate enough for Thomas that his tee shot on 10 went off a tree into the middle of the fairway, but his putt on 10 that hung on the lip for 12 seconds before falling in reminded all of Tiger on 16 at the Masters. When that happens, you know destiny is on your side.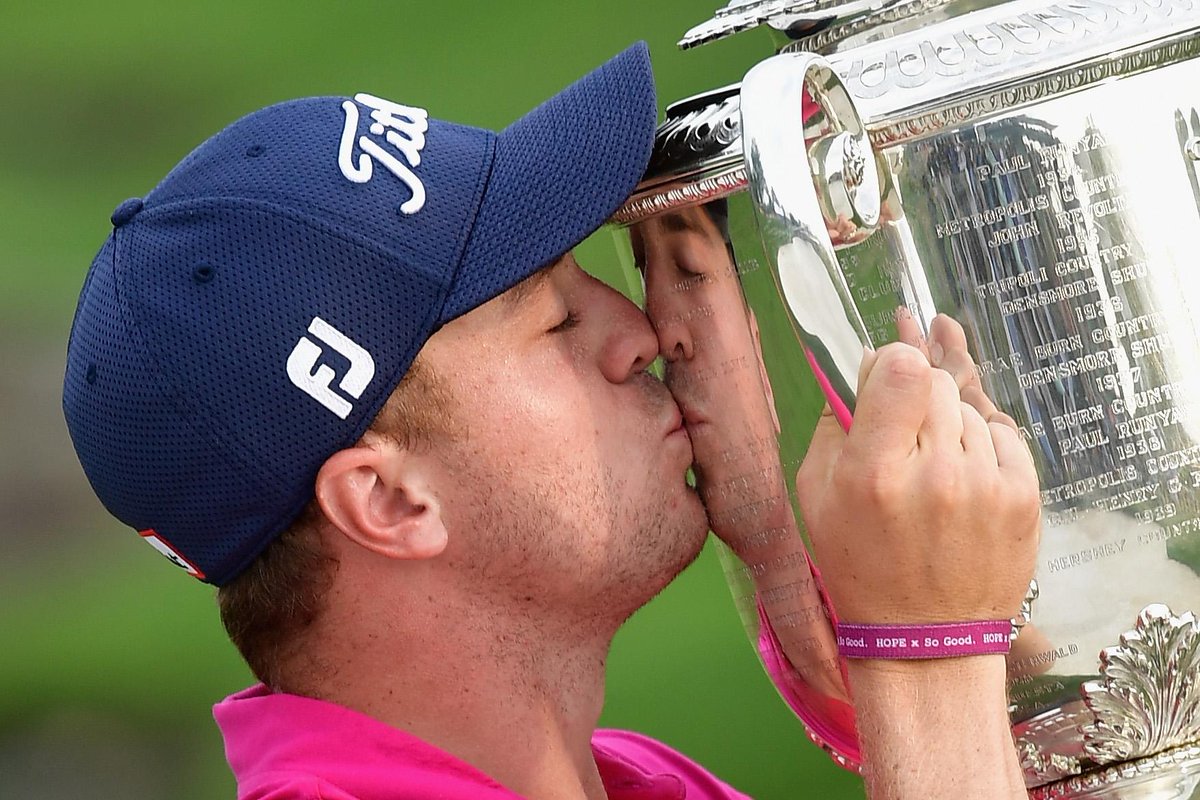 Golf is in great shape right now with the likes of Thomas, Jordan Spieth, Rickie Fowler, Brooks Koepka and others. The talent on the Tour from top to bottom may be at its all-time best. While it wasn't a win, Graham DeLaet once again showed he can play with the big boys. His efforts on Saturday where he went 6 under on a 4 hole stretch was something very few have done---especially at a major!
I don't know when that first place cheque is coming for the Weyburn native, and yes I think it should be sooner than later, but it will happen. All the signs are there.
That's all I got. Enjoy the week!