--Here we go! The Riders and Eskimos meet at Commonwealth tonight in a contest that Rider Nation is anticipating. Can they put in a decent road performance? Can they compete with the first place Eskimos? Will we see another effort like what we saw in Calgary and BC?
The win against BC was fantastic, and take nothing away from Chris Jones' crew for that effort. That effort will be forgotten quickly though if Mike Reilly and company molly-wop the green-and-white. We have seen the good in this team, and we have seen the bad. If we see the bad tonight, some will check out and their anger will rise. That is understandable. While it should have been done a couple of weeks ago, it is time for the '17 Riders to show us what they are. If they are on the bottom end of a lop-sided score, they may have already done that and we were just too blind or optimistic to see.
--Remind me not to get in a fantasy football draft with the league this guy is in. This re-defines outstanding. The poor S-O-B is even wearing a Falcons hat. I hope he's not a fan because that would mean it wasn't a good year for this poor soul. A good catch from one Reid Pedersen ( the good Pedersen kid) on his daily travels.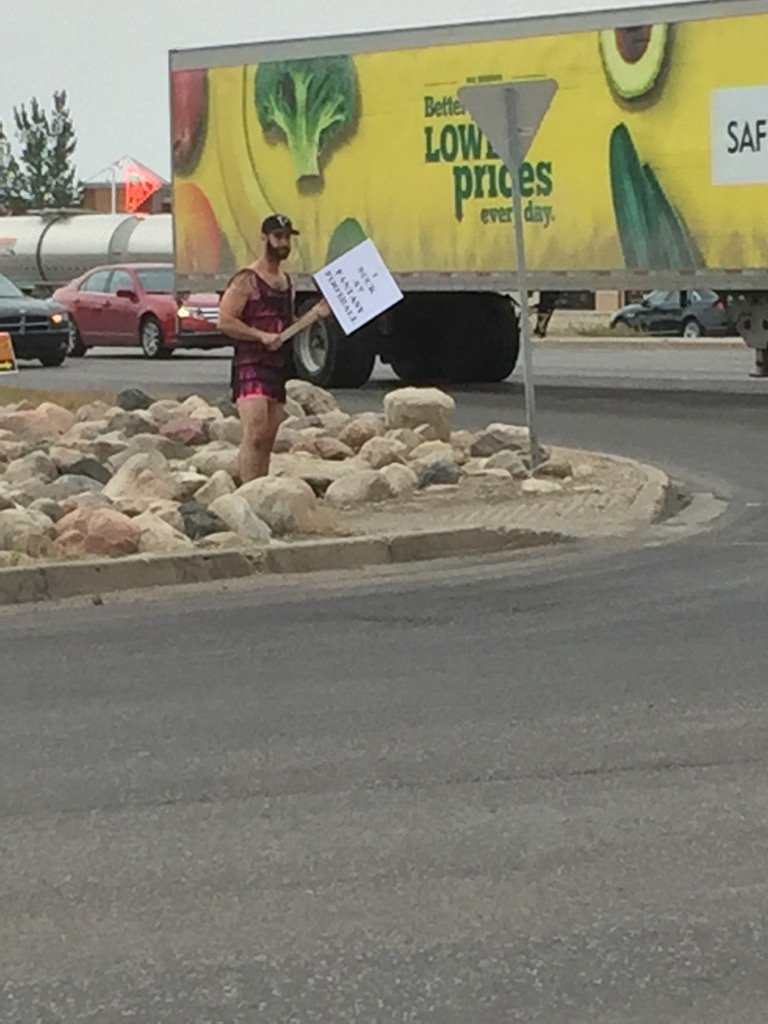 --Who the h-e double hockeysticks does Trent Richardson think he is? He made it very obvious he wanted to use the Riders and the CFL as a stepping stone back to the NFL. Perhaps Mr. Richardson should have had a chat with Ricky Williams to see what life is like in the CFL. He obviously thought the CFL was a league he could just dance through even though he hasn't played in how long. The guy couldn't get it done on the small NFL field, so I doubt he could get it done on the bigger CFL field. At least Vince Young said all the right things when he was here.
--Congrats to Nik Lewis! You can hate him all you want Rider Nation, and many of you do, but you have to respect him for what he has done. The next closest active player to Lewis is Weston Dressler. He has a long ways to go and Lewis isn't hanging up the helmet anytime soon. Like Kevin Glenn, the next stop for big Nik is the Canadian Football Hall of Fame!
--Give Winnipeg credit as they snuck another victory away, but when they start playing the Western teams we will see what type of squad they are. The record says to buy them, but I just can't. Are you?
--My campaign to "Remove the Rouge" took a hit Thursday night at the end of the Bombers-Alouettes game. SIGHHH!!
--Kent Austin firing himself is admirable, but I don't think it changes a lot. Something major has to be done. Austin has two years left on his contract, so I don't think Bob Young wants to let him go. He may have no choice. How did it get this bad there?
--Want my thoughts on "the fight"? I could care less about Floyd Mayweather vs Conor McGregor. Does anyone think McGregor even has a chance in this one? If there were MMA rules, the feisty little Irishman may stand a chance, but this is boxing which is something he has never done. I'm not wasting my time or my money on this one. If you are, have fun wherever and however you're watching. If McGregor comes out and says I want you again in an MMA match, don't be surprised.
--Many were getting a hold of me Monday morning when it was announced the WWE was returning to Regina in a couple of months with the "RAW" brand being highlighted. It's great to have WWE come back to the Brandt Centre because it has been too long. Part of that is because of you though because you haven't bought tickets. Let's make sure that doesn't happen this time so that they will return. I would be there in a heartbeat, but I will be in Edmonton that night calling the Rams-Alberta game in the afternoon while sitting down at Rogers Place to watch the Senators and Oilers that night. If it weren't for that, I would be in there though, and there is no doubt about that. C'mon Regina, get your tickets for this one and have some fun.
--The Saskatoon Blades are going back to their Pac-Man look. I approve, but I would love it if the Killer Zamboni logo returned. Oh yes, I would!