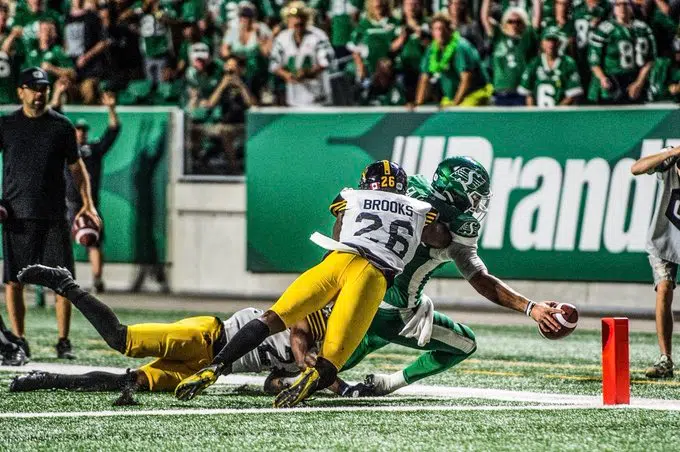 With the Queen City Exhibition going on outside Mosaic Stadium, the Saskatchewan Roughriders took the 29-thousand inside the park along with Rider fans across the province and country watching on TV on a roller-coaster ride Thursday night that ended with a 24-19 victory over the Hamilton Tiger-Cats.
The Riders had many opportunities to put their Eastern Division opponent away, but they could not find the endzone and found themselves trailing the game late in the 4th quarter by a score of 19-13, but a Gabe Ferraro field goal closed the gap to three with 3:16 to play.
The defense then forced a huge two-and-out giving Cody Fajardo and the offense the ball at the Hamilton 42 after a 38 yard punt return by Kyran Moore. Fajardo, who was 25 of 31 passing on the night for 313 yards, capped it off by tucking the ball under his arm and running for the pylon as he beat the Hamilton defender to the goal-line for the winning points with just 24 seconds to play.
"It's been a long time since I've had a game like that where its come down to the last play." Fajardo said. "Our defence and special teams kept us in it. I kept telling our offence its a one score game and we can win this game with the ball in our hands and they responded."
Fajardo also joked after the game that before he went home he was going to celebrate with a corndog from the exhibition which he lived up to.
With the win, the Riders improve to 4-3 with all of those wins coming in their last five games since starting the season 0-2. They will be in Montreal to play the Alouettes on August 9.