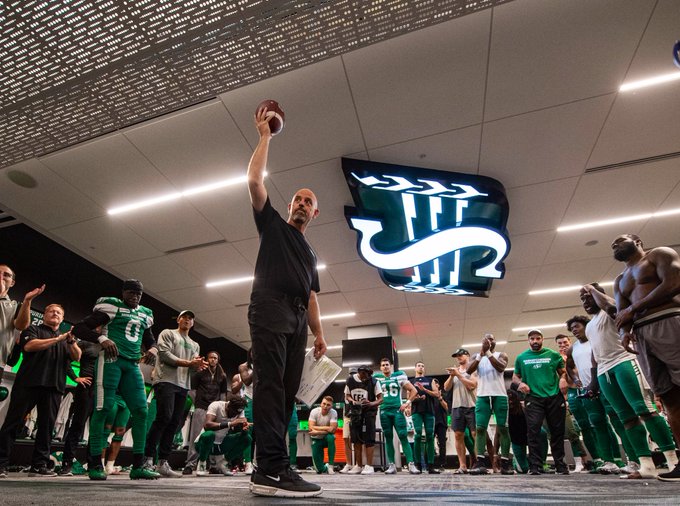 Picture: Saskatchewan Roughriders
--We are at the midway point of the CFL season. The Saskatchewan Roughriders are second in the West at 6-3 after winning their 5th in a row on Saturday night with Cody Fajardo as the starting quarterback. That's just what we thought right?
I don't think there are many in Rider Nation who thought this football team would be where it is after nine games especially when you consider the off-season turmoil with Chris Jones leaving, Jeremy O'Day being promoted, Craig Dickenson taking over as head coach and Zach Collaros returning as the starting quarterback before being injured three plays in giving way to Fajardo. Would the Riders be 6-3 under Collaros? That's a question that can't be definitively answered, but a play that garnered so much negativism in Rider Nation, and for good reason, may have been the biggest play of the year as we saw what Fajardo can do. That was evidenced again Saturday against a bad Ottawa team.
Fajardo didn't light it up, but he did what he had to both throwing and running the football. He got everyone involved and with an offensive line that is really playing well (take a bow Dan Clark and Dakoda Shepley), he got the job done.
Defensively, this team is starting to come together. Its nowhere close to being where they were last year and it probably won't be, but they are in the upper echelon of the league when it comes to that side of the football as far as I'm concerned.
--As Rob Vanstone pointed out Saturday, the four TD's scored Saturday night give the team 25 offensive TD's which is what they had for all of 2018. It's the same offence Stephen McAdoo had last year, but the attacks on him have disappeared as the touchdowns have come. Was last year an indictment as to how bad the QB play was, the fact there were young receivers learning the game that are flourishing now or was it something else. Speaking of those young receivers from last year, has anyone heard how Jordan Williams-Lambert is making out with the Bears. I haven't heard anything from their camp about him. I would have to think he will be on his way back, but I don't know.
--If there is one thing this team has to improve on going into the second half of the season it is penalties. 16 for 186 is simply too much especially at the midway mark of the year/ Edmonton lost to Winnipeg because of penalties on Friday. You can't giftwrap those yards and expect to be successful.
At the midway point of the season, who would your award nominees be? Mine would go as follows
Top player-- Charleston Hughes
Top defensive player -- Hughes (but Derrick Moncrief is a close 2nd)
Top Offensive Lineman -- Dan Clark
Top Canadian -- Cam Judge
Top Rookie -- Dakoda Shepley
Special Teams Player -- Loucheiz Purifoy
--If the Riders are to beat the Bombers in the Labour Day Classic, they will have to find a way to shut down Willie Jefferson. Good luck with that! I don't know if I have seen a defensive player have a game like what Jefferson had in Edmonton Friday. He was everywhere and did everything except score a touchdown. I would love to know if Jefferson, who is a Chris Jones guy, had any desire to return to Saskatchewan once Jones left. It seems as if he didn't, but did the Riders feel they would be better off with Micah Johnson or did they start chasing Johnson because big Willie had no desire to return with Jones gone. Whatever the answer is, Winnipeg has benefitted more than the green-and-white.

--A tweet Saturday night suggested a fan was kicked out of Mosaic Stadium for "cheering too loud". I have to think there is more to this story. If there isn't, someone has some explaining to do. If anyone should have been kicked out, it should have been the person who started the wave in the 4th quarter.
--Like many of you, the Andrew Luck retirement caught me off guard. If Luck is tired of playing the game because of what it has done to his body, you can't blame him. Those who booed him in Indianapolis should be ashamed of themselves. That display was disgusting. Sorry if the hopes of your team get in the way of someone's life or if your fantasy team is now screwed. We are seeing this with more and more players. It shouldn't surprise anyone anymore if someone decides to walk away. The only question I have is why do it so close to the regular season. Was he told something by the Colts medical team to make the decision at a time that is very awkward for the organization? He had to know this announcement would put the team behind the eight-ball. It does sound though as if he had been honest and forthcoming with them so perhaps they knew and are confident in Jacoby Brissett.
--The MLB Players Weekend has come and gone. Hopefully, the white and black jerseys teams wore this weekend are gone too. Those were fugly! How could anyone read what was on the back of the white jerseys? They looked like ice-cream guys.
--Thunder head coach Scott MacAulay probably had a restless night. His team was beaten 34-16 by the Saskatoon Hilltops at Mosaic Stadium on Sunday. The Thunder had a chance to score in the first half only to fumble at the goal-line. They had a chance to end a Saskatoon drive with an interception in the endzone, but the Saskatoon receiver did a great job of playing defensive back by hitting the what looked to be unsuspecting Thunder player resulting in the ball hitting the turf for an incompletion instead of a turnover. That was followed by a Hilltops TD and then on the last play of the 3rd quarter, a Saskatoon DB picked off a pass and went 100 yards . Those three plays were huge in the grand scheme of things.
--Brooke Henderson had a country watching Sunday much like she did a year ago at the Wascana. The only difference was this time the Canadian couldn't win the CP Women's Open. I'd rather watch Brooke do her thing than Tiger do his thing.
--Who is going to be the better player in the next five years. Vladdy Guerrero Junior or Bo Bichette?
--What's happening with the Mitch Marner, Brayden Point, Kyle Connor, Patrick Laine etc. etc signings? There was a story on the weekend saying Brock Boeser was looking at 4 year, 28 million dollar deal from Vancouver. That may have to be signed before the dominos start to fall. If Boeser is getting 7, I can't see Winnipeg keeping Connor and Laine. Has the Jets window closed?
--There is talk the Raptors should retire Kawhi Leonard's jersey when the LA Clippers come to Toronto on December 11. Can you really retire the number of a guy that played just one season with your team even though the team won the title? I think video tribute and adulation is all Kawhi will get.
--Congratulations to the Saskatoon Rattlers for winning the first ever Canadian Elite Basketball League title on their home floor. The first year of the new league seemed to go over well. Will there be expansion going into year 2. If so, I hope Regina can land a team. That would be some good basketball to watch
--That's all I got. Have a great week!