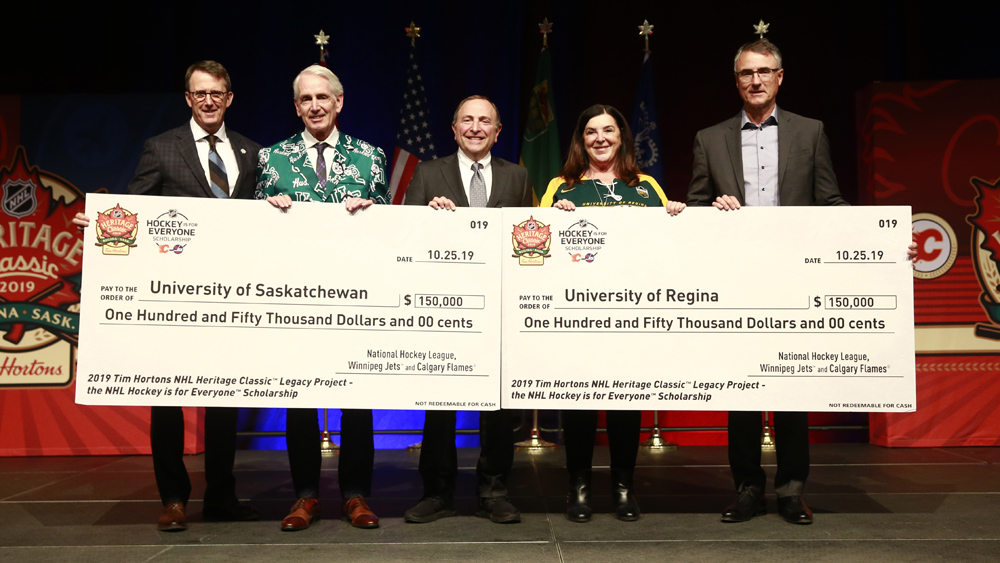 Pictured (L-R): Mark Chipman, WPG Executive Chairman & Governor; Peter Stoicheff, University of Saskatchewan President; NHL Commissioner Gary Bettman; Vianne Timmons, University of Regina President; John Bean, CGY President & CEO.
REGINA, Saskatchewan (Oct. 25, 2019) – The National Hockey League (NHL), Calgary Flames and Winnipeg Jets have jointly invested $300,000 to fund a new scholarship available to undergraduate students who play hockey at the University of Regina and University of Saskatchewan. The 'NHL Hockey Is For Everyone' scholarship was unveiled by NHL Commissioner Gary Bettman alongside Flames President & CEO John Bean and Jets Executive Chairman & Governor Mark Chipman as a lasting legacy of the 2019 Tim Hortons NHL Heritage Classic outdoor game.
Each year the scholarship will be available to four students: one female and one male hockey player at each school. Chosen based on the core values of 'Hockey Is For Everyone,' recipients will be those who strive to provide a positive and inclusive environment, while also showing leadership and good sportsmanship on and off the ice. Each scholarship recipient will receive a one-year grant to aid in covering post-secondary costs.
"No matter where you come from, no matter who you are, and no matter what level of play you're at – everyone deserves the chance to participate in hockey," said Gary Bettman. "This is an award for students for who live by those principles, who are leaders in their communities, and who strive to provide positive, inclusive environments."
"The Calgary Flames and Calgary Flames Foundation are pleased to partner in the scholarships that will support access to premier education while playing hockey at two renowned Canadian post-secondary institutions," said John Bean. "We are proud to work with the Jets and the NHL to leave a legacy in Saskatchewan that will remain for years following the Tim Hortons NHL Heritage Classic."
"We're extremely proud to support the development of hockey in this community, on and off the ice with this scholarship," said Mark Chipman. "By providing this opportunity, it removes some of the financial pressure associated with playing hockey at the competitive university level, while supporting student players who pursue their undergraduate endeavours."
The details of the scholarship were announced during a luncheon co-hosted by the Chamber of Commerce and Regina Exhibition Association Limited (REAL), a not-for-profit corporation that operates the 100-acre Evraz Place property which includes Mosaic Stadium.
(NHL Media)