Greetings from Edmonton and the home of the Oilers --Rexall Place--as this blogger has been enjoying himself in the Alberta capital all weekend long. While the Oilers are playing out their final season at Rexall, the new Rogers Arena is getting closer and closer to being reality much as Mosaic Stadium in Regina is getting closer and closer to being reality.
As one can imagine, there is a lot of excitement in Edmonton over this building especially in the downtown area where many ---including the hotel where I stayed this weekend---are expecting to see an increase in business. For those who aren't sure where the new building is going to be and you know Edmonton, it is about a Grant Shaw punt or two from Grant McEwan college and just down the street from the Edmonton City Centre shopping centre.
There aren't many Florida Panthers fans, but I found two of them. Upon landing Friday, we were just about to leave the airport on a downtown hotel shuttle when a couple asked how much the trip was into the downtown and if they could go to the Westin. The woman was wearing a Florida Panthers hoodie so I knew they were likely here for Sunday's game. I thought they were perhaps parents of one of the players, but she surprised me when she said they had left Fort Lauderdale that morning to be at the game in Edmonton Sunday and then in Vancouver today. The woman had never seen snow before so she was quite excited to see the white stuff, but I don't know if she was enamoured with the 15 below weather. We had a good 45 minute chat about Panthers hockey in Miami. The couple were part of a booster club that were going to the games and there were six altogether coming with them being the first. I was told there isn't a lot of publicity for the Panthers in the Miami area which is understood, but there are some loyal fans who turn out for every game although admittedly they said they could have more but with them winning, perhaps there will be.
I did see a lot of Jaromir Jagr fans though....
These guys had everyone talking. I have no idea who they are, but I have seen them before when Jaromir Jagr plays in Western Canada. Were all of them in this pic? Too funny! JJ gave them a nod during the pre-game warmup and then he scored which had many cheering. The guy is simply an icon and is a first ballot hall-of-famer if he ever retires.
On Friday night, I had the pleasure of watching the Tampa Bay Lightning and obviously all eyes were on Steven Stamkos and for good reason. When he wants to turn it on, he can do so. However, the best player on the night was Victor Hedman. This guy showed everyone at Rexall why he is considered one of the best blueliners in the league. You noticed him on just about every shift. A late save on the goal-line at the end of the first period may have been what turned the game around as Edmonton was inches away from taking a 2-0 lead after 20 minutes. Hedman was in control for much of the night and when he was, it was advantage Tampa.
To the NFL playoffs and FOX football insider Jay Glazer said it the best on Saturday night when he tweeted out this.
What can you say about the meltdown in Cincinnati? The Bengals snatched defeat from the jaws of victory by simply becoming unglued in the final two minutes. What happened in that game can be put right on coach Marvin Lewis because he couldn't control his players in particular Vontaze Burfict. Burfict was trouble right from the get go and while Lewis tried to keep him in check, it was obvious he couldn't, yet Lewis kept putting him on the field. Yes, Burfict and Adam Jones (although the call on him was somewhat chintzy from what I saw) are to blame, but they were put in that position because Lewis allowed them to be there.
As for the Seahawks-Minnesota game, what an awful time for Blair Walsh to channel his inner Gary Anderson.
This blogger doesn't mind that faux-pas one bit as Seattle will now head to Carolina. It had to have been cold when Jon Ryan wears sleeves, but he showed he was Canadian tough by coming back from what has to be a broken nose after a botched punt.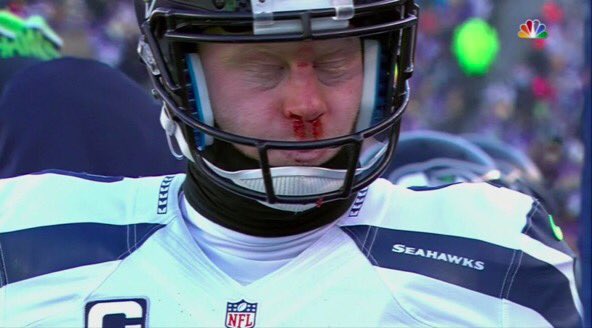 That just doesn't look pleasant at all!

It is a slow time in the CFL right now, but while Vanstone, Hamilton and McCormick continue to write about the Riders, there was not one sniff of Eskimo news in either the Saturday or Sunday Edmonton Sun. I don't know if the Journal had anything, but there was no CFL news whatsoever in the sun. The Oilers AHL team in Bakersfield and the Olympic volleyball qualifying got a lot of press though as did the Edmonton Oil Kings-Calgary Hitmen game on Saturday night. Of course, there was a lot of NFL talk.
I'm sort of surprised the Moose Jaw Warriors didn't trade Brayden Point. From what I hear, the asking price was simply too high so now Alan Millar will get nothing for the best player in the WHL who won't get the Warriors to a WHL championship. We will see how far they get, but in my mind, the Warriors hurt their future by not dealing away the present. At least he isn't going to Brandon!
Condolences to all who knew Bob Leonard. For those who don't know who Bob Leonard is, he was an icon to the local pro wrestling scene and the Western Canadian scene. Leonard was the ring announcer for Stampede Wrestling in its heyday and he continued on in High Impact Wrestling. He has seen all the greats from Bret Hart to Dynamite Kid to Bad News Allen to the Honky Tonk Man to Wavell Starr to Rex Roberts. The stories that man could tell and the pictures he took from his time at ringside would be enough to keep the attention of any wrestling fan young or old. RIP Bob!
I'm pulling for Clemson tonight, but I won't be surprised to see Alabama win by about 20 in the national championship game.
That's all I got. Have a great week. I'll talk to you on the Sportscage Tuesday.