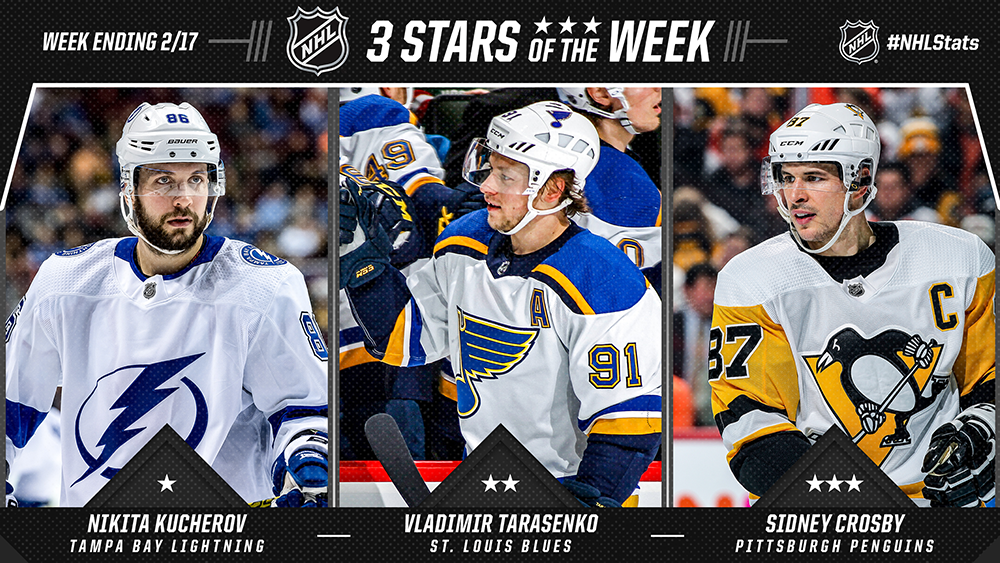 Tampa Bay Lightning right wing Nikita Kucherov, St. Louis Blues right wing Vladimir Tarasenko and Pittsburgh Penguins center Sidney Crosby have been named the NHL's "Three Stars" for the week ending Feb. 17.
FIRST STAR – NIKITA KUCHEROV, RW, TAMPA BAY LIGHTNING
Kucherov recorded multiple points in all three of his appearances, totaling 3-7—10 to propel the League-leading Lightning (44-11-4, 92 points) to a perfect week and their fifth straight win overall. Kucherov opened the week with consecutive four-point performances, collecting 1‑3—4 in both a 6-3 triumph against the Calgary Flames Feb. 12 and a 6-0 victory over the Dallas Stars Feb. 14. That marked the second time this season that Kucherov has posted four-plus points in consecutive team games (also Dec. 22-27: 2-7—9 in 2 GP) – the only two such instances in franchise history. He added 1-1—2 (including the winning goal) in a 3-0 victory against the Montreal Canadiens Feb. 16, Kucherov's fourth straight multi-point outing overall (5‑8—13). The 25-year-old Maykop, Russia, native owns a seven-point lead atop this season's Art Ross Trophy Race, pacing the NHL with 27-67—94 in 59 games. Kucherov, who led the League with five power-play points last week (1‑4—5), also has an NHL-best 37 power-play points in 2018-19 (11-26—37).
SECOND STAR – VLADIMIR TARASENKO, RW, ST. LOUIS BLUES
Tarasenko also registered multiple points in each of his contests, compiling 4-6—10 in four games to help the Blues (31-22-5, 67 points) match a franchise record with their 10th straight victory overall. Tarasenko posted his fourth career three-assist performance – and first since Dec. 9, 2016 (0-3—3 at NJD) – in an 8-3 win against the New Jersey Devils Feb. 12. He then scored twice, his fifth multi-goal outing of the season, in a 4-0 triumph over the Arizona Coyotes Feb. 14. Tarasenko capped the week with the winning goal in each of his final two contests, posting 1-1—2 in a 3-0 victory against the Colorado Avalanche Feb. 16 and 1-2—3 in a 4-0 win over the Minnesota Wild Feb. 17. In doing so, the 27-year-old Yaroslavl, Russia, native eclipsed the 400-point milestone (204-197—401 in 478 GP), requiring the fifth-fewest games in franchise history to achieve the feat. Tarasenko ranks second on St. Louis with 26-25—51 overall this season (57 GP), highlighted by 11-11—22 during a career-high 12-game point streak.
THIRD STAR – SIDNEY CROSBY, C, PITTSBURGH PENGUINS
Crosby notched 2-8—10 in four outings to lift the Penguins (31-21-7, 69 points) to a trio of wins and into the first Wild Card spot in the Eastern Conference. He recorded 1-2—3 in a 4-1 victory against the Philadelphia Flyers Feb. 11, upping his totals to 40-57—97 in 65 career contests against Pittsburgh's intrastate rival. Crosby then picked up one assist in a 3-1 triumph over the Edmonton Oilers Feb. 13. He finished the week with back-to-back three-point performances, registering 1-2—3 in a 5-4 loss to the Calgary Flames Feb. 16 and 0-3—3 in a 6-5 win over the New York Rangers Feb. 17. The 31-year-old Cole Harbour, N.S., native and two-time Art Ross Trophy winner ranks eighth in the NHL with 25-47—72 in 56 total games this season, his sixth straight 70-point campaign.