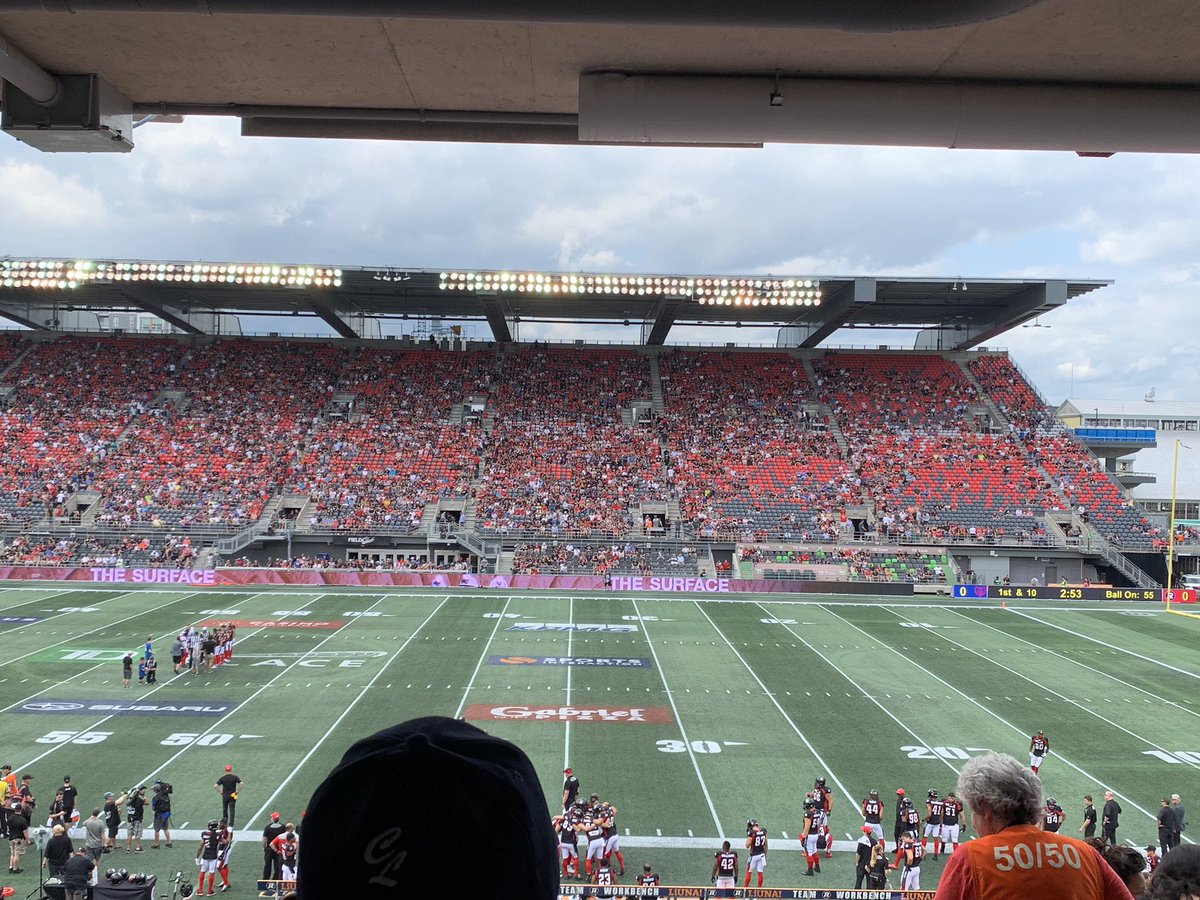 --Another week of CFL action has come and gone and while the Hamilton-Calgary ended the week with a great contest, one couldn't help but notice there were a lot of empty seats again this week.
I threw it out there on Twitter and I'll throw it out here now. What is the highest dollar you would pay for cheap seats and what is the highest dollar you would pay for seats on the 55 yard line. Those who responded were as low as $20 and as high as $150. That's fair and it's reasonable, but is it enough for teams to turn a profit? The CFL has a big problem on its hands and for a league that is fan-driven, they are losing in-stadium fans. It is something that needs to be rectified.
--Vernon Adams is lighting it up in Montreal. He looked great in leading the Alouettes to a win over Ottawa. It had Rider fans bemoaning the fact that perhaps that quarterback we have been looking to groom was under their nose all along and he was let go. That certainly looks to be the case, but how much has Khari Jones helped V-A. We all know how good Jones was here as the QB coach in 2013. He has seemingly turned Montreal's fortunes around and that shouldn't be surprising. He did take over late, but the team is playing well and may be one step ahead of Ottawa right now for second best team in the East.
--Speaking of the Alouettes, they sure do things differently. We woke up to the news Sunday morning that with the team on a two-game win streak now is the time to gas GM Kavis Reed. I think many have been wondering why this hasn't happened before, but the timing is odd. One would have to think this means new ownership for the team isn't far away with one of the conditions being Reed's dismissal had to occur. We also learned that Kavis has been up to no good. This story is a long ways from being over.
--We are only five weeks in, but Saturday's game in Hamilton between the Ti-Cats and Stamps was the game of the year. There are many around the CFL (me included) who had that as their Grey Cup matchup. If that should be the case and we get a repeat of Saturday, sign me up! As for Calgary QB Nick Arbuckle, he continues to shine. One could argue he outplayed his counterpart Jeremiah Masoli. Masoli is considered as the 3rd best QB in this league behind Bo Levi Mitchell and Mike Reilly. I believe Arbuckle is a free agent at the end of the season. Someone could get themselves a player as I don't think he will remain a Stampeder.
--Chris Streveler wins the award for douchebag of the week. Late in his team's one-sided win over Toronto, the Winnipeg QB took the ball and ran it in from 20 some yards for what was a meaningless touchdown. He then celebrated by throwing the ball in the stands. He's lucky he didn't get smoked by someone from Toronto. If you want to score the touchdown (which wasn't needed) that's fine, but don't start celebrating and throwing the ball in the stands. That's just rubbing salt in the wound. You add that to the Bombers Twitter account throwing some shade at the Argos for attendance and lack of it and you just think everything will eventually come back to get you. Remember Swaggerville??? That had as much of a shelf life as "Compete Street" with the U of R Rams under the I wish we could forget Mike Gibson era.
--Where is the Safeway/Sobey's Touchdown to Win contest this year?
--Where is the decision on Simoni Lawrence? They met Tuesday and still nothing? What an embarassing situation for the CFL, but one we really shouldn't be surprised with. Imagine if an NHL'er had a hearing with player safety and no decision was announced for a month. This process must change and change yesterday.
--I had firm intentions of going to Tim McGraw's performance at Country Thunder Saturday night. Late afternoon, I had that inkling that might be the wrong idea because of the weather. Turned out I was right as a storm blew through which resulted in his concert and most of Travis Tritt's being cancelled. I thought the same would happen Sunday so I never went to Chris Stapleton That was a big swing and a miss by yours truly. As it is with every event, you take your chances with the weather. Word that that storm had the potential of baseball size hail and 120 kilometer an hour winds made me go uh-oh. It never got to that and as it turned out the system turned away from Regina after hitting Craven leaving us with a lightning show to remember. We don't need storms like that rolling through at any time.
--Congrats to all of those involved with Football Saskatchewan as we took home the Canada Cup for the second straight year beating Quebec in the final. The job Mike Thomas and so many others do to make the sport flourish in this still small province is amazing. Thumbs up to all.
--The combined no-hitter from the Los Angeles Angels in the first home game since the death of Tyler Skaggs and the numbers surrounding it show me something. It is like the rainbow that hovered over Mosaic last season on the night of the Humboldt Broncos tribute.
--So let me get this straight. Lebron James was going to give his 23 jersey to Anthony Davis, but NIKE said no because of jersey sales and jerseys already made so it won't happen. Since when does NIKE tell an NBA team or any team what numbers players can and can't wear. Is NIKE going to tell the Thunder and Rockets that the Russell Westbrook-Chris Paul trade can't happen because of jersey sales. People will buy many new James jerseys, many new Davis jerseys and many new Westbrook and Paul jerseys. That one leaves me shaking my head.
--Are the Regina Pats doing any off-season marketing? If they have, I'm not seeing it. Are the other Saskatchewan-based WHL teams doing any off-season marketing. If someone in MJ, PA, Saskatoon and Swift Current can answer that for me, it would be great.
--The only night the Regina Red Sox will not be at home this week is Thursday. If you haven't seen them yet, go to Currie Field and check them out.
That's all I got. Have a great week!