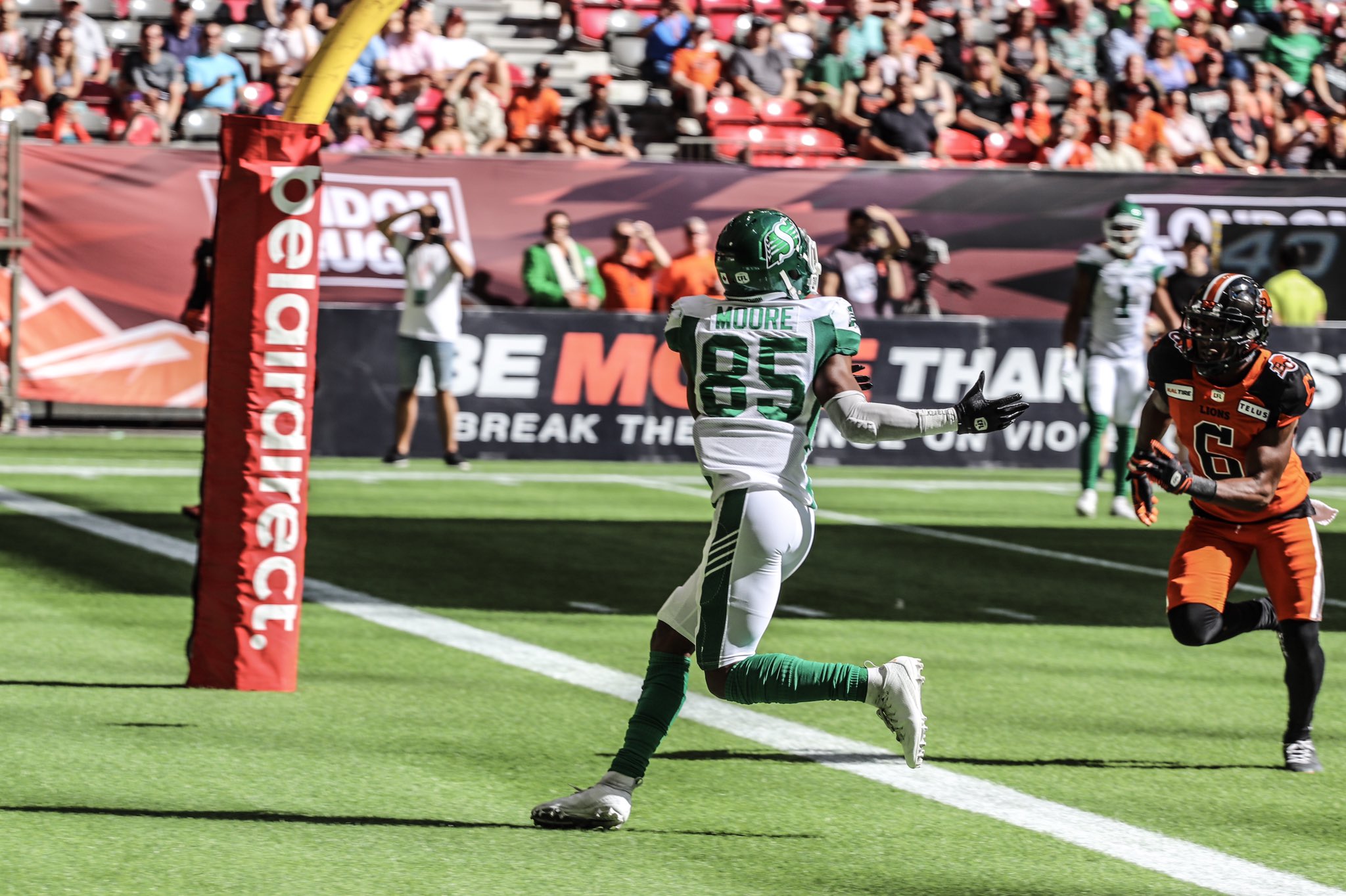 --I think its safe to say that if it weren't for Ryan Lankford and his game that we would have seen one of the worst games in recent CFL memory from a football team on Saturday night at BC Place. My god, the BC Lions were bad. Putrid doesn't even start to describe that effort against the Riders. Right from the first play, it was evident Mike Reilly was in for another long night.
Defensively, it was one of the best performances from a "D" we have seen for a while and that includes a Chris Jones "D". 68 yards of total offence from BC? That's a dirty schoolyard beating boys and girls.
What stood out to me the most was the play of the offensive line and the way they just "dummied" (in the words of Luc Mullinder) the BC front line. How many times did you see Dan Clark, Dariusz Bladek and Dakoda Shepley just push the Lions back with William Powell being the beneficiary. We know how important the run game is as the season wears on and while BC certainly doesn't have the defence that quality teams in this league have, it was an impressive sight to see.
The evolution of Cody Fajardo continues and while he didn't shoot out the lights, he ran the offense quite well in what was a great game-plan set forth by Stephen McAdoo (where are his critics by the way?). However, I think most will agree that he needs to stop running quarterback draws and getting smoked like he did in the second quarter. With Collaros already on the injured list, the Riders don't need Fajardo getting put there either.
Some will say that while the Riders are 3-3, the three wins have come against teams that are a collective 1-12 with that BC win coming over Toronto. There are tougher opponents down the highway starting Thursday against Hamilton so some questions still might need to be answered, but I think there more signs of optimism than pessimism.
--When the 5-1 TiCats come to town Thursday, we know they will do so with Dane Evans at quarterback. What a terrible blow for Jeremiah Masoli, the Ti-Cats and the CFL as a whole Friday night as the Hamilton QB went down with a season-ending knee injury. If you are counting, that leaves Matt Nichols, Trevor Harris and the beaten-up Mike Reilly as the only starting quarterbacks in Week 1 not to be on the injured list and remember Nichols had to leave a game due to injury earlier this year. For a league that is struggling where games have not been great, it is not good at this time to have a group of back-up quarterbacks in. The league needs a renaissance at that position and perhaps Vernon Adams, Cody Fajardo and Nick Arbuckle are leading that renaissance, but not having the number one guys in for a majority of teams is not good for the league as a whole.
Are the Ti-Cats still a solid contender to win the East now or is it wide open? Arash Madani joked after Masoli went out that the Riders are the Eastern Division champions. I don't know if we will have another crossover this year and we talk about it every year, but Montreal may be the best team in the East right now, but are they good enough to win the East. We have a long ways to go before we can even start thinking about that.

While the team did go out and sign former Rider QB David Watford on Sunday, I wonder if there would be any interest in Zach Collaros. It would give him a chance to go home. If he was given a clean bill of health, would you pick up the phone if you were the Tabbies and call Jeremy O'Day to see what the asking price would be. I doubt it considering the $$$$, but you never know.
--Will a win over Hamilton Thursday shut the critics up who say the Riders haven't beaten anyone or will they just say yeah, they beat a Hamilton team that didn't have Masoli. Hopefully we will have a chance to find out. I'll just say this. Rider fans thought without Bo Levi Mitchell that Calgary would be easy pickins a couple of weeks ago and how that did turn out. Don't take anything for granted!!
--If anyone was thinking the Riders might get Sam Eguavoen back from the NFL think again. Eguavoen is wowing them in Miami and could very well be a starting linebacker in Week 1. I don't think those of us who saw what Eguavoen did during his time here should be surprised by that.
--Blue Jays fans know their team isn't going anywhere this year and chances are it will be that way in 2019 and 2020 as well, but they are starting to build for the future. The trades of Eric Sogard and Marcus Stroman on Sunday are proof of that. Bo Bichette is being called up to join Vladimir Guerrero Junior and Cavan Biggio on the big team. The foundation that was torn down is starting to come together again. Patience is key and in an American League East where the Yankees and Red Sox aren't going anywhere, that patience will be tested over the next few years. With Stroman and Bautista gone, Toronto might be starting to get likable again!!!
--Is it just me or has the Mitch Marner talk died down? Same with all the other RFA's like Brayden Point, Kyle Connor and Patrik Laine. What's happenin?
--We are less than 70 days away from the NHL season.

--I do not care if Vince Carter returns to the Raptors.
--The summer will be half over on Thursday as August will be here. What happened to June and July? For that matter, what happened to this year. It has just flown by!

--That's all I got. Have a great week!!