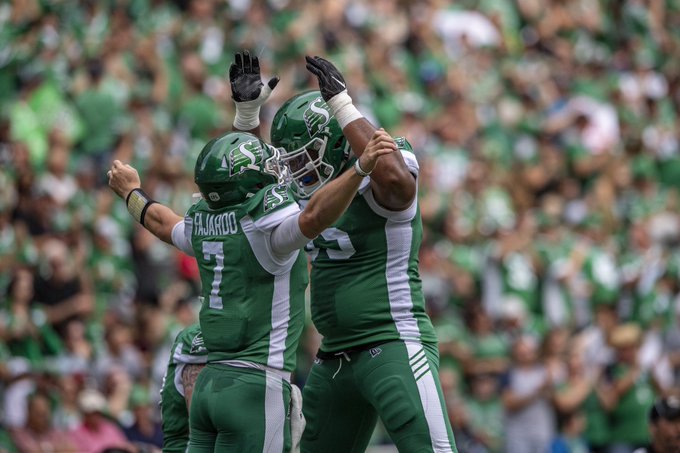 Raise your hand if you thought the Saskatchewan Roughriders would be 6-3 at the midway point of the CFL season at the start of the season.
The Riders will end the first half of the season as the hottest team in the CFL as they made it five straight wins Saturday night with a 40-18 victory over the Ottawa REDBLACKS.
The defense had not been able to create turnovers through the first eight games of the season, but that changed on a muggy night at Mosaic Stadium as five turnovers resulted in 24 points with three of those turnovers coming in the opening 15 minutes as Dominique Davis threw interceptions to Nick Marshall, L.J McCray and Derrick Moncrief on their first three possessions leading to 17 points and control that would not be given up.
Head Coach Craig Dickenson said it was the start he wanted.
"We wanted to get the crowd involved." Dickenson said. "We had a great start and we had all the momentum until they got that big touchdown ( a 75 yard touchdown pass to Dominique Rhymes) over (Elie)Bouka and that got them back in the game. We went in at halftime with a 12-point lead and it felt like we were down. I thought in the second quarter we were sleepwalking a little bit.
William Powell ran for 70 yards and two touchdowns while Cody Fajardo threw for 241 yards and a touchdown while running for another.
The Riders will now get ready for their annual September back-to-back games against Winnipeg starting with the Labour Day Classic on September 1 at 1. While the games between the two Western Division rivals always create some atmosphere, the stakes will be high as the Bombers are a CFL best 8-2 on the season.
NOTES:
Fajardo has gone almost 230 minutes without throwing an interception
Brett Lauther returned to the lineup after missing several games and was three of four on field goal attempts with one of the field goals being from 49 yards out
The four offensive touchdowns scored by the Riders gives them 25 which is what they had for the entire 2018 season
The Riders had 16 penalties for 186 yards